Bathroom renovations in Mississauga are our specialty. And local homeowners love their premium remodels from Ace Bath!
If you're looking to get a bath renovation in Mississauga, you just found the perfect match for your home.
Your local experts from Ace Bath renovated the bathrooms of more than a hundred families, and it's your turn now!
You're one step away from getting a satisfying remodeling experience, along with some extra perks!
You're Getting More Than A New Bathroom
Besides a premium bathroom remodel, you'll also get:
Get A Premium Bathroom Unique In Mississauga
With Ace Bath, you get a renovation company that strives to change the remodeling industry by overdelivering and proving everyone that we can do better.
We've been serving homeowners in Mississauga for over five years now, and we realized from the start that you value honesty, quality, and transparency.
The process you'll go through is unbelievably simple. It ensures your remodeling experience with us is effortless, quick, and not a struggle to go through. From start to finish, the best craftsmen in the remodeling industry will take care of you and ensure your new premium bathroom is nothing short of impressive.
It's never been a better time to get your bathroom renovation started!
Our Customers love their Premium Remodels!
Nam and Danny finished my master bathroom shower in Mississauga a week ago (April 2022) to my complete satisfaction. 
My shower needed full gutting, wall and floor Re-tiling with layered waterproofing. 
From Day 1 Danny with Nam's direction worked diligently to schedule, responded to questions and concerns and completed the job in a timely manner.
They were very polite and considerate and went above and beyond. I would highly recommend Nam to anyone needing a bathroom Reno. I hope to use their services for other projects at my home.
Having to retrofit your parents home to provide them with some much needed independence can be extremely stressful! Ace Bath made the process that much easier. 
Nam and his crew have a true passion for their business and work together as a great team.  
They understood the needs, worked hard and worked fast. They are customer-oriented and put clients satisfaction first and will go above and beyond to ensure this. We enjoyed working with Ace Bath. 
We love the new bathroom and sincerely recommend Ace Bath!
Get A Taste Of What Your Bath Can Look Like
Get some inspiration for your own project or see what our finished projects turn out like!
Type Of Upgrades And Materials
You have a lot of choices when it comes to materials and what to upgrade in your new space.
You'll have a detailed list of all upgrades and materials at the in-house consultation.
Below, you'll find some of the most common upgrades that we do in bathroom renovations in Mississauga, but remember, the list is not limited to these.
Upgrading your vanity or getting extra storage with a few cabinets is a popular upgrade in most bathroom remodels.
For all types of cabinetry (including vanities) we recommend plywood boxes. They're durable, affordable, and easy to work with. 
For faces and cabinet doors, medium density fiberboard (MDF) makes a great option due to its smooth surface, super easy to refinish.
Changing your vanity and leaving an older countertop on it can ruin the new vibe of your space. Which is why most homeowners choose to replace the countertops as well.
Quartz or natural stone counters are our favorites. These look good, but you'll need to choose carefully, depending on your needs. 
Less popular choices are ceramic or porcelain tile counters, solid surface countertops, concrete countertops, or stainless steel counters.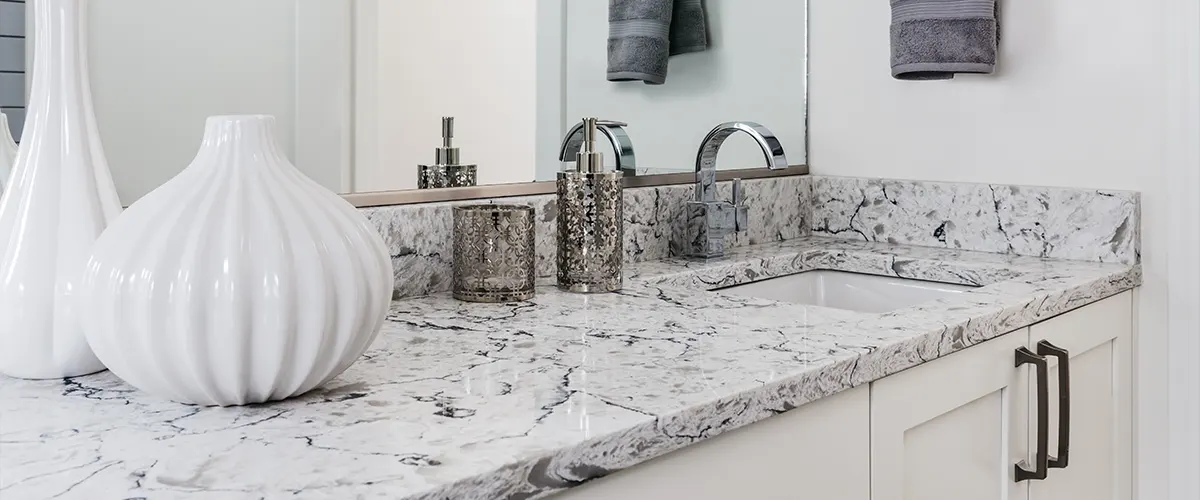 Shower and bathtubs are popular upgrades that raise your bath's value and functionality. It's up to you if you want to have both of them (a lot of our customers do).
For bathtubs, porcelain, acrylic, fiberglass, enameled cast iron, or cast polymer (cultured marble, granite, or onyx) are common materials that work well. Porcelain enameled steel is an especially great option, also inexpensive.
At Ace Bath, we recommend acrylic shower surround because it's resistant to mold or moisture damage. An acrylic shower surround is also durable, resistant to scratches, stains, and chips, and they require very little maintenance.
Some other options for your shower walls include porcelain, ceramic, fiberglass, or natural stone.
Mold (and all water damage for that matter) starts from underneath the flooring, which is why a lot of renovations include a flooring replacement.
At Ace Bath, we recommend tile flooring for all our customers. Porcelain, ceramic, granite, marble, limestone, are common options that homeowners go for. We like porcelain the most, as it has a great cost-value report.
Another popular option for flooring is luxury vinyl tile (LVT). LVT mimics the look of real tiles, are more affordable, and they're also low-maintenance.
Your sink and toilet are bathroom essentials, so upgrading them is sure to uplift your bath.
Porcelain is the most popular option for toilets. This material is tough, inexpensive, and easy to maintain.
For sinks, that can quickly become a focal point in a bathroom, more upscale options include glass, copper, natural stone, or acrylic.
Sinks also come in various types.
Drop-in and undermount sinks are the most popular choice among homeowners. Less popular sinks are vessel sinks, wall-mounted sinks, and pedestal sinks.
A Process That Makes Everything Easier
Get a straightforward remodel with a unique approach to your project.
We'll discuss your project and make a plan.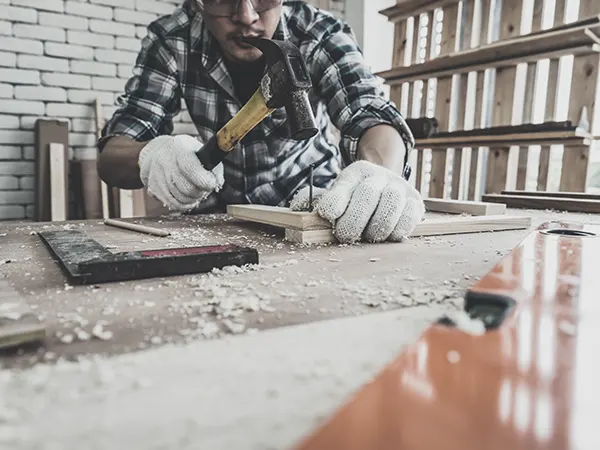 You'll watch the transformation of your bath.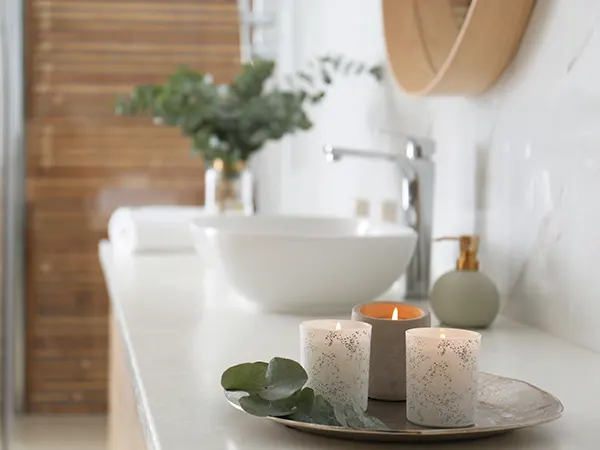 Your new bathroom is ready!
Bathroom Renovation In Mississauga: A Case Study
Not long ago we did a bath renovation in Mississauga. Our customer wanted to remodel his 5×7 ft (42 square foot) bathroom. It was a rather small bathroom, so we wanted to make it feel more spacious.
The renovation included:
We quoted this entire project at $13k. The Italian-made porcelain tiles alone were priced at $3.5k.
If you're interested in finding more about the bathroom renovation cost in Mississauga, check out our cost guide!
Frequently Asked Questions
Smaller bathroom renovations like the one we did in Mississauga can come in as cheap as $10k. It all depends on the materials you want to choose. Mid-range renovations can get up to $20k, and high-end bathroom remodels can reach over $40k.
Our experts at Ace Bath ensure you're getting the most cost-effective solutions for your home, no matter your budget.
We finish our smaller to mid-range baths in one to two weeks. Higher-end bathroom renovations can take up to three weeks, depending on the complexity of the project.
After our in-house consultation you'll receive an accurate time frame a precise quote, so you'll be on top of things at all times.
I'm Nam, the owner of Ace Bath, and I carry a degree in renovation. I supervise and lead a team of professional builders trained in all aspects of a renovation.
We're all licensed and insured and we know the building codes and renovation protocols inside out.
If you want to learn more about Ace Bath and what drives us to over deliver, check out our story. Rest assured you'll get the finest craftsmanship in Mississauga.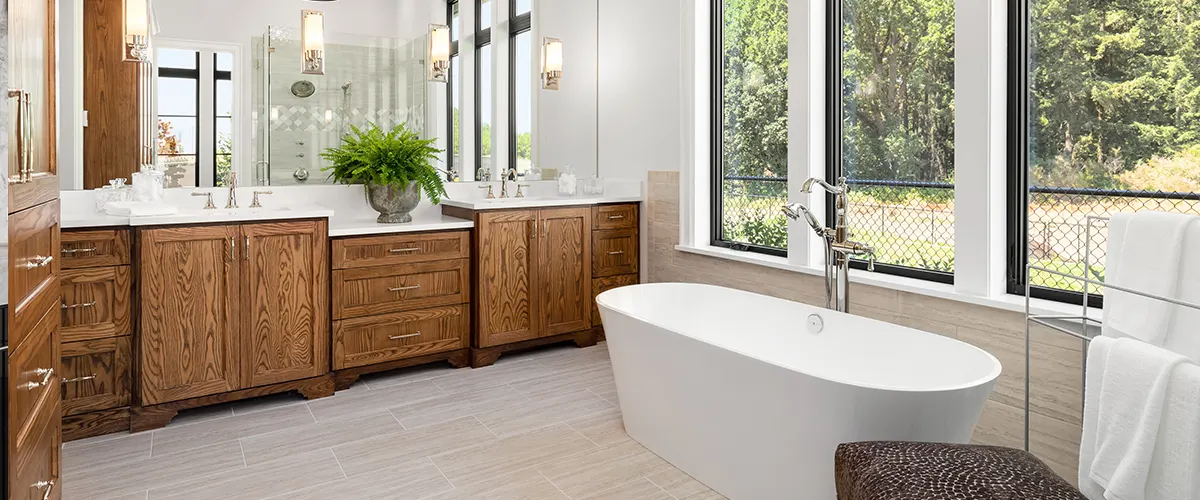 Get A Bathroom You Can Be Proud Of
At Ace Bath, we aim to make your bathroom renovation in Mississauga a pleasure to go through.
And our core values are what ensure you'll get the highest renovation standards in Ontario.
You'll receive:
Let's Get Your Bathroom's Comfort On The Next Level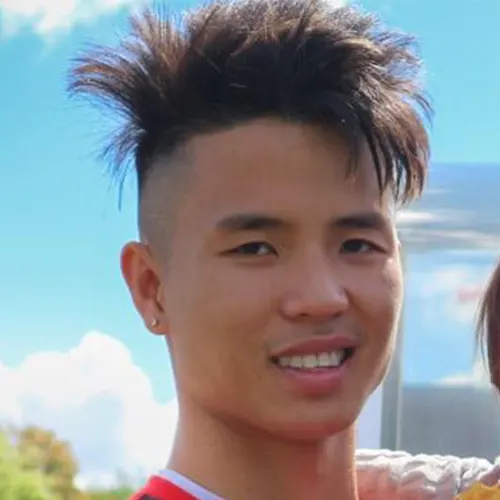 Talk with Nam, the owner of Ace Bath, today! Request a free quote or call us at (647) 459-7374 to discuss your project. We'll make sure you get a bath you can be proud of!