If you're considering a bathroom renovation in Mississauga, Ace Bath is your local bathroom remodeler dedicated to giving local homeowners the best remodeling experience.
For over 5 years and more than 60 finished projects, we realized that homeowners value reliability and open communication more than anything.
We know remodeling comes with challenges, and the biggest one is the pricing. 
We put together this bathroom renovation cost in Mississauga guide so you'll know what to expect when it comes to budgeting for your upcoming project!
A Bathroom Renovation With Extra Perks
Besides getting an impressive new bath, you'll also receive:
Budgeting For A Bathroom Renovation In Mississauga
Bathrooms are one of the most frequently used rooms in your home, so they can quickly become the first space you want to begin a renovation.
But budgeting for your bathroom renovation in Mississauga shouldn't be too overwhelming when you're getting the right information.
Let's see some guidelines on what to expect for your own bathroom renovation project.
Small bathrooms renovations means only updating fixtures, and the essentials of a bath. The total cost would be between $3,500 and $9,000.
Mid-Range Bathrooms Cost​
Mid-range renovations for a 35 foot square foot bathroom would be around $20,000. This include estimate costs of new appliances, fixtures, and finishes.
Upscale bathroom renovation costs can get as high as $62,000. This would be a 100 square foot bathroom where you'd update the plumbing system, appliances, vanities, flooring, fixtures, and more.
A Bathroom Renovation Cost In Mississauga
We quoted one of our projects, a bathroom renovation in Mississauga, at $13k. It was a small bath of 5 ft x 7 ft space (42 square foot) and the owners wanted to upgrade their fixtures, vanity, shower, and tub.
We added new plumbing fixtures, 24×24 porcelain tiles, we installed a new modern acrylic bathtub, and new shower glass.
We chose a semi-custom 30″ vanity and installed new vanity lights. In addition to these, the homeowners wanted a new soft-close toilet to improve the bath's functionality and aesthetic.
The Italian-made porcelain tiles were the most expensive upgrade, at $3.5k.
What Goes Into A bathroom Renovation Cost In Mississauga
The best way to budget for your bathroom renovation is by considering your design choices, priorities, and materials. 
The National Kitchen and Bath Association has a standard guideline meant to help homeowners establish a budget for their remodel. 
For now, let's look at some price averages for a mid-range bathroom renovation.
| Item | Average Cost |
| --- | --- |
| Bathtub | $3,500 - $5,500 |
| Cabinets | $5,500 - $8,500 |
| Countertops | $3,500 - $3,500 |
| Flooring | $1,500 - $3,500 |
| Lighting | $550 - $1,500 |
Materials And Finishes For Your Renovation
When it comes to materials and finishes, there are a lot of choices to make.
This is where you must consider your needs first. But if you want to get the best bathroom renovation in Mississauga, keep in mind your preferences and aesthetics too.
Fixtures oftentimes set the vibe of a finished bathroom. If you have a white bathroom, black fixtures create a great contrast. Golden fixtures are perfect if you want to bring an upscale feel to your new space.
Cabinet hardware are another great finishing touches that really set the mood. Towel racks, rings, and toilet paper holders are great upgrade that can finish the look as well.
Look at how this minimalistic bathroom got its vibe just from the finishing blue paint on the walls.
How Can Ace Bath Mississauga Help You
Ace Bath is your local bathroom remodeler that's been serving homeowners in Mississauga and the surrounding areas for years. Our goal is to make you fall in love with your home again, and we'll do whatever it takes to make that happen.
We want you to get your renovation without struggling to get to the end. This bathroom renovation cost in Mississauga is just a guideline for your project. You'll receive an accurate quote after your press the button below.
Let Ace Bath Pros Upgrade Your Bath
If you're looking for a bathroom renovation in Mississauga, you've just found the right fit for your project.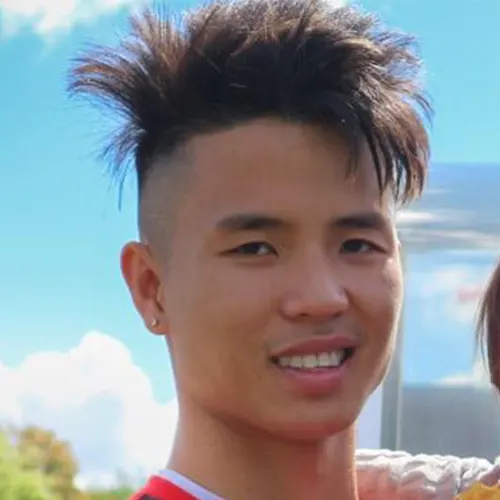 Talk with Nam, the owner of Ace Bath, today! It costs you nothing to request a quote or call us at (647) 459-7374 to discuss your project. We'll make sure you get a bath you can be proud of!