Renovating your bathroom is a big decision that can come with a hefty price tag if you're not careful. Knowing what to expect in terms of bathroom renovation costs is critical.
A bathroom renovation improves your everyday life in unimaginable ways and increases your home's resale value when you decide it's time to move on.
Besides, a bathroom upgrade ensures your guests will love your new bath, and you'll make a great impression on them.
In this post, you'll find a breakdown of the bathroom renovation costs in Mississauga, Vaughan, Oakville, Milton, and other cities in the Greater Toronto Area. 
Keep reading and discover how much to budget for your upcoming renovation project.
Let's dive in!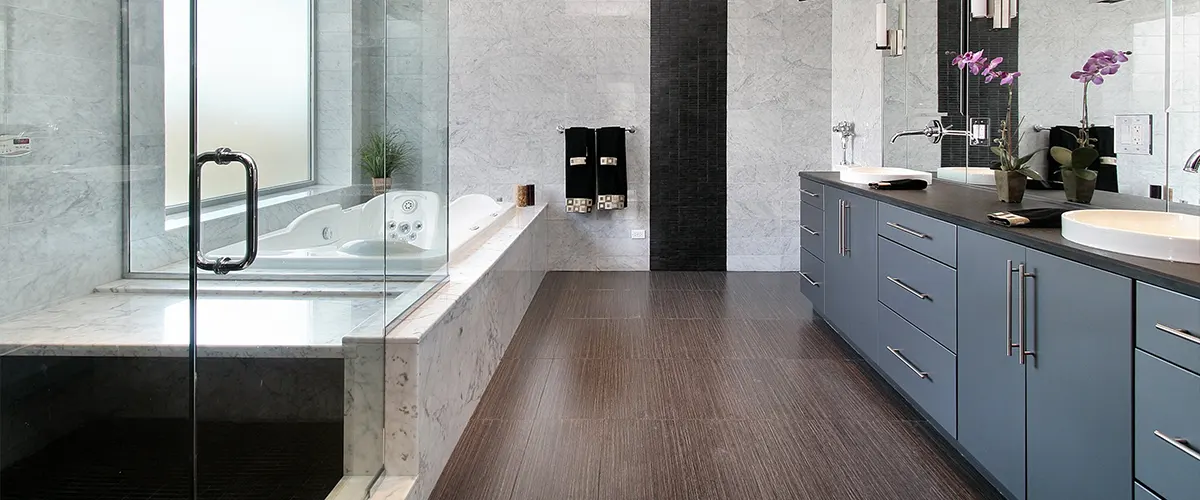 Typical Bathroom Renovation Costs in Toronto
Bathroom renovation costs vary depending on the room's size, the fixtures and  materials you want, your needs, but also your neighborhood.
In downtown Toronto or other expensive neighborhoods, a renovation of any type will be more expensive than in less developed suburb. Naturally, the cost of materials and labor will be higher in areas with higher living costs.
So if your budget is tight, prioritize the aspects of your renovation that are most important to you.
If you're not sure where to start, here are some cost estimates for different bathroom sizes:
| | Economy | Standard | High-End | Luxury |
| --- | --- | --- | --- | --- |
| Small 5x8 Bathrooms | $9k - $12k | $12k - $15k | $15k - $18k | $18k - $22k |
| Average 10x10 Bathroom | $12k - $14k | $14k – $19k | $19k – $25k | $25k – $30k |
| Large 14x14 Bathroom | $14k – $18k | $18k – $25k | $25k – $30k | $30k – $40k |
Bathroom Renovation Costs Breakdown
A bathroom renovation boosts your home value and gives you an
ROI of between 75% and 100%
of what you spent. Bathroom improvements often include: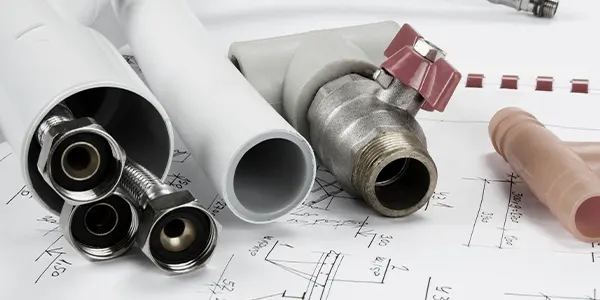 Upgrading pluming and light fixtures
A damaged plumbing system results in water damage that costs a fortune to fix. It's better to check your installation, even if you're not planning to change it.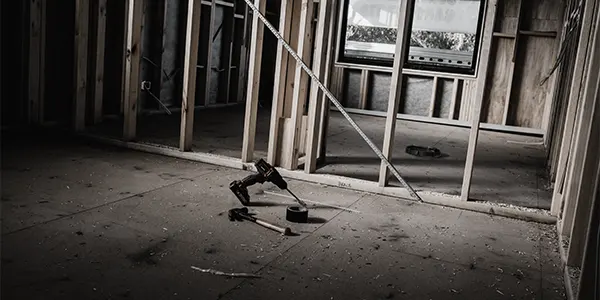 Replacing flooring and restoring walls
Your walls can also fall victim to mold, mildew, and worst of all, pests. Ensuring you have a strong foundation means a healthier and safer environment.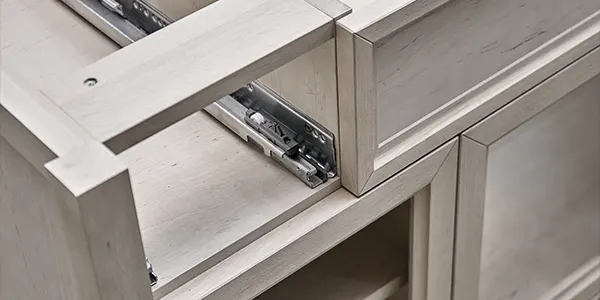 Updating doors, vanities, or bathtubs
An old door, vanity, or bathtub can ruin the mood of a new bathroom. Boost the functionality and look of your renovated bathroom by making these quick upgrades.
If you want a spa-like experience in your new space, you can opt for features like Jacuzzis, whirlpool tubs, or walk-in showers. However, expect your bathroom renovation costs to raise if that's the case.
Before deciding on your budget, it's crucial to consider these upgrades' prices first.
Consider the accessibility and comfort they offer, but also their price.
A bathtub in households with young children has greater value than a shower, but a walk-in shower offers older homeowners a great deal of accessibility. You can have both installed, but it would mean less space to move around.
A bathtub costs between $969 to $1834 to be installed professionally. The average cost of a shower installation is between $1572 to $2621. A basic shower head can cost as little as $19, while a high-end one can reach $786.
Your choice of tiles are another bathroom upgrade that impacts your bathroom renovation costs.
Different colors, designs, and shapes of tiles make your bathroom stand out, while a consistent and simple design brings comfort and tranquility.
The average cost to install tile flooring is $10 to $15 per square foot, and homeowners that choose porcelain or ceramic tiling pay between $825 and $2,520. For most tiling projects, materials cost between $3 to $10 per square foot, and labor ranges from $5 to $14 per square foot.
After our on-site consultation, you'll get the most accurate price for your tiling project. Below you'll find the average cost for different scopes of work.
| Project | Average Cost |
| --- | --- |
| 72 square foot countertops | $2,756 - $4,929 |
| 200 square foot floor | $2,000 - $3,400 |
| 80 square foot shower walls | $520 - $2,000 |
| 30 square foot backsplash | $690 - $1,250 |
If you're renovating your bathroom, you most likely want to change your toilet and sink as well.
But before you make any decision, you'll want to consider your needs first. New toilets are equipped with gadgets and are becoming more and more comfortable. Sinks are a focal point in your bathroom, so they'll need to match the rest of the room.
Our experts will give you valuable insights on what works best for your space. We'll ensure your renovation will be nothing short of impressive.
Toilets cost between $130 to $260. If you want a professional installation for it, add between $260 and $524 more. Installing a bathroom sink also costs around $393 to $655.
Your vanity is another element that ties your room together and creates a beautiful and cozy design. It improves the overall look of your bathroom, but it also increases its functionality.
Vanities and extra cabinets offer storage space that's crucial when you want everything organized in its own place. A vanity with two sinks is perfect for homeowners with a large family that need more space for daily care routines.
A bathroom vanity costs anywhere between $300 to $4,000. The installation runs from $200 to $1,000, depending on how complex your new vanity is. The total cost usually includes installing the plumbing system and the fixtures too.
There are many options for bathroom flooring, and each of them brings different benefits to your bathroom. Besides the material price, consider the cost of ripping out the existing flooring.
Here are some of the most common flooring materials in a bathroom: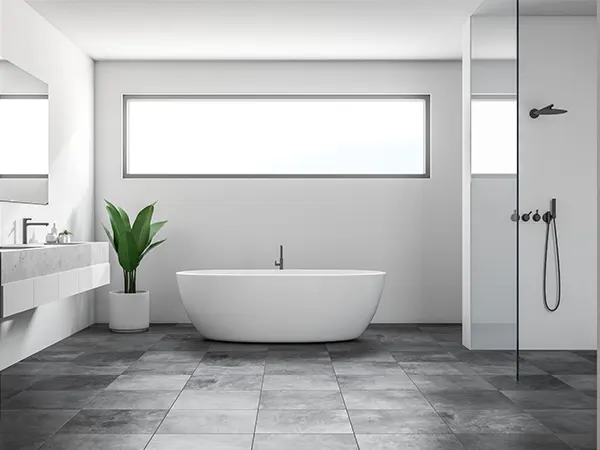 Ceramic flooring is one of the most popular flooring materials for bathrooms. It's cost-effective, waterproof, durable, and stain-resistant, making it ideal for such a heavy-duty space like your bath. Their disadvantages: they feel hard and cold under feet and can get slippery. Both these issues can be fixed by choosing textured tiles with non-skid surfaces.
The average cost of ceramic tiles, with materials and installation included, ranges between $4.50 to $7.50 per square foot.
Luxury vinyl tile (LVT) flooring is rapidly growing in popularity among homeowners, and for good reasons. This flooring material is the ideal combination of elegant design and high durability. Besides, LVT is super easy to maintain. LVT mirrors the look of natural materials like stone, marble, or wood, but it's built to withstand commercial environments. With LVT you don't have to sacrifice high-quality design for industrial utility.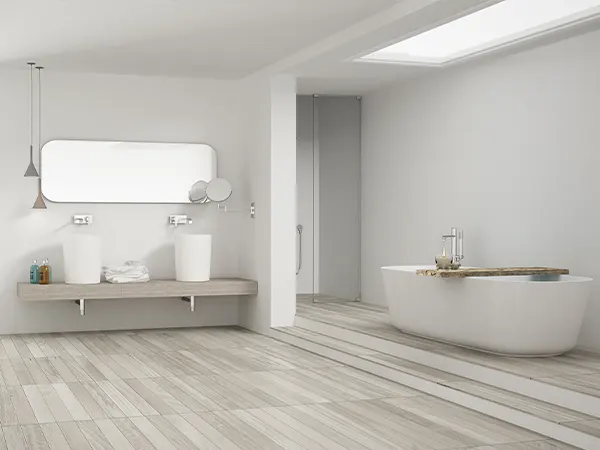 Depending on its style, the average cost for luxury vinyl tile flooring, with materials and installation included, ranges from $2 to $7 per square foot.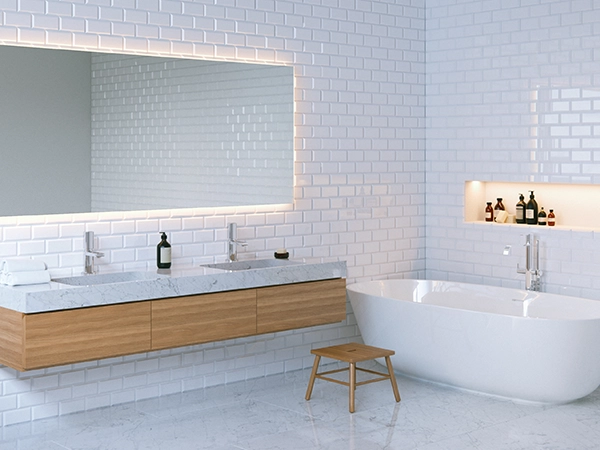 Marble is more expensive, but a beautiful and fancy choice for bathroom flooring. Before choosing marble flooring, remember that scratches and scrapes are easier to notice on a polished surface like this. It's prone to water damage and gets extremely slippery. Marble is difficult and expensive to install, and if you have a busy household, marble flooring might not be your best choice.
The average cost of marble flooring, including materials and installation, ranges from $10 to $20 per square foot.
Porcelain flooring is another popular choice among homeowners. Porcelain is stain-resistant and keeps moisture at bay, making them great for high-traffic rooms like bathrooms or kitchens. Porcelain is hard and dense, and they're available in many finishes. Because of its tougher nature, porcelain is difficult to cut, so ensure you hire a professional for a porcelain flooring project.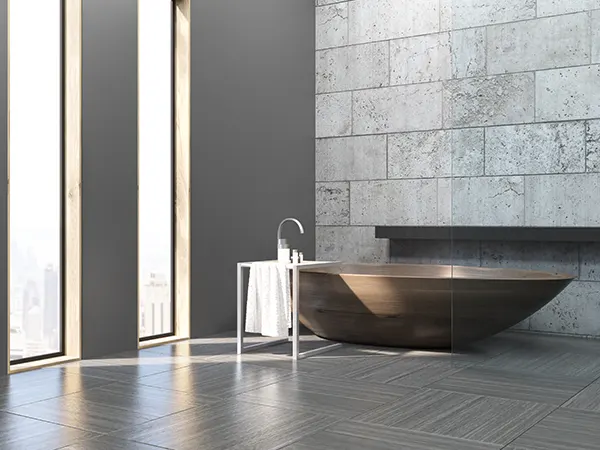 The average cost of porcelain flooring, including materials and installation, ranges from $12 to $19 per square foot.
When renovating any area of your home, it's crucial to budget a little extra for unforeseen issues that might come up. Extra-budgeting is especially true when renovating your bathroom, where many factors can drive up the total cost.
Here are some of the external factors that can impact the price of your renovation:
Permits and Legal Requirements
If you're doing a full renovation of your bathroom, building permit will also be part of your bathroom renovation costs. 
Depending on your area and the city regulations, building permits costs will vary. In Toronto, a building permit costs $4.93/m2 for interior renovations or $17.16/m2 for new additions.
It's important to remember that these prices are just for the permits. You'll also need to pay for the inspector appointments, demolition, and if need be, other applicable fees.
We at Ace Bath take care of your building permits and the inspector appointments for you. You can have a stress-free renovation and get your dream bath the easy way.
Demolition Of Previous Bathroom
Naturally, the first step when renovating your bathroom is to get rid of everything there was before.
You'll have to prepare the walls and flooring for new installation and remove everything you want to replace. This step requires well-equipped professionals who can tear apart walls and floors without damaging the structural integrity of your property.
The demolition of an existing bathroom takes a couple of days, is exhausting, and results in a lot of garbage. It's safe to say that undertaking this task is not the best idea.
Let professionals do it for you while you're in control of everything. Add to your bathroom renovation costs another $1000 to $1500 for demolition fees.
You'll need to position wires and outlets according to design, but also regulations. Doing so is challenging, especially when you need them to be accessible.
At Ace Bath, we know everything about the Ontario Electrical Code, but we're also experts in design. You'll get the best lighting configuration that complements your new space.
Each pot light installed in the bathroom costs around $60 – $70 for labor and material. Bathrooms with adequate wiring may cost $500 for this step in the renovation, but larger spaces will require more lights and more plumbing.
A licensed electrician and plumber can add another $2000 to your bathroom renovation costs. With us, you get an expert at a reasonable price to keep both your family and money safe.
Bathroom Renovation Costs By Function
Bathroom renovation costs depend on your room's main purpose.
Budgeting For Your Bathroom Renovations
Budgeting for anything can prove a challenge. A bathroom renovation is no exception.
Without sacrificing quality or extending your project's timeline, here's what you can do to keep your bathroom renovation costs within a set budget.
Before you decide to start your renovation project, make sure you know what your end goal is for your home. Decide if you're looking to sell the property or make it feel more like 'home'.
Budget at least 5%-10% more for your upcoming bathroom renovation to cover unforeseen expenses like water damage or pests damage.
Until our on-site visit, the measurements you provide are the only insight that we have regarding your upcoming project. For the most accurate quote, ensure you have the right measurements.
Bathroom Renovation Case Studies In Ontario
3 Piece Bathroom With Bathtub Renovation In Mississauga​
Our customer wanted to add a new modern acrylic bathtub that featured a glass enclosure. We upgraded the floor with 24×24 porcelain tiles, and added new plumbing fixtures.
We also incorporated a new vanity, new lights, and a soft-close toilet.
This project was quoted at $12k, with the Italian-made porcelain tiles being the most expensive item at $3k.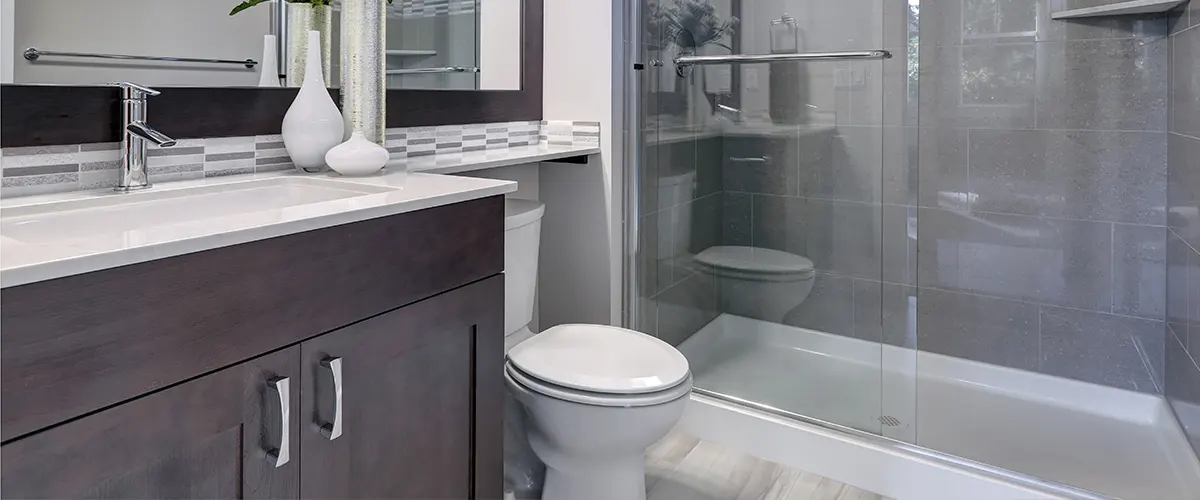 Modern Master Bathroom Transformation In Brampton​
Our client in Brampton wanted to modernize her bathroom. We achieved that by installing a new freestanding tub and by reconfiguring the shower with a complete waterproofing system.
Their project also included a custom vanity, a new soft close toilet, and a towel heating rack.
This project was quoted at $25k, with the bathtub being the most expensive item at $5k.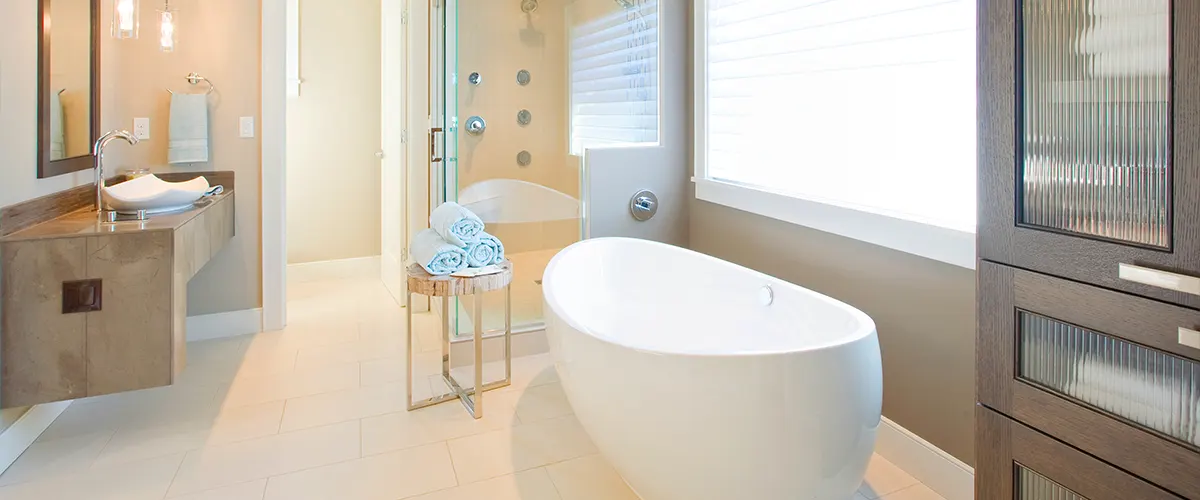 Bathtub To Standing Shower Conversion In Vaughan​​
When our client approached us, he had a vision for his bathroom. A transition from a bathtub to a new custom shower was the main focus of the renovation.
We installed a complete waterproofing system for the shower along with a full custom glass enclosure. The project also included a vanity with a quartz countertop and light fixtures.
This project was quoted at $15k, with the custom shower alone coming in at $5k.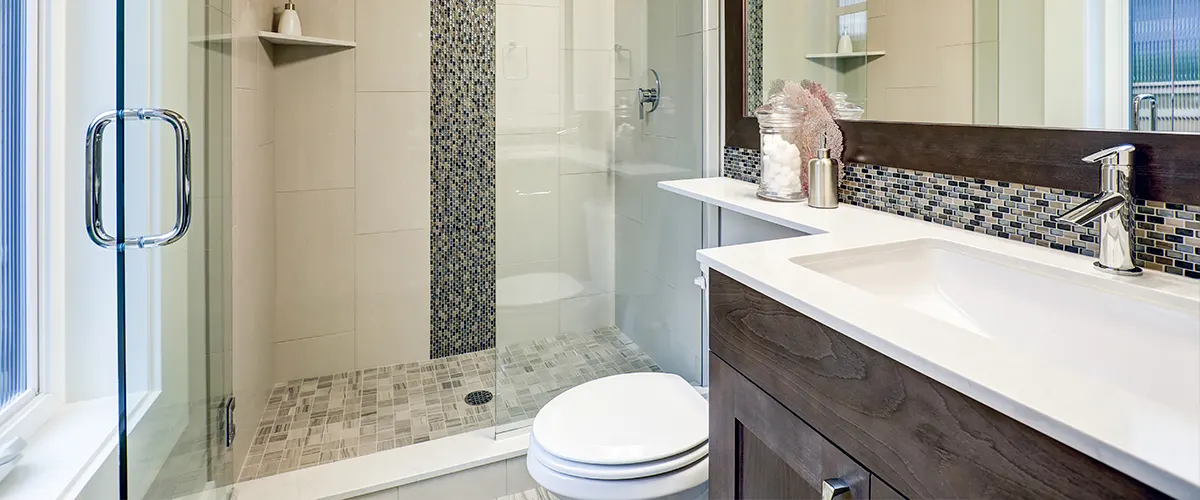 Frequently Asked Questions
A bathroom renovation can be a great way to increase the value of your home. 
In the Greater Toronto Area, an average bathroom renovation costs $15k. 
However, costs greatly depend on materials, preferences, contractors, and, most importantly, the size of your bathroom.
With Ace Bath, you get the most accurate estimate after the on-site consultation. Once we see the full scope of work, you'll know exactly how much to budget and where your money will go.
Our transparency ensures your project unfolds without the hidden fees or 'unforeseen' costs that no one wants.
Take advantage of our experts' valuable insights and get yourself the best bathroom remodeling experience.
Make the first step towards your dream bathroom today!