When the time comes to renovate your bathroom, adding a walk-in shower can really up the luxury factor. If you're not sure where to start, here are seven walk-in shower ideas to get you inspired!
Whether you want a simple and elegant look or something more extravagant, there's definitely a walk-in shower design out there for you. So don't wait any longer – check out our ideas and start planning your luxurious new bathroom today.
2. Add A Frameless Glass Door For A Modern And Sleek Look
Frameless glass showers are sleek, stylish and so very modern. They provide transparency which allows more light to enter the bathroom.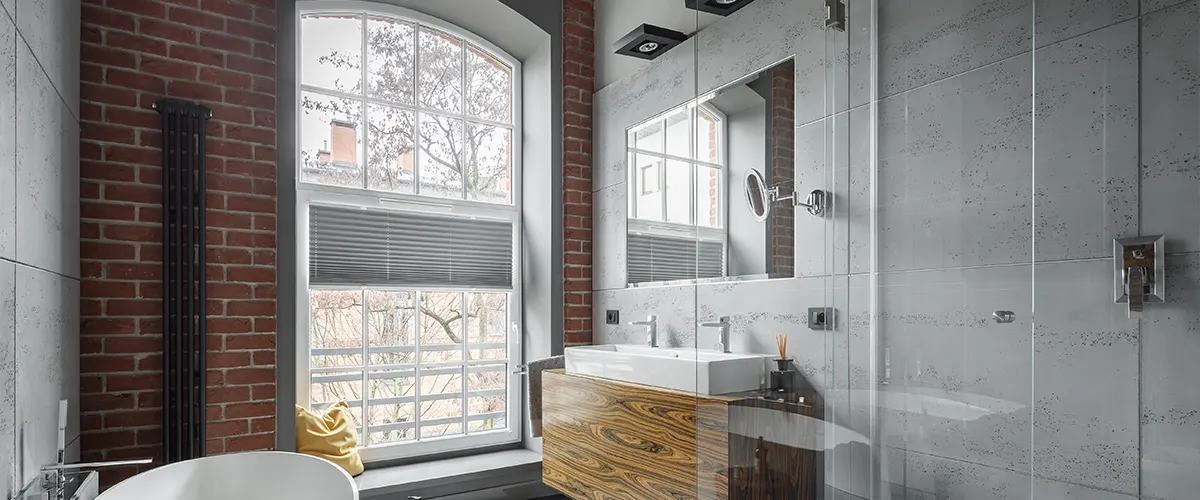 3. Install A Rainfall Showerhead For A Spa-Like Experience
Adding a rainfall shower head is a great way to give yourself a spa-like experience while showering. Rainfall showers provide a gentle and relaxing flow of water that can help you de-stress after a long day. Plus, they just feel so luxurious!
If you're looking to add a rainfall shower head to your walk-in shower, there are a few things you need to consider. First, make sure you have the right type of shower head holder – most rainfall shower heads come with their own holder.
Second, you need to make sure you have the right type of plumbing. Some types of shower heads require high water pressure in order to work properly, so if your home doesn't have that type of pressure, this type of shower head may not be right for you.
4. Create Privacy With Frosted Glass Or Wood Dividers
If privacy is your main concern, then adding dividers to your walk-in shower is the way to go. A great idea would be to install a wooden divider that has frosted glass panels to give off that luxurious feel.
This type of divider provides privacy, while still allowing whatever light that comes into the bathroom to enter. Wood or frosted glass is a great way to add warmth to your walk-in shower area without sacrificing style.
5. Add A Bench For Extra Comfort
Adding a small bench in your walk-in shower allows you to sit down and relax as you bathe, making it perfect for those with back issues. To complete the look, choose a bench with the same color and type of tile. Remember to make sure that the bench you get is suitable for wet areas though.
The best thing about adding a bench to your walk-in shower is you get comfortable seating while also getting an extra storage area.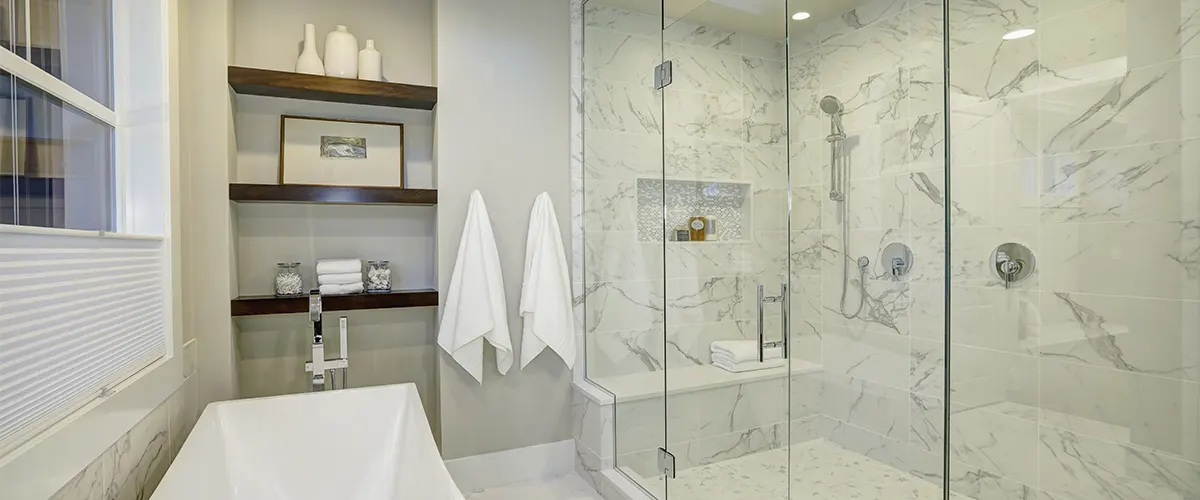 6. Consider Getting Led Lights For Added Convenience
Adding LED lights to your walk-in shower is a great idea if you're looking for extra light while showering. Plus, they also come in handy when you need to find your way around the bathroom in the middle of the night. 
The best thing about installing this type of lighting is that it provides bright and warm light that makes the space look inviting.
LED lights are a great way to make it your shower more convenient and modern. You can find them in most home improvement stores, making them easy to install with minimum hassle!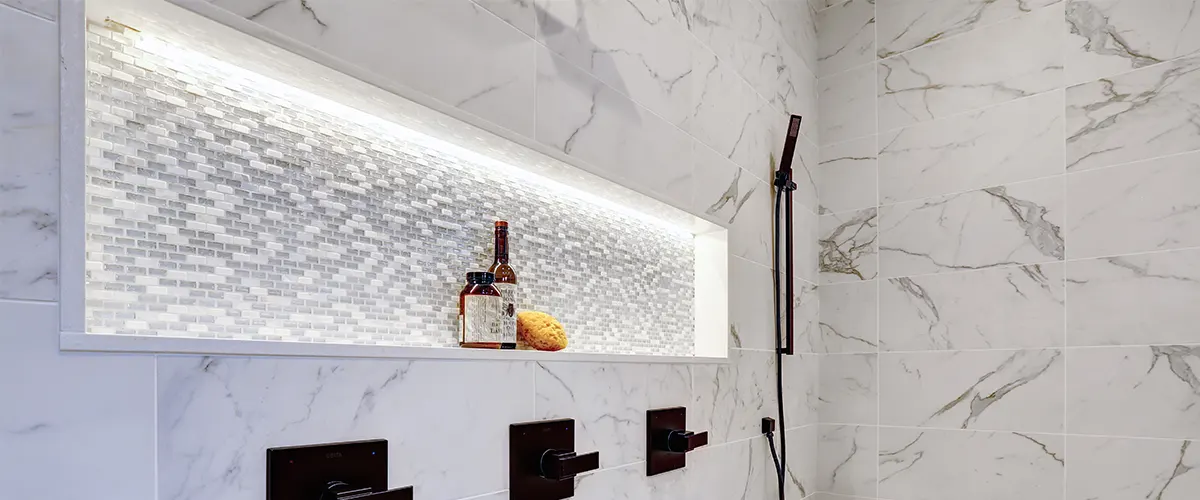 7. Use Polished Porcelain Tiles On The Shower Floor
For many homeowners, tile is simply synonymous with luxury and durability. Walk-in showers with polished porcelain tiles on the shower pan provide a smooth surface that's easy to clean and maintain – perfect for your wet area.
You can wash down your wet area with just a light sweeping or mopping every so often, but other than that, there is very little else you have to do!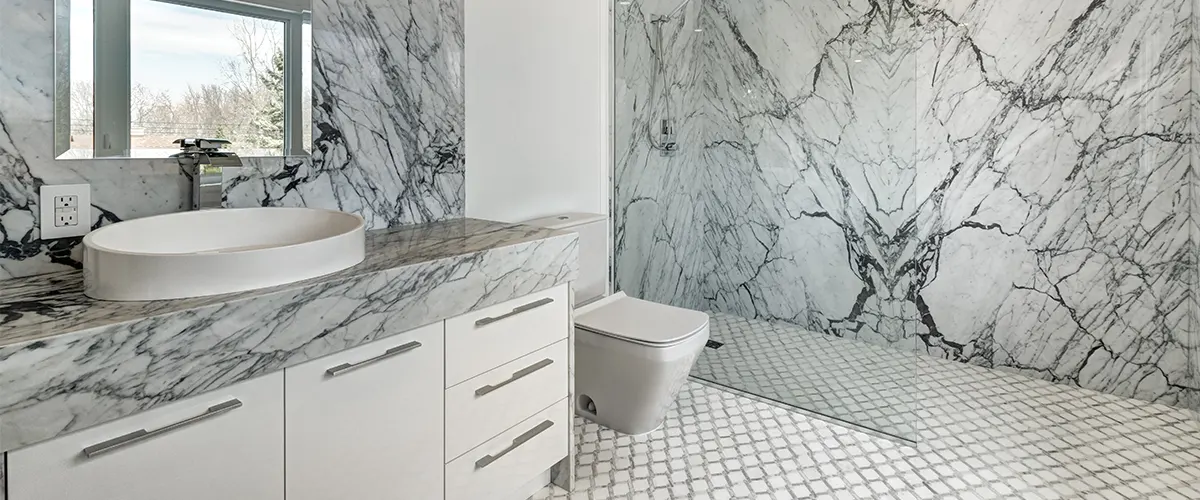 8. Choose A Light And Airy Color Palette
Walk-in showers with light and airy color palettes provide a refreshing and relaxing atmosphere. If your bathroom is small, choose light colors for the shower walls and shower floor to give it a spacious feel.
On the other hand, if you have a master bathroom, then you can experiment with darker colors to create a more luxurious feel. When choosing a color palette for your walk-in shower, always keep in mind that it should match your bathroom floor.
A Light Color Palette Will Maximize The Space
Light colors reflect light and make small spaces appear larger, while dark colors absorb light and create a more intimate setting. You can also play around with different textures and finishes to create even more variation in your walk-in shower area.
9. Add A Skylight For An Open And Airy Feel
Adding a skylight to your walk-in shower allows you to enjoy the beauty of nature as you bathe. It also provides much-needed natural lighting, especially if your bathroom doesn't have any large windows. Plus, this type of roof window offers great insulation and high energy efficiency.
To install a skylight to your walk-in shower, you'll need to have the right type of roofing structure that can support one. Most are installed on flat roofs, but there are some that are fitted over sloped ones as well.
Adding a skylight is great for bringing in some natural light while also enjoying the beauty of your surroundings. If you're looking for a walk-in shower with an open and airy feel, then this is your best option!
If you're considering adding a walk-in shower to your home, it's important to take into account your specific needs and lifestyle. We've outlined some of the best features to consider when designing your perfect walk-in shower, so now you know how to add luxury to your bathroom.
If you need help bringing your vision to life, our team of experts is here to assist you. Get in touch today to discuss your project!