If you're getting ready for a 2023 bath renovation but you're not sure what's the look you're going for with your new space, we're here to help!
From the traditional bathroom with wood floors and cabinets to a minimalistic, modern bathroom with a sleek vanity and a beautiful walk-in shower, there are dozens of bathroom styles you can combine to create a beautiful new look for your space.
While NKBA website can help you determine a style that might work in your space, we're here to breakdown some popular bathroom styles.
Let's dive deep into each of these styles and see which one fits you the most!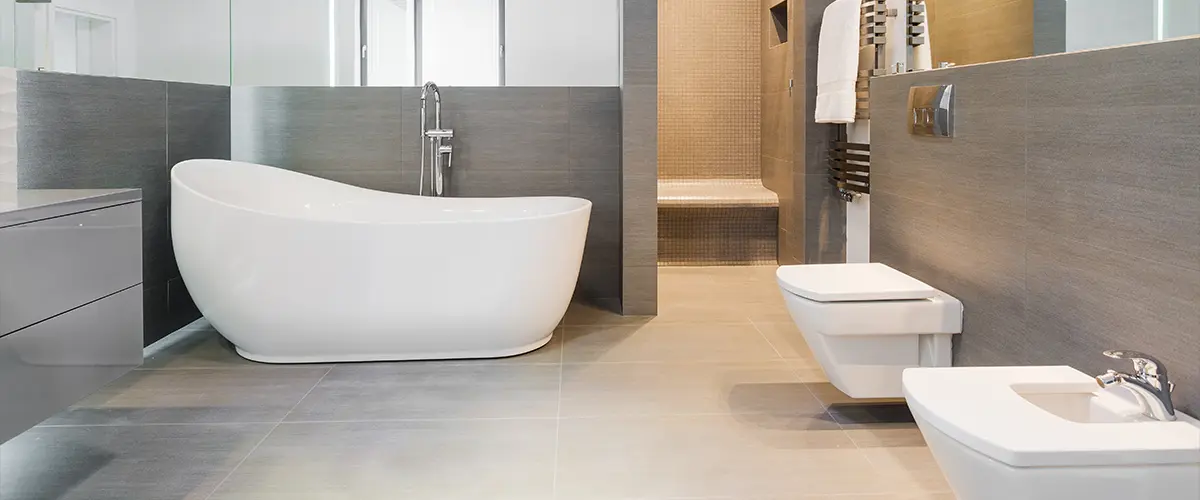 A bathroom style is simply the overall look and vibe you're going for with your bathroom renovation. This can be anything from the look of your water fixtures to the look of your vanity.
Each different style is given by features in your bath that complement that style. But it can sometimes be tricky. A modern and sleek shower might not complement a traditional hardwood floor, but they'll create a strong contract that can tell a completely different story.
In a nutshell, a bathroom style is either about giving your bathroom space a consistent vibe throughout, or about creating your own style by mixing and matching different features.
There are five main types of bathroom styles that you can consider for your 2022 bathroom renovation: traditional, contemporary, eclectic, minimalist, and rustic.
Traditional Style Bathrooms
Traditional bathrooms have a classic look with traditional fixtures and cabinetry. They often have a Victorian feel, with ornate details and lots of molding.
There are more traditional bathroom styles, but in all of them expect to find:
The color scheme in traditional bathrooms is often kept to a minimum of colors. As a rule of thumb, a strong color combined with other neutral colors like grays of beiges will create a beautiful, traditional vibe.
Besides all these, accessories are a big deal in traditional style bathrooms. You'll want vases of flowers, paintings, candles, and everything that complements the style.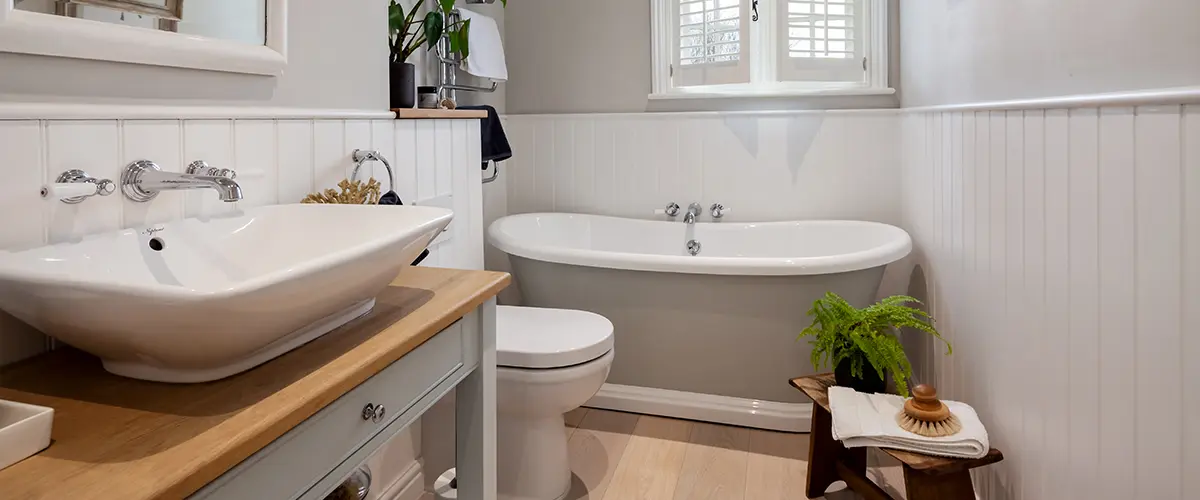 Contemporary Style Bathroom
Contemporary bathrooms are sleek and modern, with minimalist designs and clean lines. They typically feature neutral colors and simple finishes.
In this type of bathroom style you'll find:
The contemporary style represents everything that's currently trendy and homeowners are looking into. While this style is constantly changing, most of the features remain timeless and can't really be dated.
As a rule of thumb, a contemporary bathroom is usually bold, but doesn't have a focal point like a traditional bathroom where everything revolves around one strong feature. This style is great for a primary bathroom, but also to make a statement in a half bathroom or an en suite bathroom.
Note: Contemporary style bathrooms are not like modern style bathrooms. In fact, the term "modern" refers to elegance, sleekness, and minimalistic design. Think of clean lines, geometric shapes, minimal colors, and top quality materials.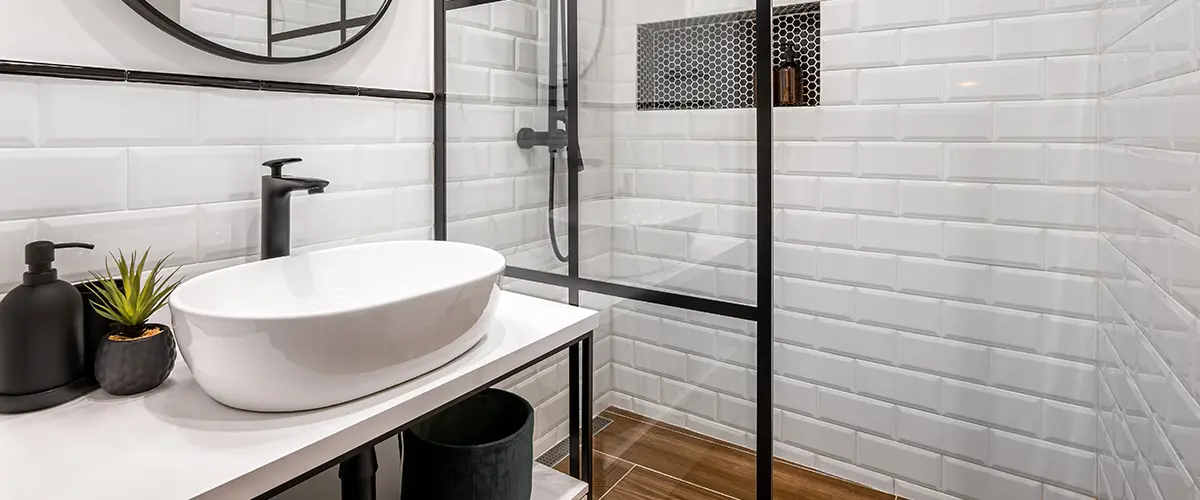 Eclectic bathrooms borrow features from multiple different styles, resulting in a unique and eclectic look. They can be a great way to showcase your personal style, and it's what we were talking about earlier when we said mixing and matching designs.
In this bathroom, it's all about your personal lifestyle and preferences, so everything is up to you. However, some features will work great with others.
The worst part about the eclectic style is that you can often fail and create a bathroom style that might not be looking as great as you initially imagined. However, the right designer can make this style perfect for a small bath in the master bedroom.
At Ace Bath, we have our own bath designers that'll help you achieve the exact vibe that you're going for. During the renovation process, we'll be available at all times for questions and concerns, so you'll be constantly kept in the loop.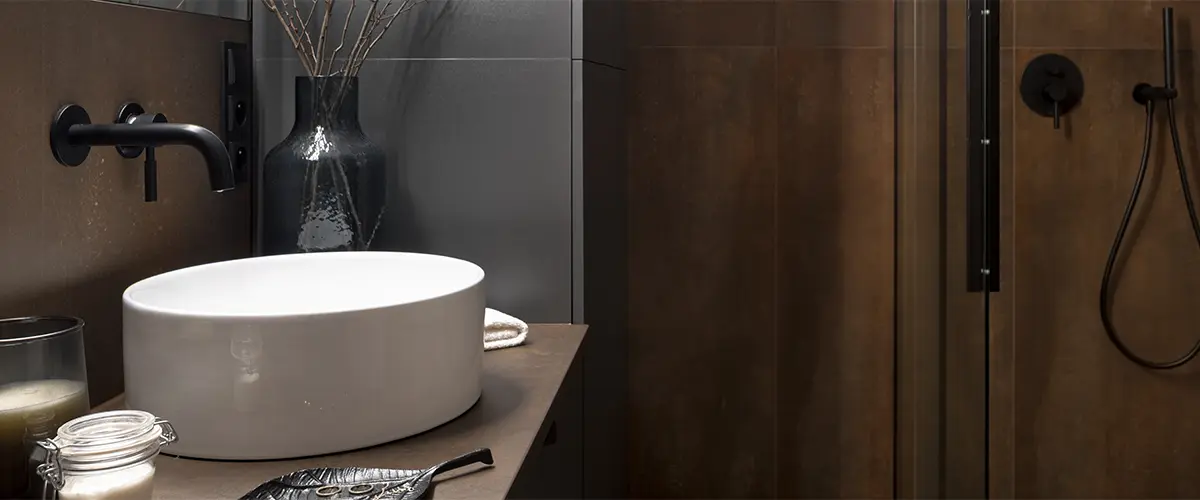 Minimalist Style Bathroom
Minimalist bathrooms strip away all unnecessary features, resulting in a simplified and streamlined design. This is a great option for anyone who wants a fuss-free bathroom.
In a minimalistic style bathroom, don't expect to find a lot of features. Like the name suggests, this is a clean room with a lot of free space.
While the minimalistic style bathroom can be boring at times, it can also be extremely functional. Get some timeless features for it and a minimalist bath will never go out of style. Besides, this place will be extremely easy to maintain.
Think of farmhouse style bathrooms, but to the extreme. Rustic bathrooms evoke the feeling of a cozy cabin in the woods, with natural materials and country decor. If you're looking for a warm and inviting bathroom style, rustic may be the right choice for you.
This style is exactly like you imagine. A lot of wood features, plants, and an overall warm and cozy vibe that'll make you feel at home.
This bathroom will always include:
The rustic style bathroom is very difficult to match with your home, especially if you're not renovating your holiday cabin. While this can be a really comforting bath style, it's limited when it comes to mix matching as well.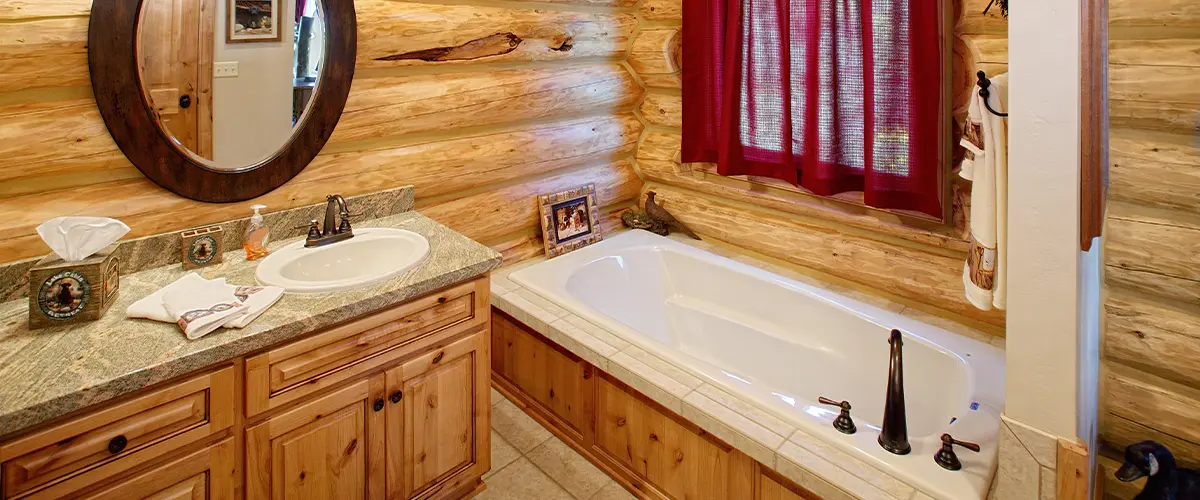 So, these are the 5 most popular bathroom styles that you'll want to consider for your upcoming bathroom renovation. All of them can uplift your space and create a beautiful bathroom that'll match your lifestyle and changing needs.
Are there more? Surely, they're not as popular and easy to match as these. Some other styles are:
If you're still not sure what would be the bathroom look that'll match with the rest of your home, there's nothing to worry about.
At Ace Bath, we offer professional bathroom renovation services, along with a beautiful interior design from some of the most talented tradesmen in the Greater Toronto Area. We serve homeowners in Mississauga, Brampton, Halton Hills, and more of the surrounding areas.
Call us today at (647) 459-7374 and let's discuss what's the best bathroom style for you, or request a quote and we'll get back to you as soon as possible!