Unlike a master bathroom, remodeling a small space can sometimes prove troublesome, especially when considering the required toilet clearances.
If you have a spacious bathroom like the ones on home shows, you don't have to worry about making the most out of every inch. Even in that case, remodelers need to consider every detail to ensure your bathroom functions properly.
In this guide, you'll discover the minimum and recommended clearances for your toilet and how to get the best accessibility for your new space, even if it's a small bathroom.
Keep reading and plan your remodeling project avoiding costly mistakes!
International Residential Code Requirements
If you're thinking about remodeling your bathroom, it's essential to consider the code requirement for sinks, countertops, bathtubs, showers, and toilet clearances.
Toilet clearances requirements are exceptional. And it makes sense. If you don't have enough space around it, using it will be difficult and result in accidents.
The rough-in dimension, the seat's shape, and the tank need to be taken into account for your toilet clearances.
The rough-in represents the distance between the wall behind your toilet and its imaginary center. Most newer homes have a 12-inch rough-in, and older homes have 10 or 14 inches. The closer your toilet is to the wall behind it, the more space you'll have in front of it.
Elongated toilets, for example, are used in master bathrooms as they take more space but are way more comfortable. However, elongated bowls in small baths might not be such a great idea.
Let's see the recommended toilet clearances for your new project.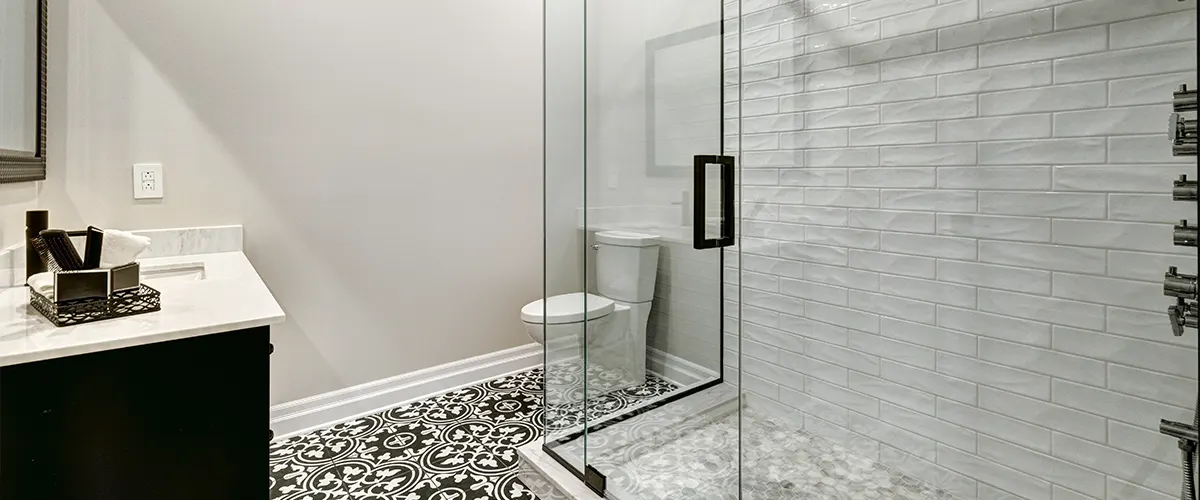 Most cities and municipalities choose to adopt a set of universal building codes for residential construction that are developed and updated by the International Code Council (ICC).
These requirements are usually bare minimum clearances that fail to deliver a comfortable space in small bathrooms.
Another critical requirement is that the toilet should always be at the same level or below other fixtures in your bathroom.
Minimum Toilet clearances in front
The front toilet space clearance ensures you have enough space to take care of your needs while not blocking the way to the sink, shower, tub, or door.
The code suggests a minimum distance of 21 inches in front of the toilet. NKBA recommends 30 inches from the front of the toilet. And the minimum clearance for disabled access is anywhere from 30 inches to 48 inches.
Home improvements industry groups like the National Kitchen and Bath Association (NKBA) made recommendations based on what bathroom and kitchen designers use when planning a room.
Even if NKBA guidelines recommend up to 30 inches minimum, accessibility is limited for wheelchairs, so the minimum goes up to 48 inches. It's important to have enough space so that the opposite wall doesn't become an obstacle.
Minimum Toilet clearances to the side
Measure the clearance from the imaginary center lines of the toilet until the nearest side obstruction. For example, the toilet paper holder is an obstruction that needs extra room.
The code minimum suggests 15 inches to the nearest side wall or fixture, while NKBA experts recommend 18 inches.
NOTE: Your toilet also needs to be at least 30 inches away from adjacent fixtures.
Consider All The Space You'll Need
The NKBA recommends the following clearances and fixture sizes for your new bathroom.
Sinks require a minimum clear floor space of 30×48 inches in front of the lav. Out of these 48 inches, 19 can extend under the lav. The height of the vanity or sink should fit your size and needs.
A well designed bathroom will have smaller sinks with rounded bowls to give the feeling of larger bathroom space. Wall hung sinks without a vanity cabinet are also great to create more room available.
Although there are no code requirements for bathtubs, NKBA recommends a clear floor space alongside the tub of at least 60 inches long and 30 inches wide.
Always allow extra space for easier access to plumbing, especially if you have whirlpool tubs.
NKBA recommends a minimum interior shower size of at least 34 inches of usable interior wall-to-wall for shower spaces. The Uniform Building Code requires that all showers, despite their shape, have a minimum of 1,024 square inches and a circular diameter of at least 30 inches. Of course, take into account your bathroom fixtures, such as the shower head.
Besides these, you'll need to ensure your shower doors have enough space to open and the shower entry is wide enough not to cause any issue.
The clear opening of a door should be at least 34 inches wide. If you don't have that much and can't make changes to your door opening, a minimum size of 24-inch width is also allowed.
However, ensure you get all your bathroom items through the door width.
Bathroom Double Basin Placement
The imaginary line between two sinks on a double vanity needs to measure 34 inches from one's center to the other. Local building code also requires you not to have any outlets in proximity, nor any light fixtures.
Small bathroom dimensions make remodeling more challenging but not impossible.
Having enough room to move around in your new bathroom ensures much better accessibility and increased comfort for you and your loved ones.
If you're planning on renovating your bathroom, ensure your professional contractor appreciates how much space every fixture takes in your new bathroom layout.
Your local experts from Ace Bath know how to make the most out of every space. You'll receive the most cost-efficient solutions for your situation while making your new bathroom look more spacious than before.