A well-designed bathroom can be a place that you want to spend time in because it's peaceful and calming – almost like an indoor spa retreat.
When you find the perfect harmony between design, function, and feel – whether in tile or other material – you know you've made the right choice when renovating a bathroom.
So, whether you're looking to update your master bathroom with a new style or want to make more efficient use of the space in your guest bath, we've got 8 stunning design ideas to get you started. Read on to find inspiration for your bathroom renovation!
1. Add A Freestanding Bathtub
If you're looking to make your bathroom more luxurious, consider a freestanding tub. This can add a real wow factor to the room and is a great way to make the most of the space.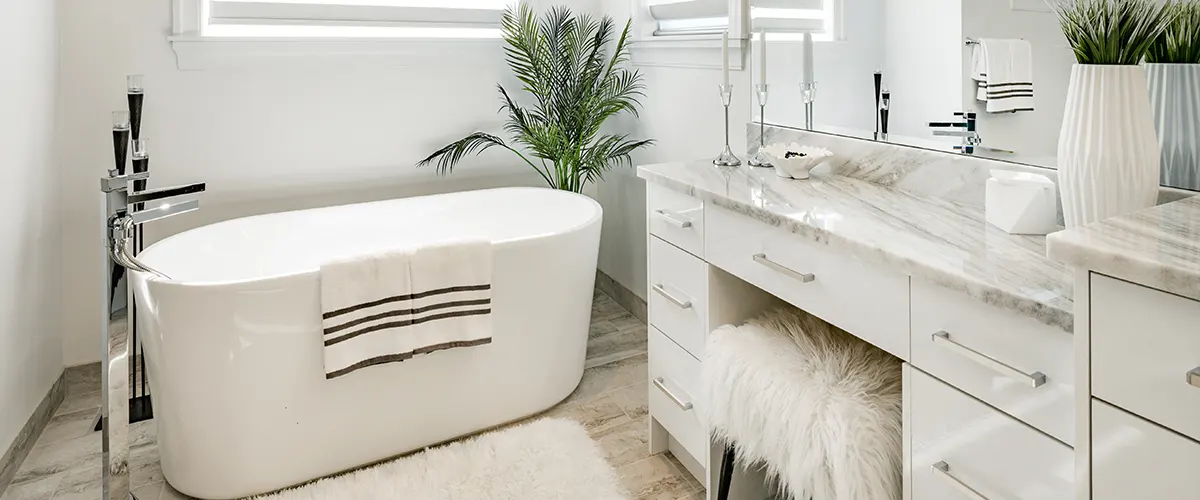 Freestanding bathtubs come in many shapes and sizes, so be sure to choose one that will fit comfortably in your bathroom. Besides enhancing the look of your space, a freestanding bathtub will give you that spa-like experience.
Installing heated floors can really change the way you're experiencing your bathroom. Not only will it keep your feet warm on those cold winter mornings, but it can also make the space more comfortable overall.
However, if you're considering installing heated floors in your bathroom, be sure to consult with a professional installer – we will be able to recommend the best type of heating for your space and can help you get the most out of your investment. We'll also check your local building code to see if any permits are required. 
3. Add a rainfall showerhead to your new shower
The standard showerhead is the most common type. It typically attaches to the wall and provides a powerful stream of water. If you're looking for a quick and efficient shower, then the standard showerhead is a good option.
The rainfall showerhead is a newer type of showerhead that has become increasingly popular in recent years. It attaches to the ceiling and provides a soft, relaxing spray of water. If you want a luxurious walk-in shower, then the rainfall showerhead is a good choice.
If you're looking for a way to add some personality and character to your bathroom, consider using colorful tiles. Tiles come in a variety of colors and styles, so you'll certainly find one that fits your taste. Here's a rundown of some of the most popular types:
All of these tiles come in a variety of different sizes and colors, so they can be custom-fit to your space. Look for tiles you love that will also work well with the rest of your bathroom.
You may want to create an overall color scheme that includes all the details, like the shower curtain or rug, or you may want to pick and choose colors for each individual detail.
5. Hang a chandelier or pendant light
One of the quickest and easiest ways to give your bathroom a facelift is to hang a chandelier or pendant light. Chandeliers are typically used in larger bathrooms, while pendant lights are better suited for smaller spaces.
Extra tip: Once you've chosen your light, be sure to pick out a beautiful fixture to complete the look.
But let's take a look at some of the options you can choose from:
1. Chrome fixtures are often chosen because they're traditionally associated with luxury, but they may not always fit in with more modern designs. When choosing chrome fixtures, consider pairing them with neutral colors or darker tones.
2. Gold fixtures provide a classic, luxurious look that works well with traditional bathroom designs. If you have a more contemporary space, go for gold-tone fixtures to add a chic accent or opt for shiny metallic finishes for a different twist on the original design.
3. Bronze Fixtures are often chosen because they work so well with almost any style. They're generally available in traditional finishes, darker tones, and sometimes even shiny metallic finishes.
4. Silver Fixtures are a great choice for contemporary bathrooms because their sleek, polished look can add an upscale touch to a simple space.
6. Opt for frameless glass shower doors when renovating a bathroom
Glass shower doors are a popular choice for many homeowners because they can open up a small bathroom and make it feel larger. They're also easy to keep clean and don't require a lot of maintenance.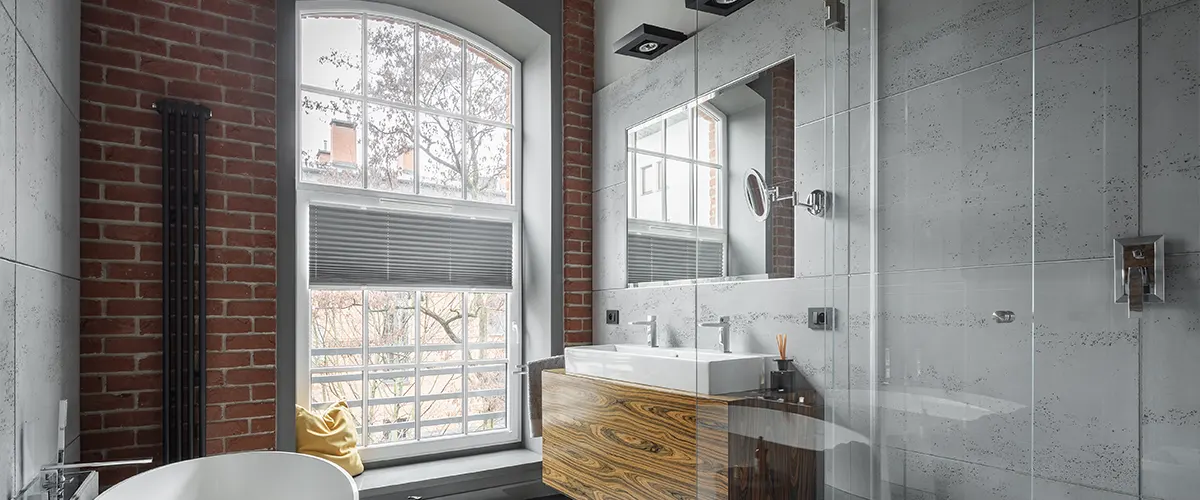 When choosing glass shower doors, be sure to pick the right size for your space. You'll also need to decide if you want a framed or frameless door. Framed doors are more traditional, but frameless doors are a better choice because they provide a sleek, modern look.
If you decide to go with frameless doors, be sure to have a professional install them so they're properly sealed and watertight.
7. Choose a bathroom vanity with plenty of storage space
When choosing a vanity for your bathroom, pick one with plenty of storage space. This will help you keep your bathroom organized and tidy.
Some vanities come with built-in drawers and shelves, while others have a cabinet that can be opened to reveal more storage space.
You can even choose to add a double vanity that will definitely help you organize your bathroom accessories better. Whatever one you choose, though, make sure your vanity will provide you with the space you need.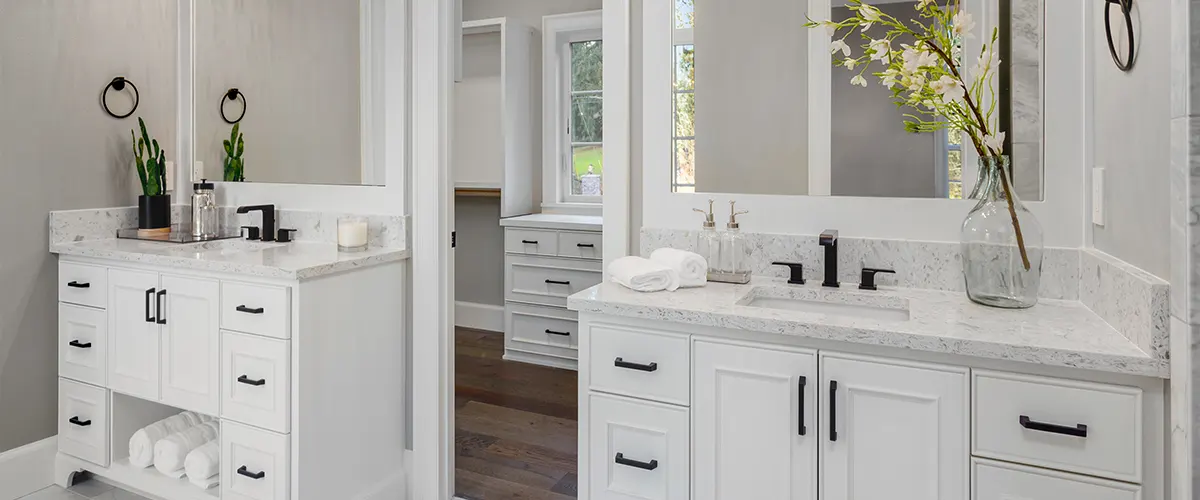 Extra tip: If your bathroom is on the smaller side, avoid picking a vanity that's too big. This will make your bathroom seem even smaller than it is. Instead, opt for a vanity that fits your available space (but that's still big enough to fit your under-mount sink).
8. Renovating a bathroom with stylish accessories
There are a number of great accessories you can add to your bathroom to give it a stylish update. Some popular choices include:
Extra tip: If your bathroom seems cold and clinical, add a few plants or flowers for an instant update.
We've provided some of the most popular tips when it comes to renovating a bathroom and choosing its design. From picking out fixtures, choosing the right shower door, adding stylish accessories like rugs and plants, we have covered it all.
You now know what questions to ask yourself before starting any renovation project so you can avoid costly mistakes down the line. And if you ever need professional assistance, our team is more than happy to give you the bathroom of your dreams! Just get in touch with us and let us know your vision.