A well-designed powder room makes the difference in how your guests feel in your home. Although real estate agents call it a half-bath, this room in your home has the power to uplift the entire vibe of your sweet home.
You need to start looking at your powder room as the factor that will leave even the pickiest visitors in awe. It needs to make a statement, and it needs to reflect your taste and style.
In this guide, you'll learn to create a powder room nothing short of impressive. You'll discover powder room ideas, trends, how to create a focal point, and what makes your powder room an unforgettable experience for each of your guests.
Keep reading and start showing off with an exquisite bathroom never seen before!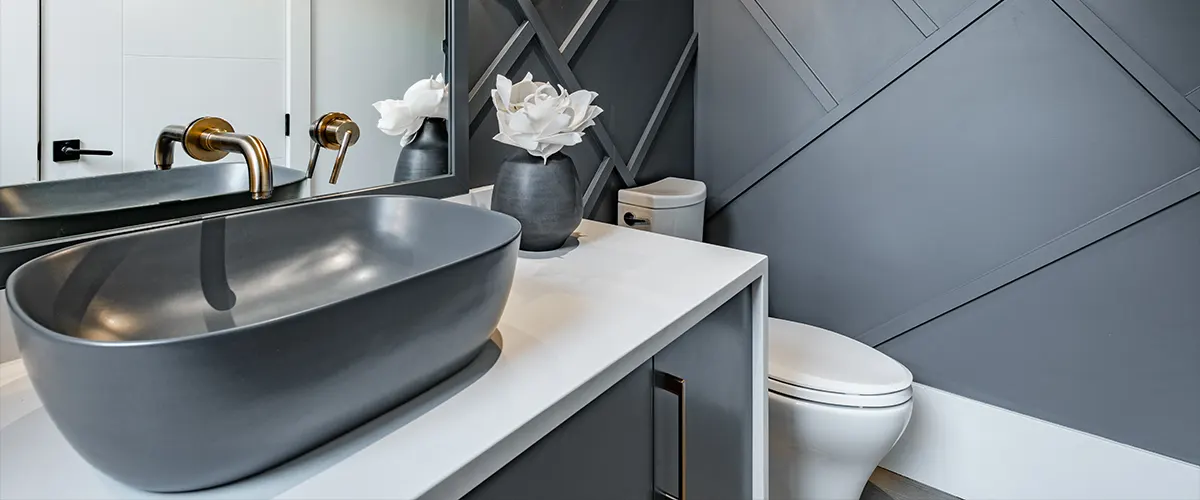 Where To Start A Powder Room Renovation
Eye-catching and even provocative designs are key design elements that homeowners are looking for in their powder room.
The reason behind this is simple.
Your guests frequent this room more than anyone else in your home, so it needs to leave a memorable impression on them.
However, it's important to determine your overall vision at the very beginning. Having the design planned from the start helps you avoid clashing styles and creating a mishmash of colors and decorations.
Professional designers start with a concept. The main point is simple: every element needs to match and complete the entire space. If this happens, your powder room will appear seamless and tied together, creating a comforting area for you and your guests.
Impress With The Walls Of Your Powder Room
Designing a powder room has never been so easy. And lots of people are starting to look into it, as renovating a powder room is quicker and more affordable than remodeling a master bathroom.
The most popular way of bringing to life your powder room is by using a unique patterned wallpaper. A white patterned wallpaper, a metallic wallpaper, or a simple textured wallpaper makes the walls in your powder bath more intriguing.
Homeowners have avoided using black in a small powder room because it creates the impression of an even smaller space. However, this decision is subjective. I've seen powder rooms with black wallpapers that look so luxurious and comforting that I thought, "I need to try this."
But wallpaper is not the only option. Distinctive ceramic tiles with an unexpected grout color have a similar effect and create the perfect set-up for the next element in your concept.
Let's say you're not ready for a black or eye-catching wallpaper on your walls. A quieter wall finish can work wonders too, especially with the right flooring.
Making a statement with the bathroom flooring is another way of giving your guests a memorable experience.
A wall with wood panels, moldings, and decorative features needs a high contrast flooring to create a surprise every time someone steps inside. Simple walls with attention-grabbing flooring patterns add spice to the small space and keep your powder room exciting and fun.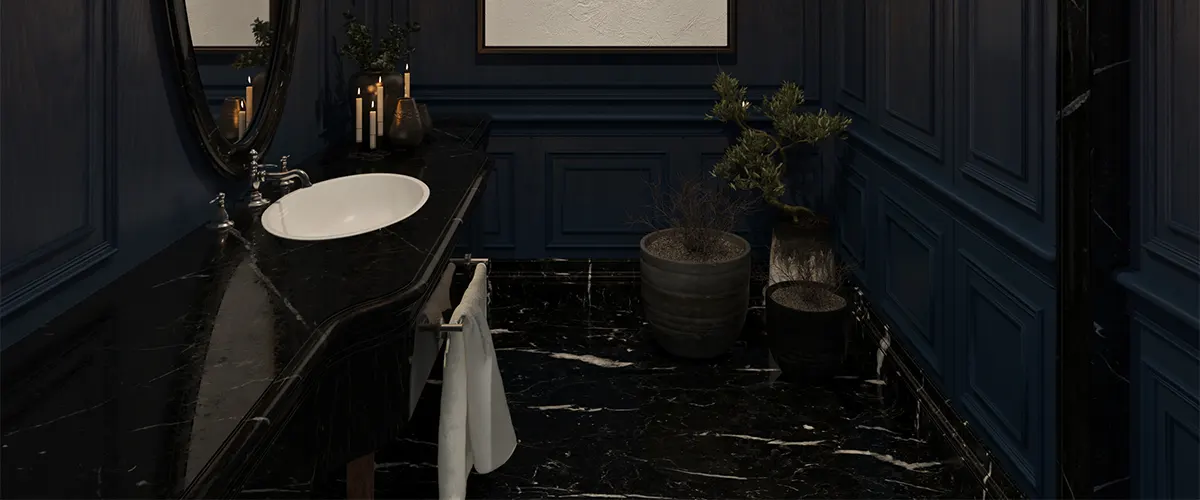 The Perfect Sink For Your Powder Room
The sink will most likely be the focal point of your powder room. Take full advantage of it and get a unique and luxurious sink.
Luckily, there are countless styles and materials to choose from, so you'll never run out of options. We recommend a simple vessel sink or a pedestal sink for spaces with less square footage. For slightly larger powder rooms, a complete vanity unit would be great. It includes a base, countertop, and sink.
However, for a dazzling piece, look for a small powder room vanity with an exotic stone countertop that will make taking your eyes off of it impossible.
Besides, custom vanities can be coupled with an undermount sink for a seamless look. This makes the sink and the vanity feel like just one element with a more pleasing aesthetic and luxurious vibe.
Save Money With Stone Remnants For A Powder Room
Exotic stone for master bathroom countertops could be quite expensive. However, you're upgrading the powder bathroom, a smaller space with a smaller counter.
Because you'll only need a small slab of stone for your small powder room, you might be able to find remnants from stone suppliers. Although you might not always find the exact stone slab you wanted, the savings could be substantial.
A stone fabricator can even transform your remnant into the perfect vanity top you wanted.
Warm Colors Create The Coziness A Powder Room Needs
Your guests will most likely use the powder room to check their hair, face, or makeup. It's easy to enhance their experience by adding the perfect light to emphasize their grace.
A general piece of advice is to avoid using bluish-white LED lights. Aim for low levels of warm light that create a cozy feeling in the room.
Sconces or pendants lights will provide the required light near eye level, and an overhead fixture will brighten the room strong enough to highlight every decorative element.
Add Your Personality To Your Powder Room
A tiny powder room is a small space where every object is visible, and you can't miss anything. This provides the opportunity to introduce your style and highlight a beautiful decorative element.
Here are several items that have the biggest impact:
A small half bath has the power to impress your guests and create a memorable experience out of their visit. It's a place of respite and calm in the middle of what can be a hectic day. Or a space to primp before heading out for an evening on the town.
No matter what your needs are, our team at Ace Bath are specialized in renovating bathrooms from start to finish. You'll receive a straightforward process with your needs and lifestyle at its core. Ace Bath is your one-stop shop where the most renowned professionals in Toronto give homeowners the best end-product.
If you're ready to get a powder room designed to suit your ideal lifestyle, contact us today!