Walk-in showers are all the rage these days. They're sleek stylish and can make your bathroom feel more spacious and transform it into the focal point of your home. But before you decide to convert your tub into a walk-in shower, there are some things you need to know.
This blog post will discuss the design of these showers, the installation process, and what to expect in terms of costs. So if you're thinking about making this change to your home bathroom, read on for some helpful advice!
What are walk-in showers?
While they may seem like a modern bathroom trend, walk-in showers have been around since the mid-20th century. If we define it, this shower has no curb or enclosure, making it possible to roll or easily walk into it.
These showers can be a great way to save space in a small bathroom. Because there is no tub enclosure to take up the room, the shower can be installed in a corner or along one shower wall of the bathroom. And because there is no curb, the shower's floor can be integrated into the rest of the bathroom floor, making it easier to walk from one end of the room to another.
1. How do you choose the right one for your home?
There are some factors you should consider when choosing a walk-in shower; here is a list to make it easier for you to decide. So, you must take into account the following:
Different Types of Walk-in Shower
Another thing to think about is deciding on the walk-in shower type that will work best for your bathroom. There are three main shower types: corner showers, neo-angle showers, and walk-in showers without a curb.
Each shower type has its unique pros and cons, so you'll want to consider your specific needs before making a decision. For example, if you have a large bathroom with ample space, a corner walk-in shower might be the best fit. But if your bathroom is small or awkwardly shaped, then a shower without a curb might be a better option.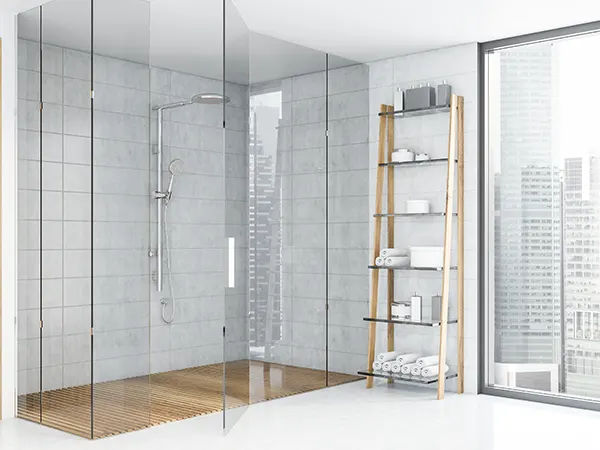 Corner walk-in showers are best suited to bathrooms with ample space and an L-shaped layout, which is why these types of showers are so common in master bathroom suites.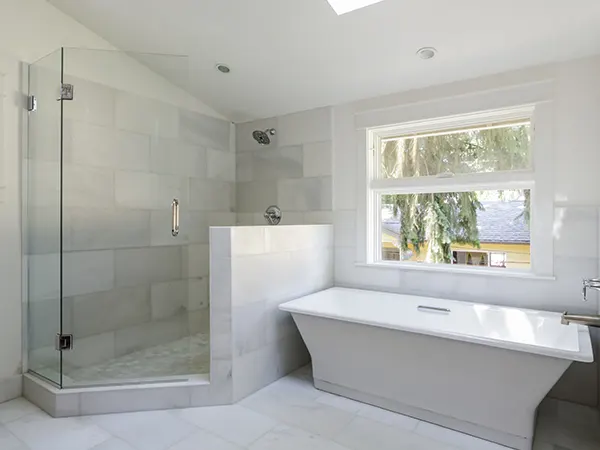 Neo-angle walk-in showers are rectangular showers with a diagonal orientation. This walk-in shower type is a good choice for bathrooms with limited space, as it takes up less floor space than a traditional square walk-in shower.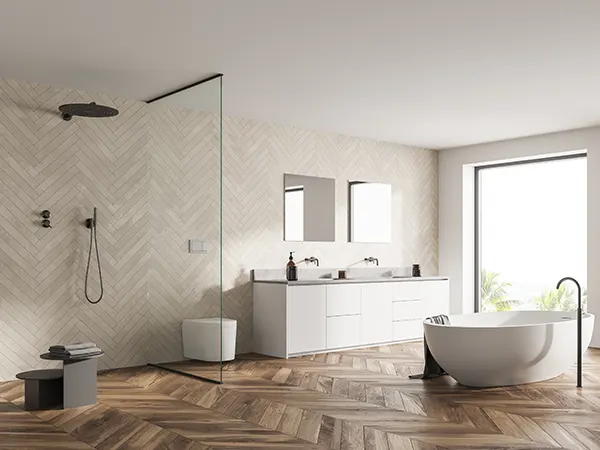 Walk-in showers without a curb
Walk-in showers without a curb, also called walk-through or walk-in shower pans, are best suited to bathrooms with limited space. These walk-ins do not have a raised threshold like traditional walk-ins and instead have the same elevation as the bathroom floor.
Once you've decided on all of these factors, it's time to start shopping around for the perfect shower that suits your needs.
2. How do you install a walk-in shower?
Walk-in showers can be a great addition to any bathroom, but installation can be challenging. Many walk-in showers require waterproofing and tiling, which are not tasks that most homeowners are familiar with.
For this reason, it's always best to hire a professional to install your walk-in shower. They will have the experience and knowledge necessary to do the job correctly and ensure that your shower is watertight and looks excellent.
To have a clear idea of how the installation works, here are the basic steps of walk-in shower installation:
Walk-in showers require a fair bit of maintenance to keep them looking and functioning their best.
3. Special considerations for tight spaces
When choosing a walk-in shower for a tiny bathroom, there are a few special considerations. The first thing you need to think about is choosing a walk-in shower with a minimal footprint.Remember that a shower door, like a sliding or pivoting door, is ideal for smaller spaces.
Secondly, opt for a walk-in shower work with a low profile. This will create the appearance of more space in the bathroom.
Another thing you should consider is the drain and faucet placement location when designing a walk-in shower for a small bathroom or tight room. These features should be placed in areas that will not impede traffic flow.
Finally, think about the functionality of your walk-in shower – consider choosing one with a seat if you need it. A walk-in shower with a seat is an excellent option for those who want the convenience of a walk-in shower but also need somewhere to sit down. This option will save on valuable floor space.
4. The Cost of a Walk-in shower
Walk-in showers can be a great addition to any bathroom, but they can also be expensive. The cost varies depending on the size, style, and features of the shower.
For a basic walk-in shower without any bells and whistles, you can expect to pay around $1,000. If you want a large walk-in shower with natural stone, a seat or shower bench, multiple jets, and a rainfall showerhead, you can expect to pay upwards of $5,000.
If you're looking to convert your existing tub into a walk-in shower, the cost will be more expensive as it will require additional materials and labor. You can expect to pay around $2000 for a basic walk-in shower conversion.
Remember that these are just estimates – the final cost will depend on the size, style, features of your chosen model, and other factors.
Factors that affect the overall cost:
One factor that can affect the cost of a walk-in shower is the type of installation you choose. If you decide to hire a professional to install your walk-in shower, that will add to the overall cost.
Another factor affecting the cost is the type of materials you choose. Higher-quality materials like granite or marble will cost more than cheaper alternatives like plastic or acrylic.
The size of the walk-in shower you choose is another factor that can affect the cost. If you have a large family or want to create an open-concept bathroom, walk-in showers are ideal.
Finally, the location of your walk-in shower can also affect the cost. If you live in a remote area or if the installation requires special permits, that will add to the overall cost.
5. Designing a walk-in shower
Walk-in showers offer a sleek, modern look that can be appreciated in any bathroom, regardless of size. Though walk-in shower ideas take up more space than bathtubs, their custom design and functionality make them a popular choice for many homeowners. You can create a beautiful and functional space to enjoy for years to come by following these guidelines:
Think about the color and texture when selecting a tile design for your walk-in shower. Tile color must have a neutral tone to create a timeless look, while a textured tile adds visual interest.
When planning the layout of your walk-in shower, be sure to leave enough space for shampoo bottles and soap, as well as a unique design that meets your taste.
The shower floor is an essential part of the design because it helps with drainage. A sloped or textured floor will allow water to flow away from the shower and towards the drain. This helps to prevent water from pooling and creating a dangerous slip hazard.
Built-in shelves and niches are a great way to add storage to your new shower. You can also use hooks to hang towels.
When choosing fixtures for your walk-in shower, consider the height of the showerhead and the reach of the faucet. You may also want to explore a walk-in shower design that includes: glass walls to keep the steam inside, multiple shower heads, a doorless shower, and any other bathroom fixtures that make your space unique.
A glass door offers a sleek, seamless look and is easy to clean. You can choose for your master bath a shower with a glass enclosure to add that luxury touch to your bathroom.
While a shower curtain provides more privacy, curtains are prone to mildew and must be replaced every three to six months.
Consider whether you want a walk-in tile shower or one with a seamless transition for your walk-in shower. Both options offer durability, beauty, and endless design ideas. Another popular choice is a doorless walk-in shower that provides an open and airy feeling for small bathrooms.
Walk-in showers are growing in popularity for several reasons. They're stylish and luxurious, but they also provide accessibility and convenience for everyone, regardless of age or ability.
If you're thinking of installing a walk-in shower in your home, our team can help. Acebath has extensive experience with walk-in showers and can guide you through the entire process, from choosing the suitable model to installation. Plus, we offer competitive pricing on all services. Contact us today to get started!