If you're like most homeowners, you probably spend a lot of time in the kitchen. This space is where you gather all your loved ones to share meals and create beautiful moments. So it's essential to make sure that it has all the functionality and space you need.
If you're thinking of renovating your kitchen, make sure you include the right kitchen features to make the most out of the space. While NKBA keeps these trendy kitchen features up-to-date on their website, sometimes a second opinion is more than welcome.
In this article, we'll discuss the top 5 must-have kitchen features that give you an up-to-date kitchen. 
Let's begin!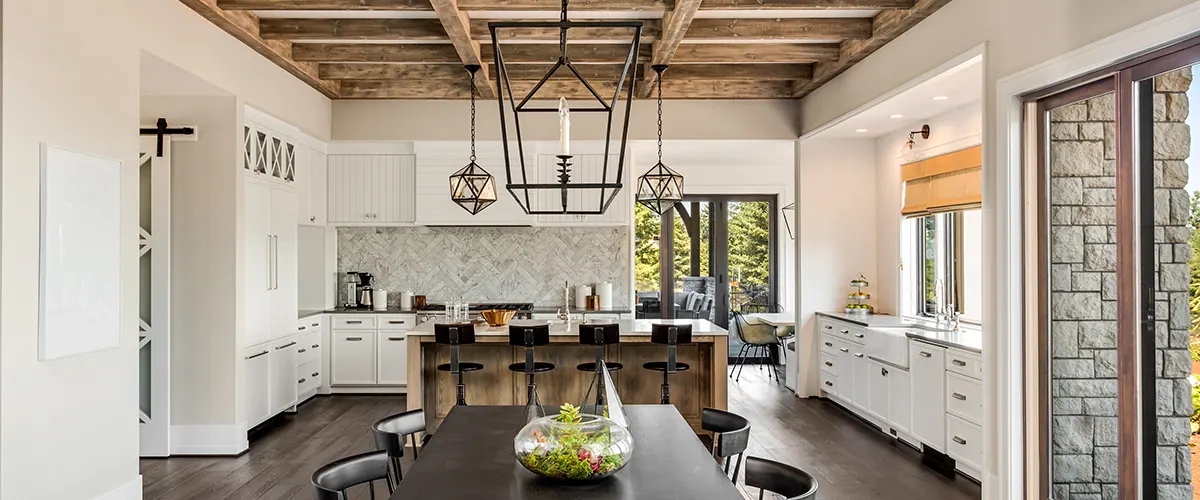 The benefits of Having kitchen Features
There are many benefits of equipping your space with trendy kitchen features.
You can make your kitchen more functional and efficient with the proper updates. You may want to consider installing a new sink, countertops for more work surfaces, or cabinets that will make life easier in the kitchen.
A dated kitchen can make your home look old and tired. Kitchen features in a renovation can give your home a modern and stylish look, a very sough-after upgrade for many of our customers in the Greater Toronto Area.
A well-done kitchen renovation can increase the value of your home. If you're thinking of selling in the future, a kitchen renovation may be worth considering.
An updated kitchen can make cooking and cleaning easier. So just forget about that busy kitchen. You'll now have more space and be able to work more efficiently.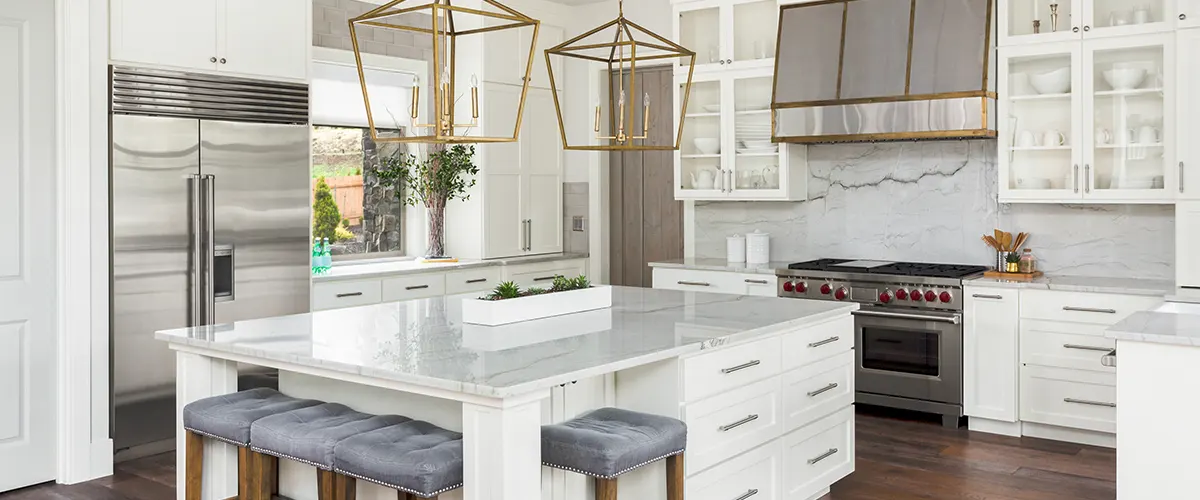 Designing the best layout
When renovating your kitchen, the first thing you have to do is pay attention to the layout of your kitchen.
Before choosing these must-have kitchen features, you need to make sure your kitchen's design works for you. The layout will determine the functionality of your kitchen, so it's vital to get it right.
There are many different layouts you can choose from, but the most popular ones are L-shaped and U-shaped kitchens. If you're not sure which one is best for you, consult with a professional to help you make the right decision.
Another thing to take into account is considering your budget.
Although you might want to add all the kitchen features and appliances to this list, it's important to remember that not everything is affordable for everyone. So make sure you set a budget and stick to it.
Many affordable must-have kitchen features will give your kitchen the functionality and look you're after. So don't be discouraged. Just be mindful of what you can afford.
Explore These 5 Kitchen Must-Have Kitchen Features
Now that we've talked about some things to consider before renovating your kitchen let's take a look at the must-haves for an up-to-date kitchen.
Below is a list of the top five features to have in a kitchen:
A lot more functionality comes with an island, such as extra cabinets and counter space for the family chef. The island also serves as the main focus of the kitchen in some homes, acting as both a food prep station and a gathering place where friends can join to share meals.
When choosing an island, make sure to consider the size of your kitchen and how much traffic it will get.
If you have a small kitchen, go for a smaller island that won't take too much space. And if you have a lot of people in your home, consider getting an island with seating.
When it comes to style, there are many options to choose from. You can go for a beautiful design like a traditional wood island with a marble top or something more modern with an interesting-designed backsplash.
Whatever style you choose, make sure the island fits in with the overall design of your kitchen.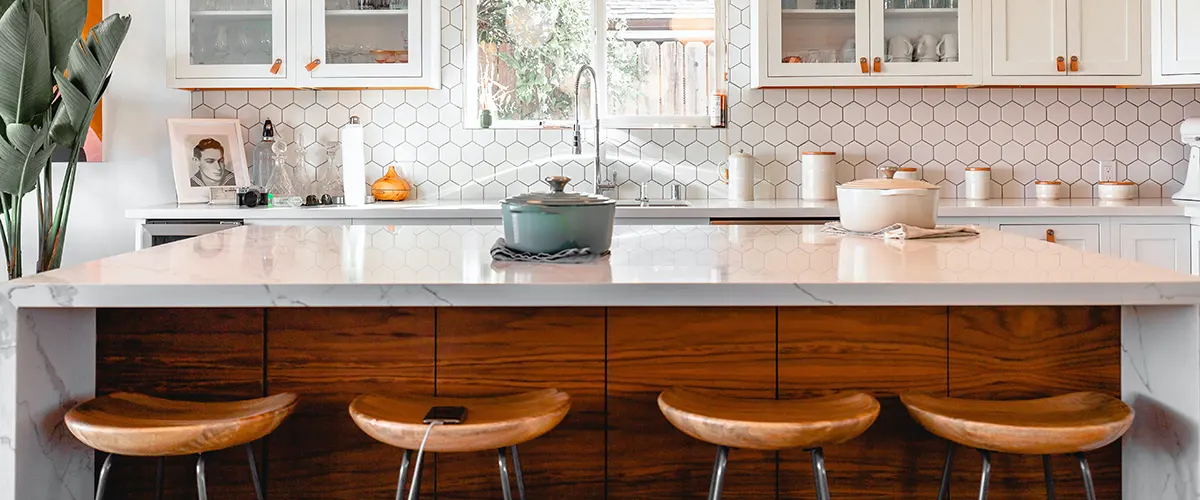 When you are renovating your kitchen, personalized cabinetry is a must-have. It can provide special places for all your dishes and different appliances while adding a unique style to the kitchen. You can order customized cabinets to fit any size or shape you need, so they are perfect for any type of kitchen.
There are many different materials to choose from, such as wood, metal, or plastic. So you can find the perfect cabinets that fit your budget and style.
Make sure to choose a color and style that will match the rest of your kitchen. Find more about cabinet styles and cabinet doors here!
When it comes to storage, custom cabinets are unbeatable.
They can provide a lot more storage space than off-the-shelf cabinets, which means you can store all of your kitchen supplies without cluttering up your countertops. Adapt to those some drawers and you'll have room for all the kitchen essentials like: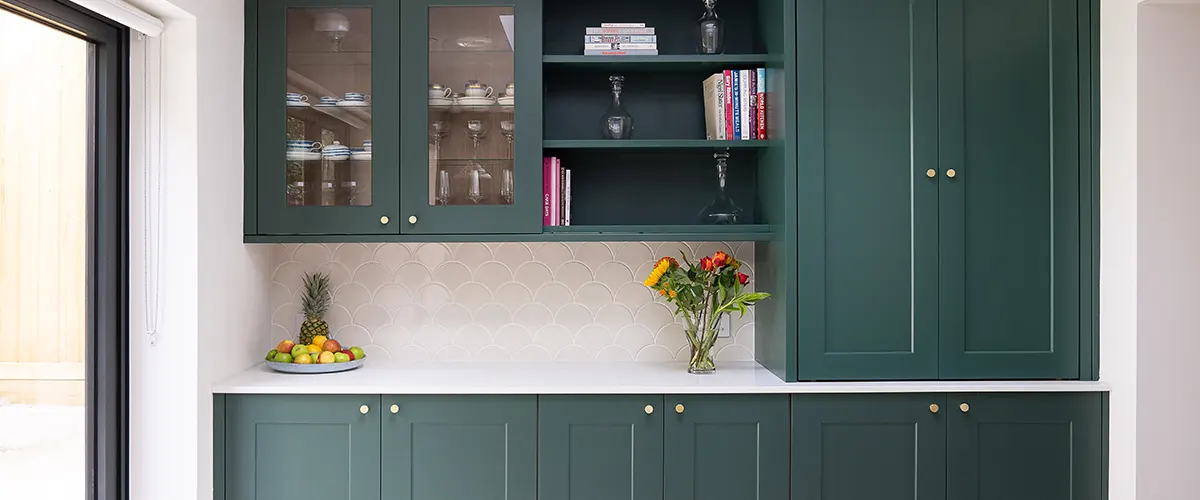 An extended countertop is the perfect must-have for families who love cooking or making smoothies. The countertop provides extra room for cooking activities like baking cookies with your kids. It also gives you more space to chop vegetables or prepare a home cook meal.
And if you have an island, the built-in extended countertop can be used as a dining area for family meals.
When choosing an extended countertop, pick a style, color, and countertop level that will match your needs and taste. You can also choose a material that will be easy to clean, like granite or quartz.
An extended countertop is a great way to add extra space to your new kitchen without taking up any additional floor space.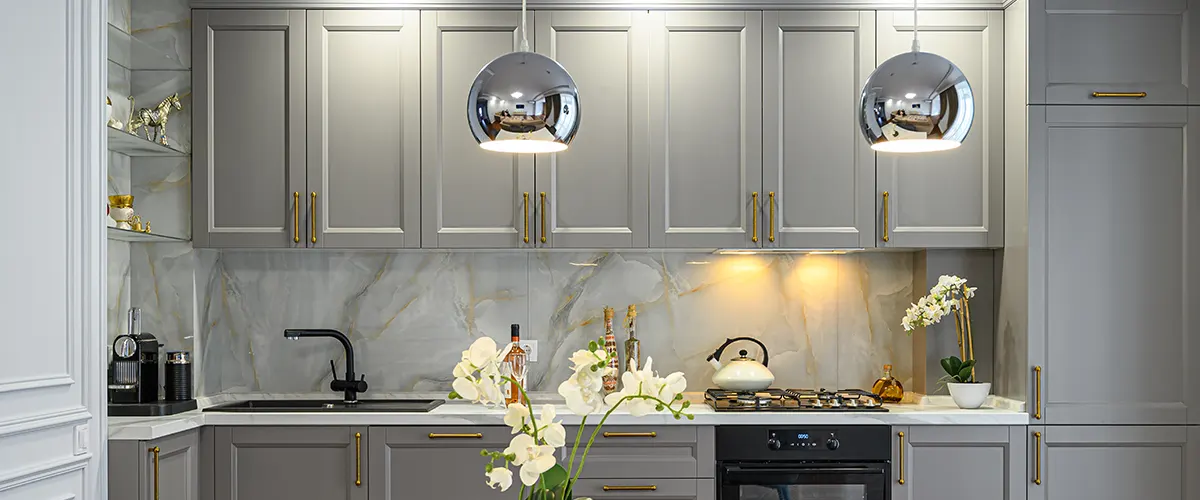 4. High-Quality Appliances
High-quality appliances are must-haves in any kitchen. Having a stove, refrigerator, and oven made of strong, high-quality materials will last long.
And because they're energy-efficient, you'll be using less power, ultimately costing you less per month.
Besides durability and efficiency, finding the right appliance for your kitchen is all about style. Just imagine that perfect refrigerator or main oven to complete the look of your kitchen.
When choosing appliances, always go for brands that you trust. There are many high-quality appliances on the market, so you don't have to sacrifice quality for the price.
Remember having higher-quality appliances in your kitchen is the key to cooking delicious and healthy meals for your loved ones.
Here is a list of kitchen gadgets every modern family should have:
One of the most important things to consider when renovating your kitchen is the lighting. It can completely change the atmosphere in the room and make it feel brighter and more open. And since pendant lighting is so popular right now, it's the perfect way to update your kitchen without spending a lot of money.
There are various styles to choose from, like task lighting, for instance, so make sure you choose one that goes with your kitchen's design. You can go with a traditional style with a rustic twist or something more modern. And if you have a unique kitchen, there are even personalized pendant lights that come in different shapes and sizes.
Pendant lighting is a great way to add some personality to your kitchen and make it stand out from the rest.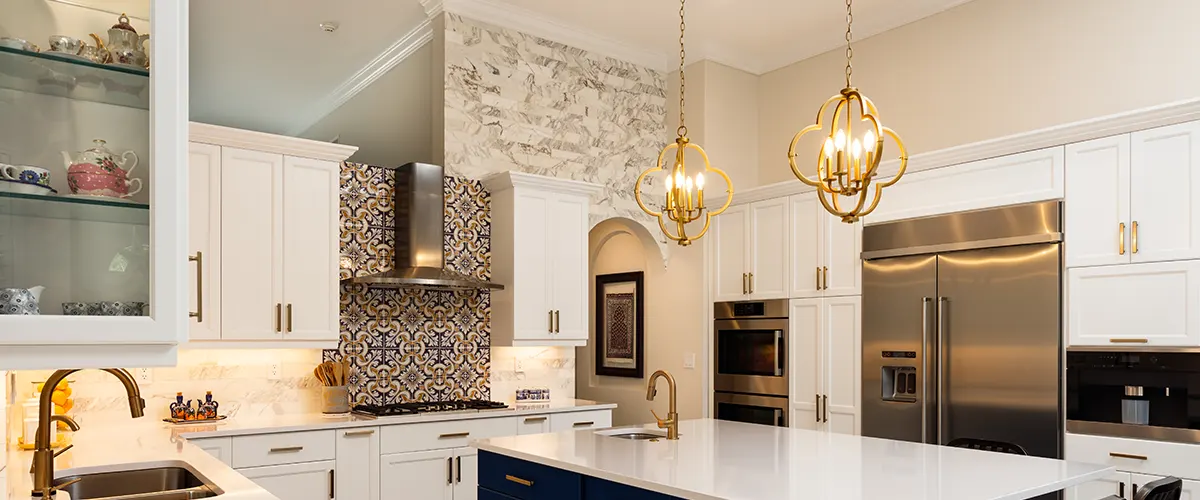 Tips for creating a functional and beautiful kitchen space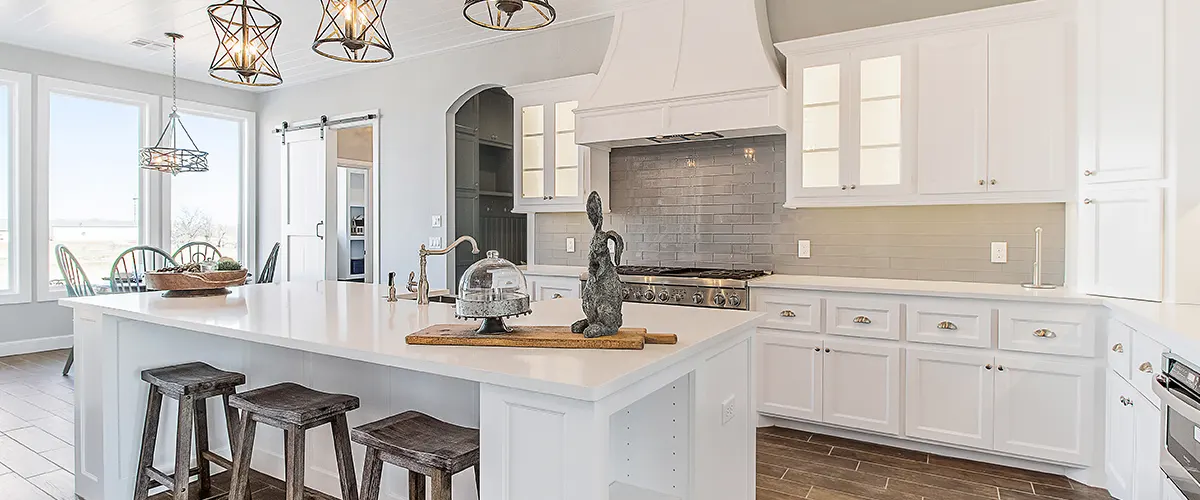 If you're looking to renovate your kitchen, it's important to consider what features are essential for you and your family.
Here at Ace Bath, we offer professional kitchen remodeling services for homeowners in Brampton, Mississauga, Halton Hills, and all around The Greater Toronto Area.
If you need help getting started on your project or would like some advice on what features would be best for your home, please get in touch. Our professionals would be happy to assist you with all your kitchen renovation needs.
Call us today at (647) 469-7374 and get in-depth advice and help from your local kitchen remodeler pros!