The kitchen is the heart of the home. It's where we cook meals, gather around the table to eat, and spend time with our loved ones. That's why it's so important to plan your kitchen remodel carefully.
You want to make sure that your kitchen has all the latest kitchen trends and design features to be a functional and beautiful focal point for your home.
In this blog post, we'll take a look at some of the most popular kitchen kitchen trends for 2022 and give you some tips on incorporating them into your renovation plans!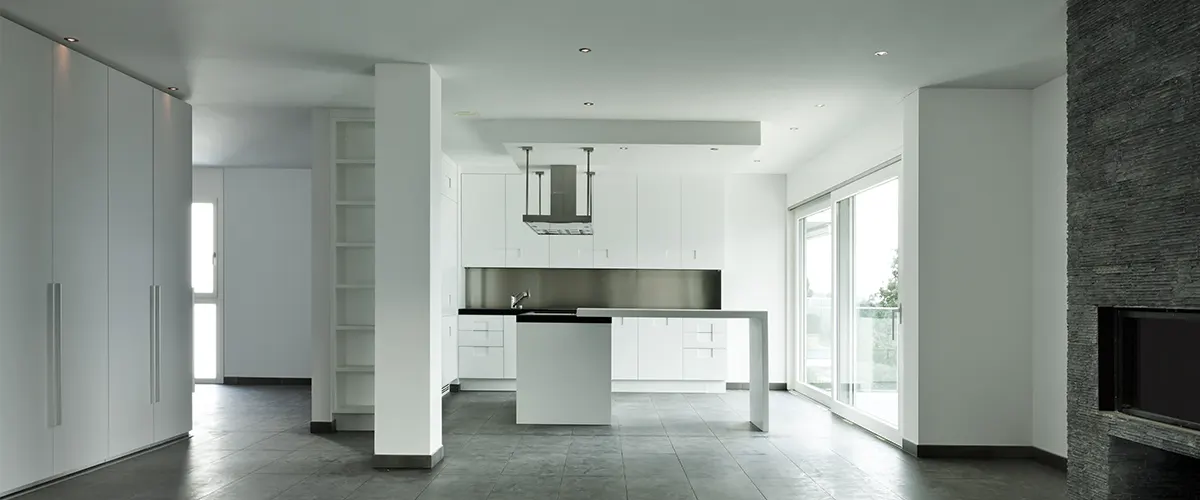 Create an improved kitchen space
In today's open concept homes, the kitchen is the central hub where everyone gathers. This trend will only grow in popularity over the next few years, so make sure your kitchen is designed for maximum social interaction.
One of the most popular kitchen trends for 2022 is clean and simple styles. This means that you should focus on using natural light as much as possible in your kitchen design.
Windows and skylights are a great way to bring in natural light, and you can also use light fixtures to brighten up the space.
Another key element in choosing between kitchen trends are the neutral colors. Think white, beige, and light gray. These colors will help to make the space feel open and airy.
If you're looking for a way to add a pop of color to your kitchen, consider using bright or bold wallpapers or tiles. This is a great way to add personality to the space and make it stand out.
Don't forget about appliances
When it comes to appliances, stainless steel is still king. But in 2022, we will see a move toward matte black appliances. They provide a sleek and modern look that will complement most kitchen styles.
Walk-in pantries: The new utility rooms
Walk-in pantries are becoming increasingly popular in kitchen trends because you can use the entire wall space. They provide a lot of extra pantry space through the kitchen ceiling making it easy to organize your kitchen supplies. You can also choose to install task lighting to increase visibility.
When designing your walk-in pantry, you'll want to make sure that it has the same material as the rest of your kitchen. 
You may also want to include plenty of shelving and wall cupboards for integrated appliances. You can also include a countertop for food preparation and a sink to make cleanup easier.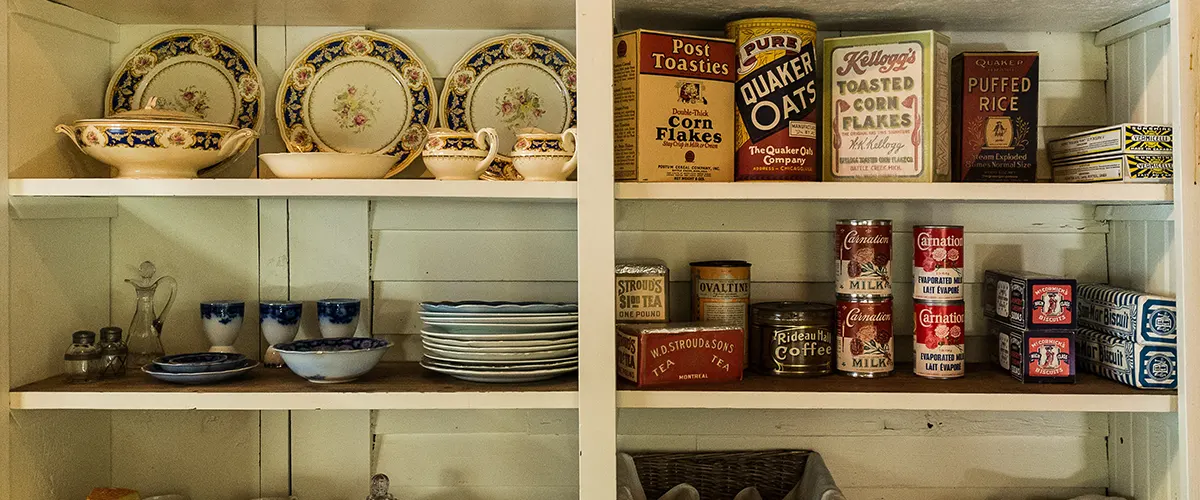 Colorful kitchen cabinetry that stands out
Even though most homeowners remain loyal to the classic white cabinets, there are some that look for more color for the upper cabinets.
Among glazed cabinets, people choose a wide color palette for their cabinet colors. Navy blue, deep forest greens, and earthy oranges are some of the most popular colors for kitchen cabinets in 2022.
So if you're looking to add a little personality to your kitchen, consider using a bold color.
Design a kitchen island for extra space
Storage is essential, so make sure you have plenty of cabinets and shelves to store your kitchen supplies.
Design a kitchen island if you don't have enough space for all your kitchen essentials. This is a great way to add extra counter space and innovative kitchen storage solutions to your kitchen.
You can also use kitchen islands as a breakfast bar, cooking space, or casual dining.
Top 6 Kitchen trends kitchen
The farmhouse kitchen style is all about bringing the outdoors in. This style includes natural elements like wood, porous stone, brick, warm colors, and cozy textures. Another is the inclusion of vintage appliances and furniture to add some personality and a nostalgic feel.
Open shelves are popular in farmhouse kitchens because it allows you to showcase your beautiful dishes and cookware. Wooden features are making a comeback, so it's best to choose a hardwood floor and matching countertops from natural material.
They add a touch of warmth and natural beauty to your kitchen by using organic materials. Farmhouse kitchens often have an open layout, which encourages family interaction.
Out of all kitchen trends, the farmhouse kitchen is ideal for older homeowners who want to relive past memories and feel comfortable in their kitchens.
Here are some of the key elements of a farmhouse kitchen: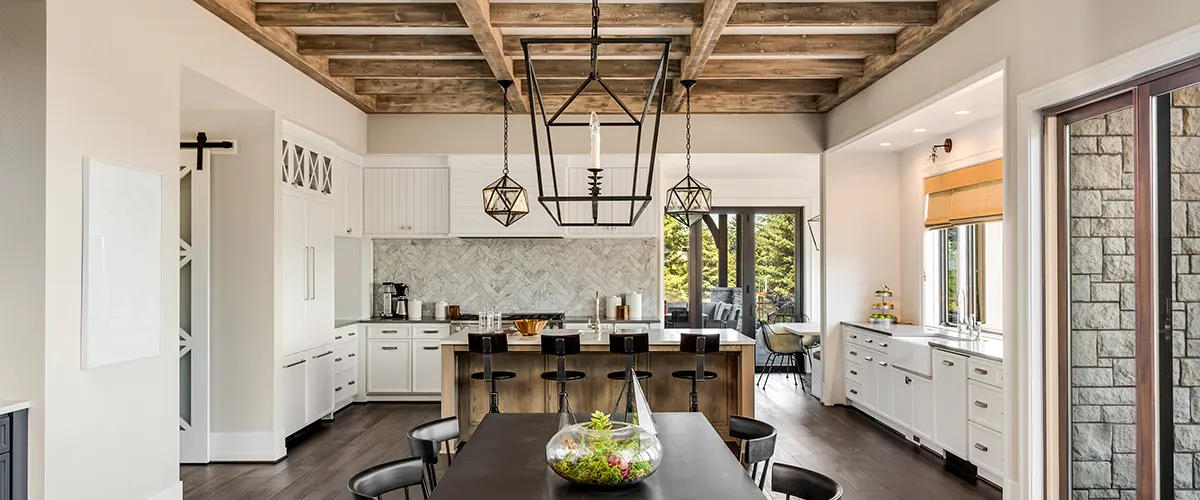 If you're looking to achieve a minimalist look in your kitchen, keep a few things in mind. First, keep your cabinets and shelves streamlined and organized.
Use open shelving to display your favorite dishes and cookware, and install cabinets with hidden storage to tuck away less-used items. Choose a light color or natural stone like quartz for the countertops to keep the space feeling airy and spacious.
And finally, don't forget about the accessories! Choose simple, understated fixtures and appliances to complete the look.
Out of all kitchen trends, the minimalist kitchen is ideal for homeowners trying to make an impact in their lifestyle.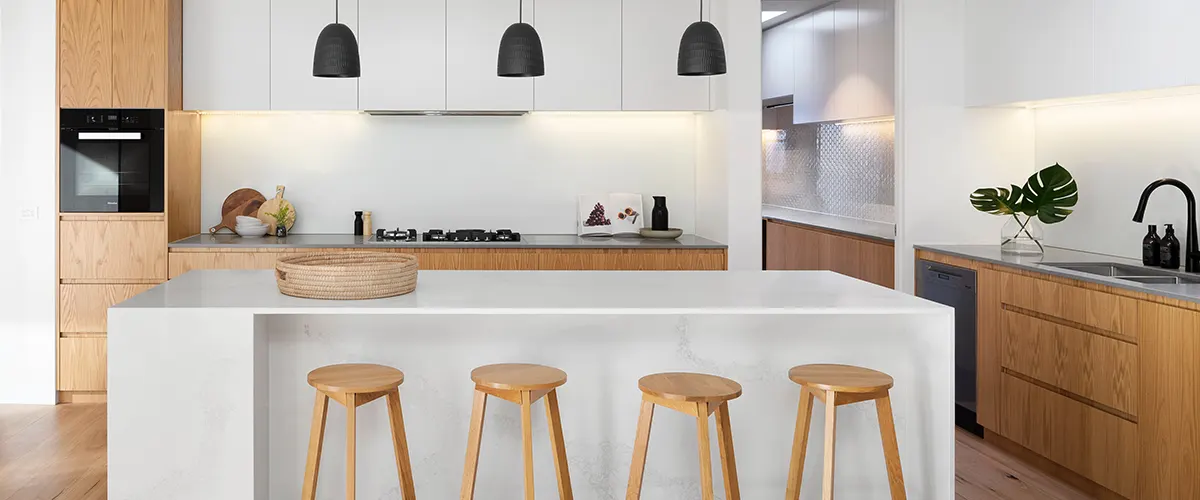 The industrial kitchen style incorporates raw and edgy elements into your kitchen design. This style is perfect for those who love to cook because it's all about functionality and practicality.
One of the most popular features of an industrial kitchen is concrete countertops. They're durable, easy to clean and add a touch of modernity to the space. You can also use metal accents to give the kitchen a cool and industrial feel.
And finally, lighting is essential! Choose a statement light fixture to really make the space stand out.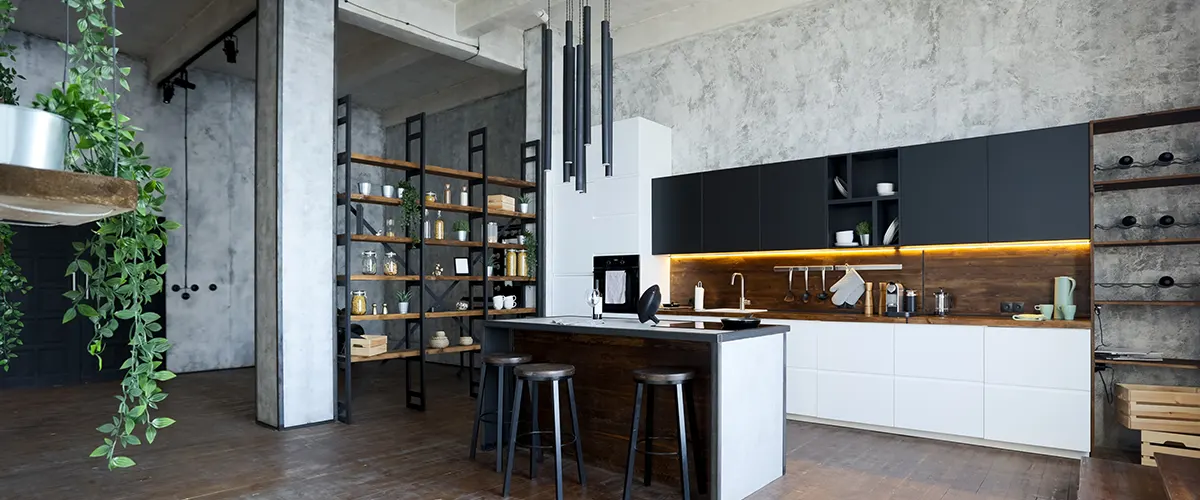 It's no secret that the modern kitchen is becoming more eco-friendly among the kitchen trends. Many people are now choosing to remodel their kitchens with eco-friendly materials and appliances. There are several reasons why this trend is growing in popularity.
First of all, eco-friendly kitchens are good for the environment. By using sustainable and energy-efficient materials, you can help reduce your home's carbon footprint.
Additionally, eco-friendly kitchens are healthier for your family. Many high-quality materials and appliances used in eco-friendly kitchens are non-toxic and free of harmful chemicals.
Here are some of the key elements of an eco-friendly kitchen: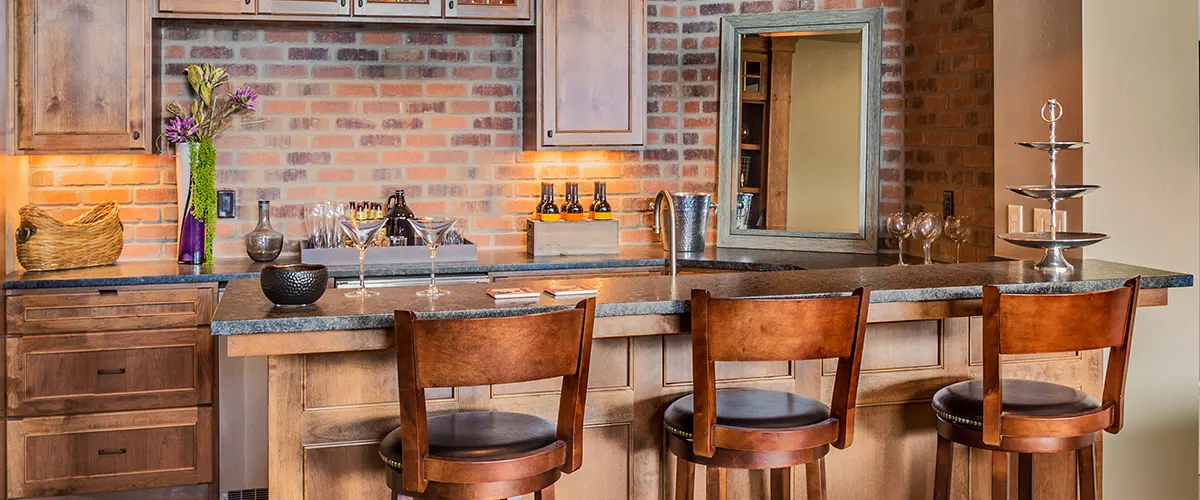 Kitchens are becoming increasingly smart and connected to meet the needs of modern families. Features you can expect to see in a 2022 kitchen include voice-activated assistants, smart appliances, and touchscreen displays.
Voice-activated assistants such as Amazon's Alexa or Google Home are becoming increasingly popular and allow you to control your appliances with just your voice.
Smart appliances can be programmed to run on specific schedules or even be controlled remotely. And touchscreen displays provide a convenient way to view recipes, watch cooking tutorials, or entertain guests while preparing a meal.
Of all these kitchen trends, the smart kitchen is the perfect one for younger homeowners looking to make their home super comfortable.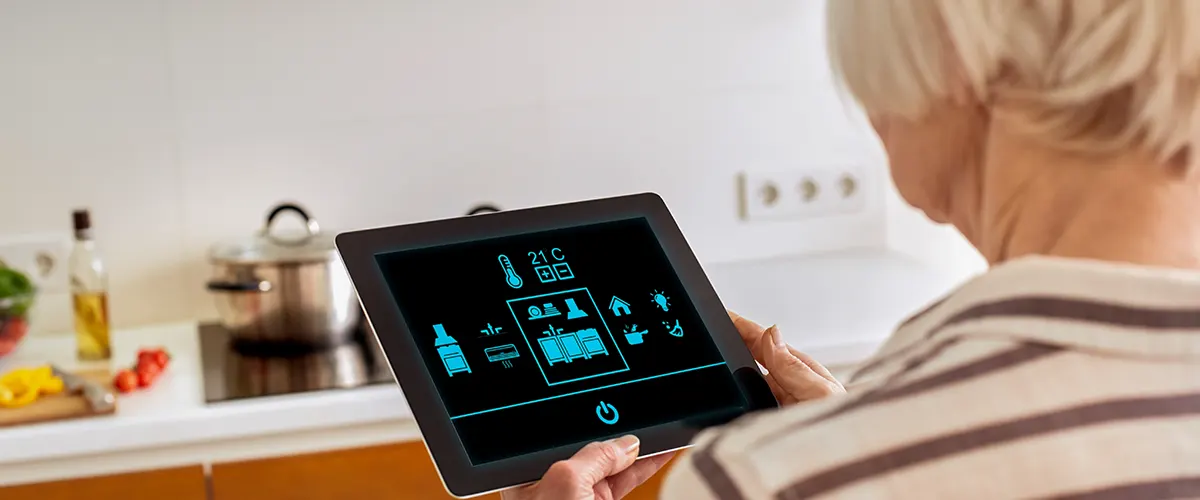 How to choose the right kitchen design for your home
When planning your kitchen renovation, it's essential to consider your budget and what you're willing to spend. Keep in mind that there are a variety of materials and appliances to choose from, so you can find something that fits your budget.
Before you start shopping for materials, take some time to define your goals for the kitchen. 
What do you want the space to look like? What functions do you need it to serve? Once you have a clear idea of what you want, it will be easier to stay within your budget.
2. Consider the size of your kitchen
Another critical factor to consider is the size of your kitchen. Make sure to choose materials and appliances that fit the space. Choose a design that maximizes functionality and storage if your kitchen is small.
If you have a large kitchen, you have more flexibility in design. You can go with a more traditional style or experiment with different materials and colors.
No matter what size your kitchen is, there are some design options to choose from. By planning, you can create a perfect kitchen for your needs and budget.
3. Choose a style that suits you
One of the best things about kitchen renovations is choosing any style you want. Whether you're a fan of traditional or contemporary design, there's something for everyone.
Think about the overall look and feel you want for your kitchen. Do you want it to be light and airy or dark and cozy? Once you have an idea of the style you want, start shopping for materials and appliances that fit that aesthetic.
It's essential to choose a style that you'll be happy with for years to come. By taking the time to plan your renovation, you can create a kitchen that's perfect for your needs and personal taste.
Before you start shopping for materials, take some time to research. There are some websites and resources available that can help you design your perfect kitchen.
A professional renovator who can help you plan your kitchen and make your dreams a reality. They can provide advice on materials, appliances, and design options that fit your budget.
In this article, we had a quick rundown of some of the most popular design features to look out for in your next renovation project.
If you want to make sure your kitchen is on trend and looks great, consider incorporating any of these features into your plans.
At Ace Bath, we offer professional kitchen renovation and bathroom renovation and we're serving all homeowners in Mississauga, Brampton, and surrounding areas. With us, you're at the front and center of your renovation project.
And if you need help with your renovation project, don't hesitate to get in touch with our team of experts. We would be happy to assist you in creating the perfect kitchen for your home.