It shouldn't come as a surprise to find that a kitchen renovation boosts your property's resale value and well-being. In fact, according to the Appraisal Institute of Canada (AIC), a kitchen renovation gives you between 75-100% return on investment.
But a kitchen renovation is also among the most expensive upgrades you can make to your home.
Kitchen renovation costs vary from one household to another. And although it's impossible to tell you how much your kitchen renovation will cost, we can give you some estimates and averages of what homeowners in the Greater Toronto Area pay for their remodel.
Keep reading and find out how much to budget for your new kitchen!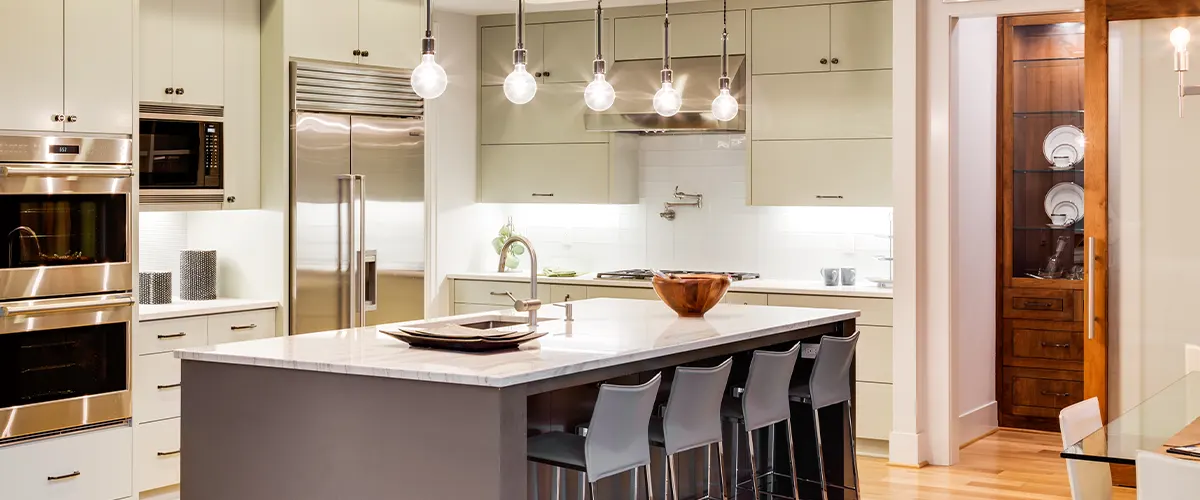 Typical Kitchen Renovation Cost In Toronto
Kitchen renovation costs differ from one area to another. A kitchen renovation will be more expensive in downtown Toronto, and probably more affordable in smaller cities.
But besides the area, your preferences also have a significant impact on the final quote.
Here are some cost estimates for different kitchen sizes:
| Size (square feet) | Average Cost |
| --- | --- |
| Small <70 sq. ft. | $6,500 - $26,000 |
| Medium 100-150 sq ft | $19,500 - $52,000 |
| Large 200+ sq. ft. | $40,000 - $78,000+ |
But remember, these will all vary depending on many factors.
Labor Costs For Your Kitchen Renovation
A kitchen renovation is a large project that requires multiple skills and tools. Unless you're not a contractor yourself, you'll need different pros along the way to bring your project to completion.
All these experts will increase your kitchen renovation costs, so keeping them in mind before you start budgeting is a great idea.
Below are the costs associated with home service pros you'll need to interact with during your renovation.
Most contractors have an architect in their team that will work on planning any structural changes to your layout. They ensure the new space is structurally sound and that every aspect of your kitchen is up to the highest standards.
Architects usually charge between $130 to $163 per hour. They can also charge a percentage of the total project cost as a one-time fee.
Kitchen designers, like architects, are optional but crucial if you want your space to turn out as you have in mind. Designers plan your renovation and help you choose the right elements to create a consistent style and vibe across your new space.
It's common for kitchen designers to charge approximately 10% to 20% of the total renovation cost since they are mostly permanently on-site. If you want a one-time consultation, a kitchen designer in Toronto costs about $325.
You'll most likely have to include a pro to check or fix your kitchen's plumbing system in your kitchen renovation costs. Reliable plumbers are hard to find, so it would be ideal if your contractor also offers plumbing services.
If not, plumbers charge between $71 and $84 per hour. Besides their labor, they also charge for materials.
New electrical wiring requires a proper expert, but, like plumbers, good electricians are not easy to find. Ask your contractor if they have any electricians on their team. It'll save you a lot of trouble finding one if they do. If not, professional electricians charge between $84 and $110 per hour, plus materials.
If you're planning on having new custom cabinets built, you'll need a professional carpenter. They charge around $90 per hour. Here are some cost estimates for different types of cabinetry.
A kitchen contractor must have in his team everything you need to finish your project as scheduled. Here at Ace Bath, we work closely with other experts in various fields, like electricians, plumbers, carpenters, and designers, so you won't have to look for other experts.
We are your one-stop shop for kitchen renovations. We take pride in delivering the best end-product to homeowners in Mississauga, Brampton, Vaughan, Halton Hills, Oakville, and the Greater Toronto Area.
So we talked about the experts you'll need and how much you should expect to pay them. Now, let's discuss the most common elements homeowners in Toronto choose to replace or update in their kitchen renovation.
| Feature | Small Reno | Mid-Range | Major-Reno |
| --- | --- | --- | --- |
| Install an appliance | $130 - $260 per appliance | $200 - $400 per appliance | $520 - $720+ per appliance |
| Install cabinets | $130 - $260 per cabinet | $260 - $390 per cabinet | $390 - $650 per cabinet |
| Install a faucet | $162 - $260 per faucet | $260 - $390 per faucet | $300 - $750+ per faucet |
| Install countertops | $260 - $650 | $400 - $1,300 | $1,300 - $3,000 |
| Install flooring | $780 - $1,300 | $1,300 - $1,900 | $1,900 - $3,900 |
| Install a sink | $130 - $325 | $250 - $520 | $520 - $780 |
| Backsplash installation | $150 - $521 | $500 - $1,040 | $1,043 - $1,500 |
| Painting / Wallpaper | $130 - $260 | $260 - $520 | $520 - $780 |
Your material preferences will significantly influence your kitchen remodeling costs. Let's take each of these and see what your options are.
When installing flooring, hardwood is still the most popular option for your kitchen. The average cost of installing hardwood flooring is $8k. Depending on what type of wood you want, hardwood floors range between $3k and $14k.
New appliances are not always a must in kitchen renovations. If you're planning an upscale remodel with high end appliances, get ready to budget a lot more.
Kitchen ranges cost between $500 for a budget model to $3,000+ for a high end model. If you want a gas-infused one, installing gas lines costs $146 per hour plus materials.
Kitchen appliances' costs are related to their efficiency. Even a well-optimized double oven might bring lower utility bills than a high end range that works on electricity.
The average labor cost to install a backsplash in your kitchen is $40 to $60. But let's also see the cost of different materials.
With your cabinets, your kitchen countertops are the focal point of your space. So new countertops are extremely common in renovations.
Quartz countertops range between $50 to $75 per square foot. Although not a natural stone, quartz is highly durable and probably the best and most common choice among homeowners. Granite countertops cost between $40 to $60 per square foot.
Kitchen islands are great if you have floor space. If you're considering getting one, think about the cabinetry, counters, plumbing, and electrical work that you'll need.
On average, a kitchen island costs between $3k to $5k.
A remodeled kitchen wouldn't be complete without new cabinets. For upscale remodels, custom cabinetry is the way to go. These provide the perfect style and dimensions for your unique needs, but at a cost.
Besides the cabinets, throw in a few dollars for lighting fixtures. Under-cabinet lights create a cozy atmosphere in your kitchen, perfect for bonding over dinner.

Although these are just averages, they will help you understand how much your kitchen renovation costs and where will your money go. Ensure you're budgeting enough for each of these elements, and your remodeling project will turn out just as you envisioned it.
How To Budget For Your Kitchen Renovation
Budgeting for any renovation or home improvement is a daunting task. And it's no different with a kitchen renovation.
Home renovation TV shows might tell you differently, but they're notorious for showing unrealistic budgets for projects that cost way more than $20k.
The main problem: they don't breakdown a kitchen renovation costs.
You can take several steps to ensure you're budgeting enough for your upcoming project. It's worth considering all of them to avoid delays or the embarrassment of under-budgeting.
When renovating, think about the main use of your kitchen.
If this room is where you and your family gather for a board-game night, it needs to be relaxing and cozy. In this case, you'd focus on bringing comfort and peace of mind to your new kitchen.
If someone in your family loves cooking, buying a professional kitchen range and investing in larger kitchen cabinets might be better idea.
Homeowners tend to overlook budgeting a little extra money for unforeseen issues that most old kitchens have.
Experts advise homeowners to budget an extra 20% of their total project cost to easily handle anything that might come up.
Remember, this money remains in your pocket if everything goes according to plan. The 20% rule ensures you're taking into account and preparing for a worst-case scenario.
3. Know What You're Paying For
Your kitchen renovation costs more than most other home upgrades. But maybe you're wondering where my money is going?
The National Kitchen & Bath Association ran a few studies and developed a well-detailed report showing the expenses of a kitchen renovation.
Let's see the costs associated with an average kitchen renovation of $30k.
| Element of Project | Percent of Budget | Average Renovation Cost |
| --- | --- | --- |
| Design fees | 4% | $1,200 |
| Installation | 17% | $5,102 |
| Appliances & ventilation | 14% | $4,201 |
| Cabinetry & hardware | 29% | $8,704 |
| Countertops | 10% | $3,001 |
| Lighting | 5% | $1,500 |
| Flooring | 7% | $2,100 |
| Doors & windows | 4% | $1,200 |
| Walls & ceilings | 5% | $1,500 |
| Faucets & plumbing | 4% | $1,200 |
| Other | 1% | $300 |
If your budget is tight, but your wish to renovate surpasses it, here are a few tricks that save you money.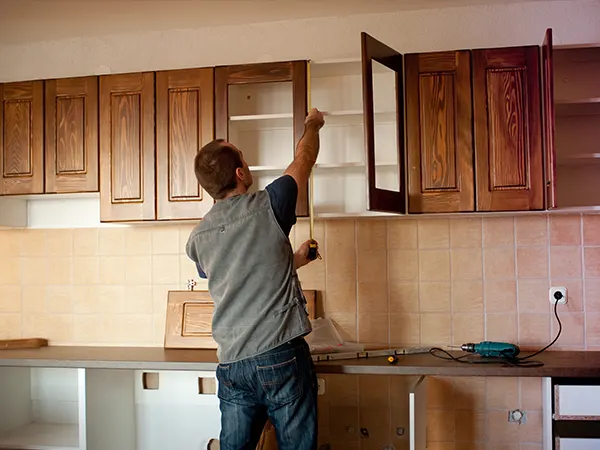 Custom cabinets alone take up to 30% of your total budget. If you're looking for a budget renovation, consider going for ready-to-assemble cabinets.
Refinishing or refacing cabinets is another great way to save on a kitchen renovation.
Consider splitting your kitchen remodel in stages if you don't feel comfortable undertaking a full renovation.
Think about your needs and decide what's your priority. Talk with your contractor and decide the best way to approach your project.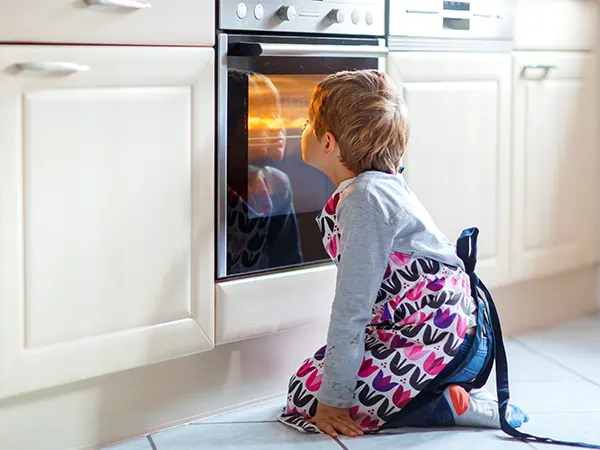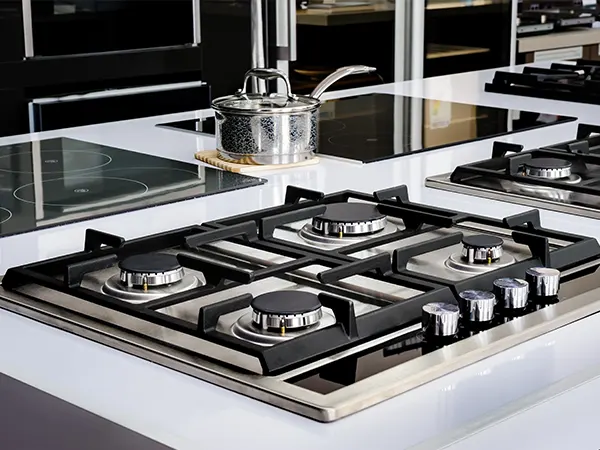 Focus on necessary upgrades
Maybe you don't need to upgrade everything. 
If you lack storage space, add more cabinets. If you want a better cooking experience, change appliances. Or, if you want to change the overall style, reface your cabinets or change the floor.
Bathroom Renovation Case Studies In Ontario
Basic Kitchen Renovation In Mississauga
Our client in Mississauga wanted a kitchen renovation where the main upgrade were his new cabinets. We quoted this project for $30k, and the cabinets alone were $10.
This 120 square feet kitchen included:
Modern Kitchen Renovation In Mississauga
Our client in Mississauga wanted a modern renovation of his 200 square feet kitchen.
The main element in this project was the kitchen island with quartz countertop. We installed a bar overhand and reconfigured the kitchen appliances location.
We quoted this project for $45k. From that, the quartz counters were $10k.
Open Concept Kitchen Renovation In Brampton
Our client in Brampton wanted an open-concept kitchen renovation of his 400 square feet space.
This project took a lot of effort and skill on behalf of our experts. We installed a 6 ft x 10 ft kitchen island with lighting fixtures.
We quoted this project for $60k. From that, the custom hardwood cabinets alone were $25k.
Frequently Asked Questions
Many homeowners pay for the average kitchen remodel cost in the Greater Toronto Area around $30k. However, your final cost will differ from the averages in this guide.
No matter the square footage of your existing space, your local experts from Ace Bath ensure you're getting your dream kitchen on time and within your kitchen remodel budget.
We offer custom solutions for your particular renovation, and you'll get the most cost-effective results in the Greater Toronto Area. Homeowners in Mississauga, Oakville, Vaughan, and Halton Hills are already enjoying the kitchens we worked on!
Stop delaying your project and fall in love with your kitchen again!
Call (647) 459-7374 or request a quote today!