If you're in the thought process of getting your kitchen remodeled, one of the main obstacles and concerns you might have will be the renovation cost.
At Ace Bath, we're trying to make your renovation experience an immense pleasure to go through. We aim to minimize the stress and anxieties of doing major home improvements, which is why we designed a quick and intuitive process to start.
We're fully transparent about our pricing, and you can see that below.
The Typical Kitchen Renovation Cost In Vaughan
One of the main factors that'll impact how much your kitchen renovation in Vaughan will cost will be the total size of your space. Naturally, more tile and more cabinetry will add to the total cost of your project.
Here are some cost averages for different kitchen sizes.
| Size | Size In Square Feet | Average Cost |
| --- | --- | --- |
| Small Kitchen | less than 70 sq ft | $6,500 - $26,000 |
| Medium | between 100-150 sq ft | $19,500 - $52,000 |
| Large | over 200 sq ft | $40,000 - $78,000+ |
Although these can seem like a lot sometimes, with Ace Bath's experts you'll get cost-effective solutions to keep your project within a set budget. Rest assured, you'll get the best kitchen renovation without breaking the bank.
Labor In A Kitchen Renovation Cost In Vaughan
Unless you're planning to work with a kitchen remodeler, these are all the pros you'll have to work with to get your kitchen fully transformed.
If you're making structural changes, an architect is mandatory to make sure you'll obtain the building permit and your home remains safe.
In other words, if you're building new walls in your space or raising the ceiling expect to pay an architect between $65 to $250 per hour. As an alternative, some architects can also charge a one-time-fee of between 10 to 20% of the total project cost.
If you're planning to just renovate your kitchen for the sake of having new appliances and cabinetry, a designer won't be necessary. However, if you're looking to boost the functionality and looks of your new kitchen, you'll most definitely need a designer.
Besides these, designers make the room flow and seem tied together, creating a really beautiful look and attaching a good vibe to your space.
Like architects, designers can charge a one-time-fee of 10% to 20% of the total kitchen remodel cost, or from $300 to $1.5k per hour, depending on how he's valued on the market.
Older kitchens are oftentimes damp and have a ton of leaks. Before adding new floor and new cabinetry, it's best to ensure the plumbing system is fully functional and has no problems.
Plumbers charge between $70 and $150 per hour. Some of them will bring their own materials (which will be included in the price), while others will let you buy your own materials and you'll simply pay for his time and labor.
Not all kitchen renovations will need an electrician, but if you're relocating appliances or adding new lighting, hiring a professional electrician is your best bet. The electrical system is all about safety, especially if your house is not made of bricks and stones.
Professional electricians will charge between $80 and $150 per hour, plus materials. But you can't really skip this place in certain situations, and you definitely can't have anyone meddling with the safety of your home.
New cabinets are a must in every kitchen renovation. If you're looking to get stock or semi-custom cabinets, a cabinet installer can do a great job and you won't really need a carpenter.
If, on the other hand, you're looking to get fully custom cabinets, you'll need a professional cabinet builder to make sure you're getting exactly the cabinets that you wanted. They charge around $90 or more per hour to create cabinets that perfectly match your needs, style, and preferences.
Instead of speaking with all these different experts and trying to get them on your project, why not work with a company that has the best of them available at all times?
At Ace Bath, we work with the top tradesmen in Canada to make sure you're getting the highest standard in the remodeling industry. We're all dedicated to making your dream kitchen come true and offering you the best contracting experience you'll ever get!
We offer professional bathroom and kitchen renovation services to homeowners in Vaughan, Mississauga, Brampton, Halton Hills, Oakville, and more of the Greater Toronto Area.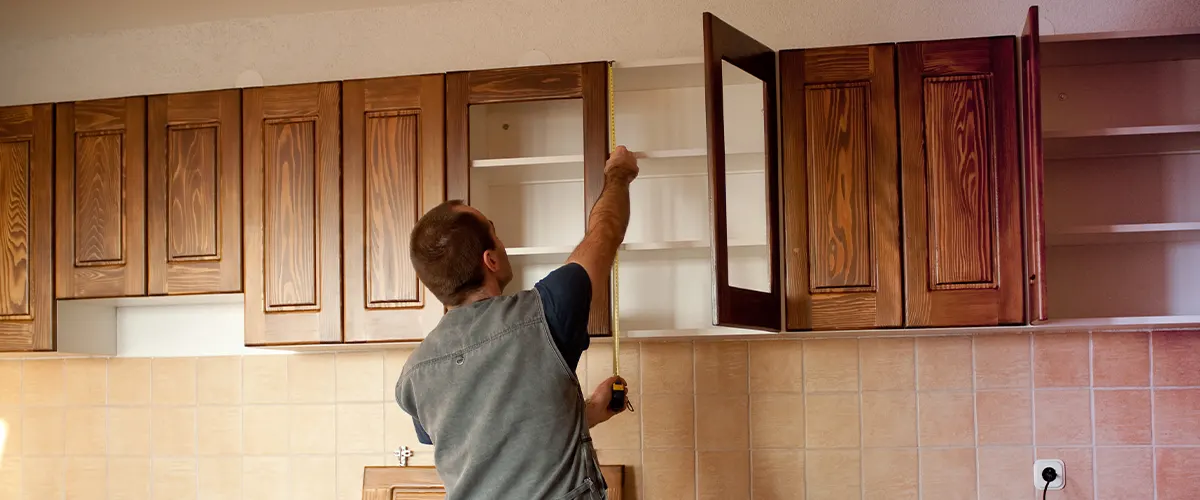 The Upgrades And Features In A Kitchen Renovation Project
Kitchens are extensive projects that can include tons of upgrades, features, and various materials.
At your on-site consultation, you'll get a detailed list of everything you can get for your new space, but you'll also get our designer's advice on the most cost-effective ways to upgrade your space.
Let's discuss the most popular kitchen upgrades and their associated cost.
A tile backsplash is the best way to protect your walls from water splashes of food debris coming from the countertop or sink. This makes your kitchen easier to maintain, but a beautiful backsplash pattern will also improve your kitchen's aesthetic.
Let's look at some backsplash materials.
The average labor cost to install a backsplash in your kitchen is between $20 to $50 per square foot, but that depends on your contractor and the scope of work.
Appliances are getting more energy-efficient and modern, with all sorts of gadgets included. We're talking about touch screens, scheduling options, online or remote controls, or even robots that cook for themselves!
A budget kitchen range can cost between $500, but expect to pay over $3,000+ for a high-end model. If you want a gas-infused one, installing gas lines costs around $200 per hour plus materials.
Kitchen appliances' costs are related to their efficiency. An expensive oven will most likely save you more money on utility bills, while a cheap oven will consume more energy, and your bills will reflect that.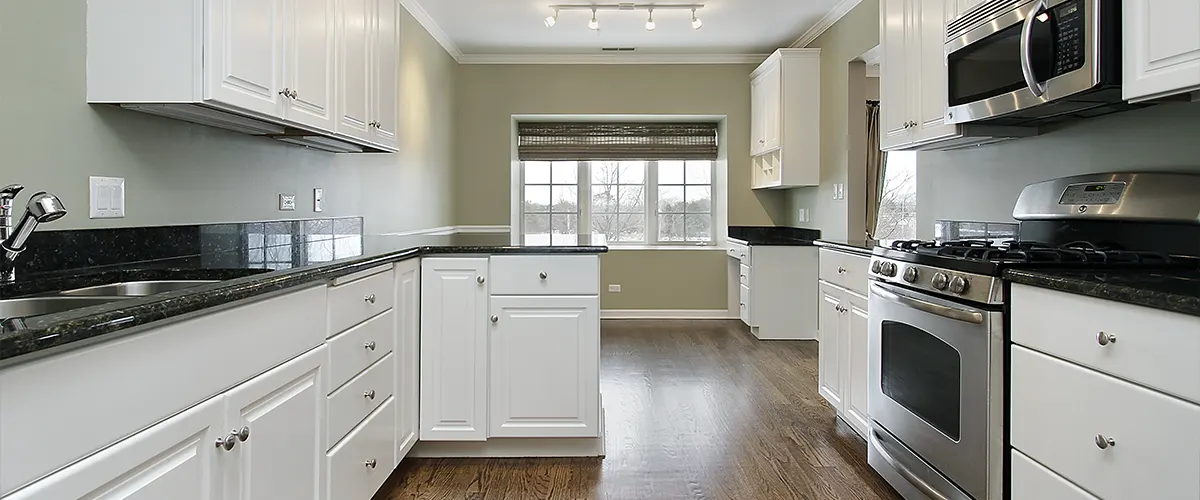 All kitchen renovations will include a change of cabinetry, otherwise it won't be a complete renovation.
Custom cabinets are a more upscale option for your remodel, but custom cabinetry provide the perfect style and dimensions for your unique needs.
Given these costs, the most advantageous option would be semi-custom cabinets. They have more flexibility when it comes to style, they're relatively affordable, and they provide the highest ROI according to KCMA.
New kitchen countertops are a must in all kitchen renovations. They can be a focal point of your new space, but they can also boost the efficiency of your kitchen.
Our recommendation for countertops are Quartz countertops. They cost between $75 to $100 per square foot. Although not a natural stone, quartz is highly durable and the most common choice among homeowners.
Granite countertops cost between $40 to $60 per square foot, and marble is a more upscale option that brings less functionality at around $100 per square foot.
The installation of these materials also come with different price points.
| Material | Typical Cost (per square foot installed) |
| --- | --- |
| Laminate | $30 - $72 |
| Quartz | $72 - $240 |
| Hardwood | $54 - $300 |
| Marble | $102 - $360 |
| Granite | $72 - $300 |
| Stainless Steel | $108 - $215 |
New kitchen flooring is another popular upgrade, but it's not always necessary. For example, a hardwood floor can look like new with a quick refinish, and it'll also be more affordable than buying new flooring materials.
The average cost of installing new hardwood flooring in a kitchen is around $8k, depending on the size of your space and your choice of finish.
These days, however, the best flooring option for spaces that see a lot of water spills are luxury vinyl planks or tiles. These are resistant to water than hardwood, requires less maintenance, and are much easier to clean. These won't rot or develop mold, and you won't have to seal or stain them.
For a more upscale flooring material, consider tile flooring.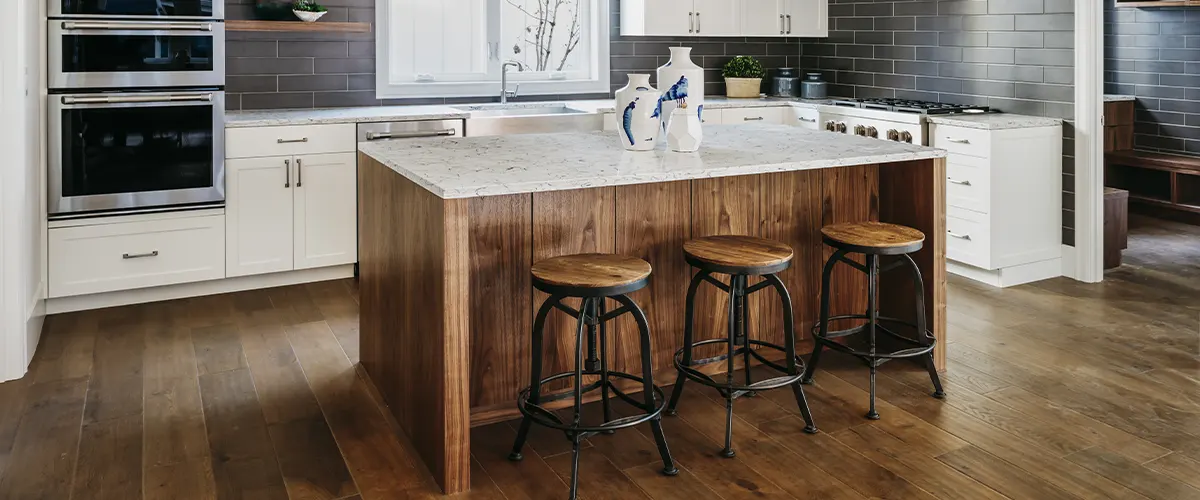 In larger kitchens we always recommend our customers to get a kitchen island. These boost the efficiency and functionality of your kitchen by providing more counter space, extra storage, and an ideal place to have a quick breakfast.
A kitchen island can cost anywhere between $3k to $15k, depending on your choice of materials and features.
3 Budgeting Tips For Your Kitchen Renovation Cost In Vaughan
Home renovation TV shows are staged to show the best part of a renovation. The end-product and how little it cost remain undiscussed, or if not, they're talking about unrealistic renovations for as low as $15k.
These shows give homeowners the wrong expectations, and starting a large kitchen renovation with the best materials out there with a budget of $15k is simply a fantasy.
Here are some tips on how to budget for your renovation!
Don't break the bank for a professional kitchen range when 5 out of 7 times you'll order food from your favorite restaurant. At the same time, if you're an avid cook, maybe it's worth investing in more storage space or a better oven.
Budget an extra 20% of your total project cost to easily handle anything that might come up, so nothing catches you on the wrong foot. Mold, mildew, plumbing issues, or a sudden need to replace a material are all reasons to keep some extra money prepared.
Remember, this money remains in your pocket if everything goes according to plan. The 20% rule just ensures you're taking into account and preparing for a worst-case scenario.
Your kitchen renovation cost in Vaughan will be different from our other projects.
To create a stress-free renovation and experience, it's best to keep open communication with your contractor and always ask questions about your project.
For example, you can ask what was the main obstacle with your old kitchen, what you can do to avoid that from happening again, what would be a better material for your counters, what other extra features they'd recommend, etc.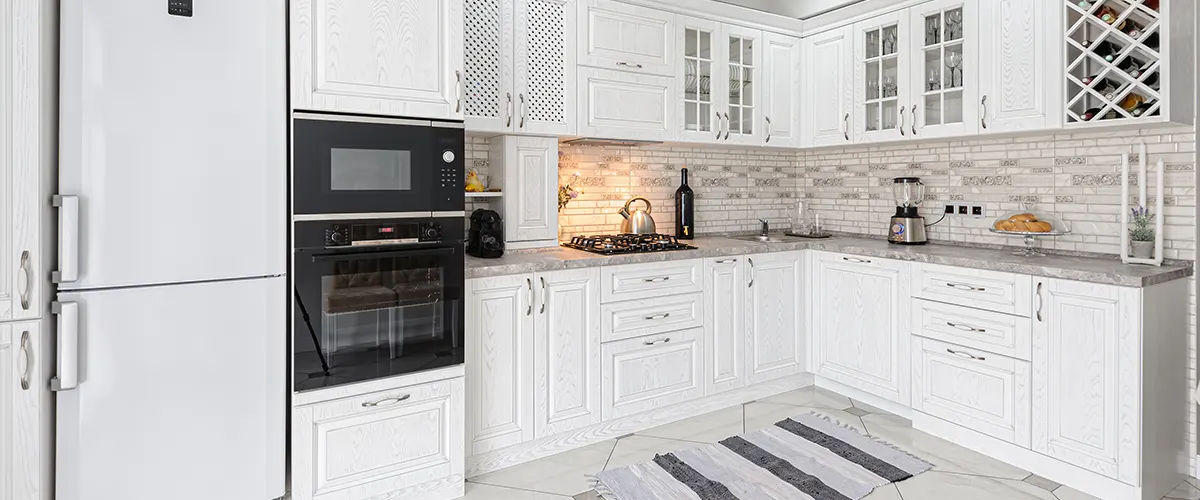 Get The Best Quality For The Best Price For Your Kitchen Renovation
The average kitchen renovation cost in Vaughan is around $30k, but homeowners can spend more than $70k on a high-end remodel.
No matter the scope of your project, Ace Bath's experts ensure you're getting your dream kitchen on time and within your kitchen remodeling budget.
With us, you'll get advantageous custom solutions for your particular renovation, along with the most cost-effective results in the Greater Toronto Area. We offer professional kitchen renovation services in Vaughan, Mississauga, Brampton, and the entire Greater Toronto Area.
We tend to over deliver, so expect:
Stop Delaying And Get Your New Kitchen Today!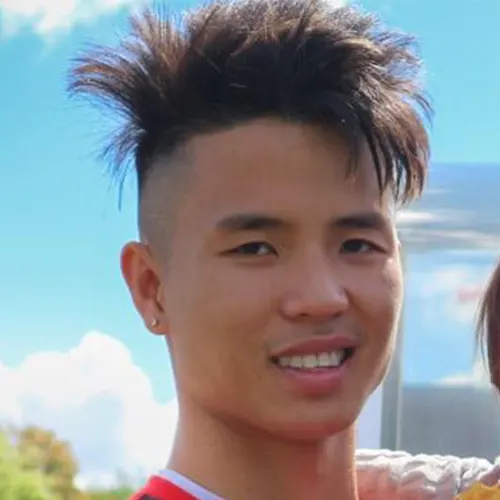 Click the button below and let's discuss your kitchen renovation cost in Vaughan. Or talk directly to Nam, the owner of Ace Bath, at (647) 459-7374 to kick-start your project.
We'll make sure your kitchen renovation in Vaughan turns exactly how you dreamed of!