The Appraisal Institute of Canada (AIC) values a kitchen renovation in Mississauga as providing between 75-100% return on investment.
But to clearly understand what this means for your upcoming project, you need to know the kitchen renovation cost in Mississauga and how to plan your budget.
Here at Ace Bath, we know renovation costs are the main reason of concern for most of our customers, which is why we're aiming to provide a clear process where every upgrade and feature is thoroughly explained!
The Typical Kitchen Renovation Cost In Mississauga
All kitchen renovations cost will greatly depend on the size of your space, the materials, and the upgrades you choose for your remodel. Naturally, the larger the space, the higher the renovation cost.
Let's see what is the average kitchen renovation cost in Mississauga based on different sizes of kitchens.
| Size | Size In Square Feet | Average Cost |
| --- | --- | --- |
| Small Bathroom | less than 70 sq ft | $6,500 - $26,000 |
| Medium | between 100-150 sq ft | $19,500 - $52,000 |
| Large | over 200 sq ft | $40,000 - $78,000+ |
Ace Bath's experts will give you a clear pricing quote after our in-home consultation. We'll provide cost-effective solutions to keep your project within a set budget, so you'll get the best renovation without breaking the bank.
Labor In A Kitchen Renovation Cost In Mississauga
Kitchens are extensive projects that require plumbers, designers, electricians, builders, and carpenters. These are a lot of experts, and all of them charge differently
Architects are the experts that make sure the space is structurally safe. They're crucial if you're building new walls in your space, or if you're changing the structure of the room.
The kitchen designer is essential if you want your space to look good and function properly. They're the ones that optimize and find the best layout for your new space, but also the experts that make the room flow and seem tied together.
There are a lot of water problems in kitchens, and a carpenter probably won't have the right skills to fix a leak. Which is why you'll want a pro to check or fix your kitchen's plumbing system.
If you're planning to relocate your appliances, you'll also need new electrical wiring. Electrical wiring is all about safety, especially if your house is not made of bricks and stones.
You can't really skip this place in certain situations, and you definitely can't have anyone meddling with the safety of your home.
If you're looking to get new kitchen cabinets, you have several options. Stock cabinets, semi-custom cabinets, and fully custom cabinets.
 However, according to KCMA, semi-custom cabinets provide a higher ROI, so if you're looking to sell your property or increase its value, these might be a better choice.
You can either get all these experts separately, or you can get a kitchen remodeler that'll work with the right pros that'll see your renovation through. For a kitchen renovation cost in Mississauga, or anywhere else for that matter, working with a contractor is much more beneficial for you.
Here at Ace Bath, we work closely with other experts in various fields, like electricians, plumbers, carpenters, and designers, so you won't have to look for other experts.
We are your one-stop shop for kitchen renovations. We take pride in delivering the best end-product to homeowners in Mississauga, Brampton, Vaughan, Halton Hills, Oakville, and the Greater Toronto Area.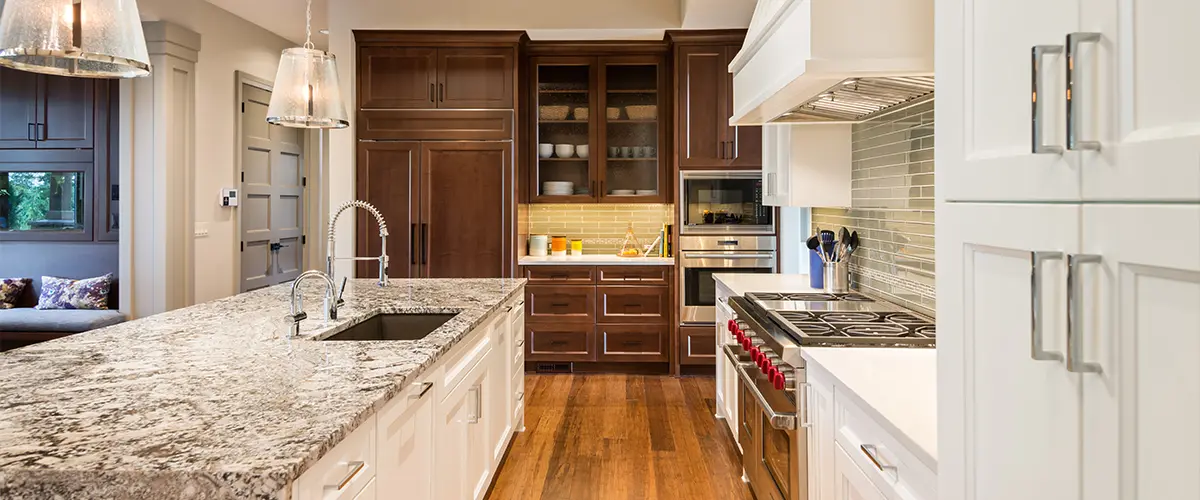 The Upgrades And Features In A Kitchen Renovation Project
As we already mentioned, kitchens are extensive projects that can include tons of upgrades and features. You'll get a detailed list of everything that's possible to get for your new space at our on-site consultation.
Until then, let's discuss the most popular options and their associated price for your kitchen renovation cost in Mississauga.
A backsplash is great to cover your walls from debris and splashes when washing dishes or cooking. Instead of wiping down sauce from a wall, it's way easier to wipe down a tile backsplash like nothing happened.
Let's look at some backsplash materials.
The average labor cost to install a backsplash in your kitchen is between $20 to $50 per square foot, but that depends on your contractor and the scope of work.
New appliances are not always a must in kitchen renovations. If you already have something that works well and looks good, you can skip this part. If you're looking for a way to save money, giving up new appliances is also a good option.
With that being said, if you're planning an upscale remodel with high end appliances, get ready to budget a lot more.
Appliances are getting more and more futuristic, with all sorts of gadgets included. Touch screens, scheduling options, or even robots that cook for themselves! For example, a kitchen range can cost between $500 for a budget model to $3,000+ for a high end model. If you want a gas-infused one, installing gas lines costs around $200 per hour plus materials.
Kitchen appliances' costs are related to their efficiency. Even a well-optimized double oven might bring lower utility bills than a high end range that works on electricity.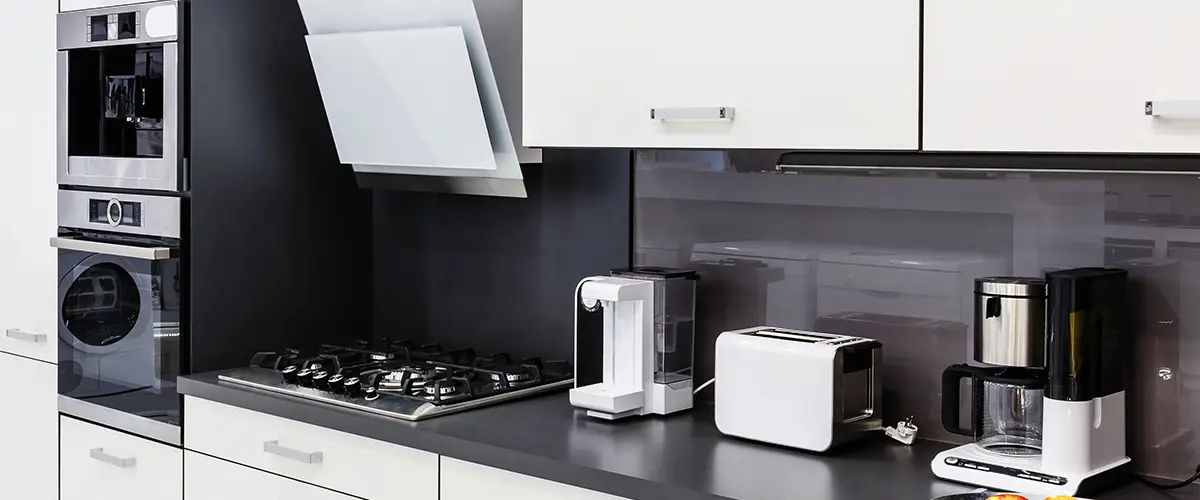 A kitchen renovation wouldn't be complete without new cabinets.
Custom cabinets will cost you between $500 and $1,200 per linear foot. Semi-custom cabinets cost between $100 and $650 per linear foot, while stock cabinets are between $60 and $200 per linear foot.
Besides the cabinets, throwing in a few dollars for under-cabinet lights creates a cozy atmosphere in your kitchen, perfect for bonding over dinner.
Kitchen countertops have the potential of becoming the best focal point of your new space. They're a standard upgrade in most kitchen renovations, and skipping this part will most likely be an obstacle in getting the perfect kitchen.
Quartz countertops are by far your best option. They range between $75 to $100 per square foot. Although not a natural stone, quartz is highly durable and the most common choice among homeowners. Granite countertops cost between $40 to $60 per square foot, and marble is a more upscale option that brings less functionality at around $100 per square foot.
The installation of these materials also come with different price points.
| Material | Typical Cost (per square foot installed) |
| --- | --- |
| Laminate | $30 - $72 |
| Quartz | $72 - $240 |
| Hardwood | $54 - $300 |
| Marble | $102 - $360 |
| Granite | $72 - $300 |
| Stainless Steel | $108 - $215 |
Flooring is also a common upgrade, but not always necessary. If you have a hardwood floor in your kitchen, a quick refinish will bring the floor to its former glory, without investing in new materials.
If you want to replace it with new hardwood flooring, the average cost of installing hardwood flooring in a kitchen is around $8k.
Another great option for flooring are luxury vinyl planks. These are more waterproof than hardwood, require less maintenance, and are much easier to clean. These won't rot or develop mold, and you won't have to seal or stain them.
If you have enough floor space, a kitchen island can really boost your space functionality. If you're considering getting one, think about the cabinetry, counters, plumbing, and electrical work that you'll need.
A kitchen island can cost anywhere between $3k to $15k, depending on your choice of materials and features.
Budgeting For Your Kitchen Renovation Cost In Mississauga
Home renovation TV shows like HGTV will always show the good side of things. They're notorious for showing an unrealistic kitchen renovation budget for a project that cost way over $20k.
The main problem: homeowners undertake kitchen remodels having the wrong expectations.
Here are some tips on how to budget for your renovation!
One thing's for sure, don't break the bank for features you won't use. If you're not an avid chef, but love take-aways, investing in the most expensive kitchen range might not be the best call.
If this room is where you and your family gather for a board-game night or a weekend dinner, focus on making it feel cozy. This is mostly about design and style, so spend a little more time with your designer to make sure the look you're going for is the right one.
You can save money by buying ready-to-assemble cabinets from Ikea instead of getting custom ones. Or you can go for a LVP floor instead of hardwood flooring.
Homeowners tend to overlook budgeting a little extra money for unforeseen issues that most old kitchens have. Mold, mildew, and plumbing issues are common problems that appear in most renovations.
An extra 20% of your total project cost will be more than enough to easily handle anything that might come up, so nothing catches you on the wrong foot.
Remember, this money remains in your pocket if everything goes according to plan. The 20% rule just ensures you're taking into account and preparing for a worst-case scenario.
Your kitchen renovation cost in Mississauga will most likely cost more than a bathroom or a bedroom. Knowing exactly what you're paying for makes the difference between having an anxiety-free renovation and a stressful experience.
Always ask your kitchen renovation company or the kitchen renovation contractors about what you'll be getting for the price you'll pay. The National Kitchen & Bath Association ran a few studies and developed a well-detailed report showing the expenses of a kitchen renovation.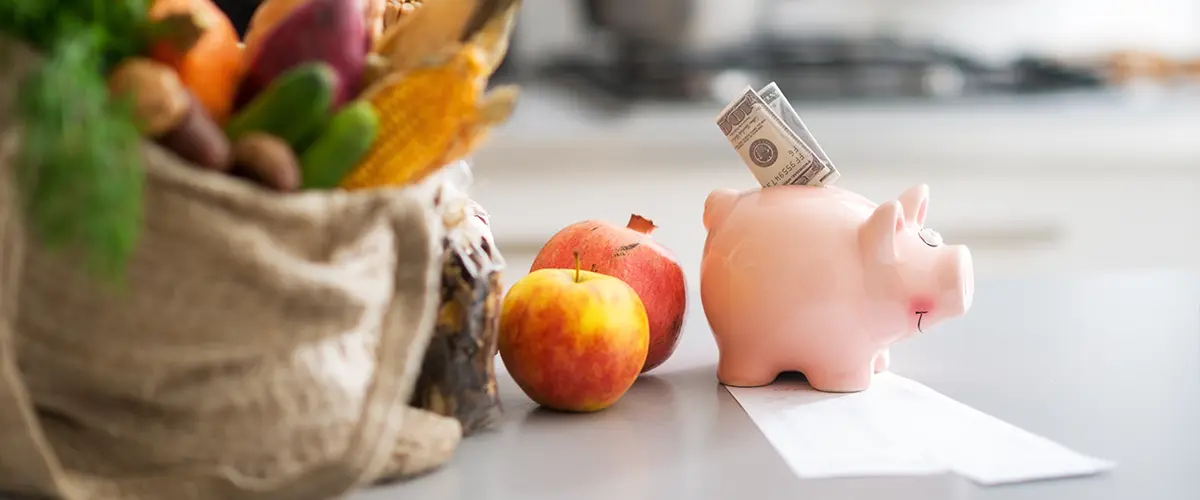 Get Pricing Transparency For Your Kitchen Renovation Cost In Mississauga With Ace Bath!
Many homeowners pay for the average kitchen remodel cost in the Greater Toronto Area around $30k. However, your final cost will differ based on your choices.
An industry standard for kitchen remodeling projects is 10% of your home's value. So, if you own a $400,000 home, you should feel comfortable spending as much as $40,000 on kitchen upgrade costs.
We offer custom solutions for your kitchen renovation, and you'll get the most cost-effective results in the Greater Toronto Area. We offer professional kitchen renovation services in Mississauga, Brampton, Vaughan, and the entire Greater Toronto Area.
We tend to over deliver, so expect:
Stop Delaying And Get Your New Kitchen Today!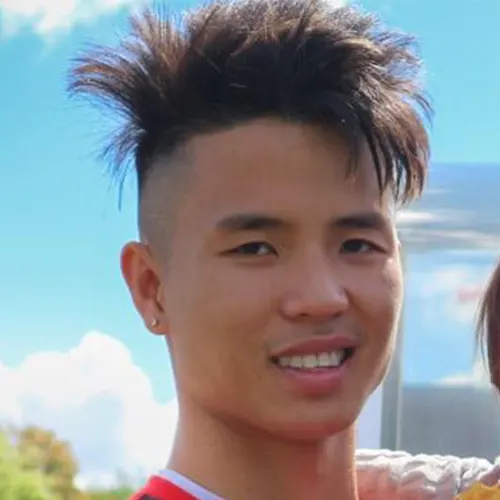 Click the button below and let's discuss your kitchen renovation cost in Mississauga. Or talk directly to Nam, the owner of Ace Bath, at (647) 459-7374 to kick-start your project.
We'll make sure your kitchen renovation in Mississauga turns exactly how you dreamed of!