When it comes to kitchen colors, there are a few things to keep in mind. You want to choose colors that will look good both now and in the future. You also want to choose colors that will complement your cabinets and flooring.
In this blog post, we will discuss some of the most popular kitchen color schemes, as well as tips for choosing the right colors from the color wheel, for your own kitchen space.
Let's begin.
Tip #1. Choose elegance with white and natural wood
One of the most popular kitchen colors combinations is white and wood. This combination can be used in a variety of ways, and it always looks elegant.
If you have crisp white cabinets, consider using dark natural wood flooring and a light countertop. Also, if you have white walls, consider painting your kitchen cabinets using a dark color. This will create a beautiful contrast and make your kitchen room space feel more elegant.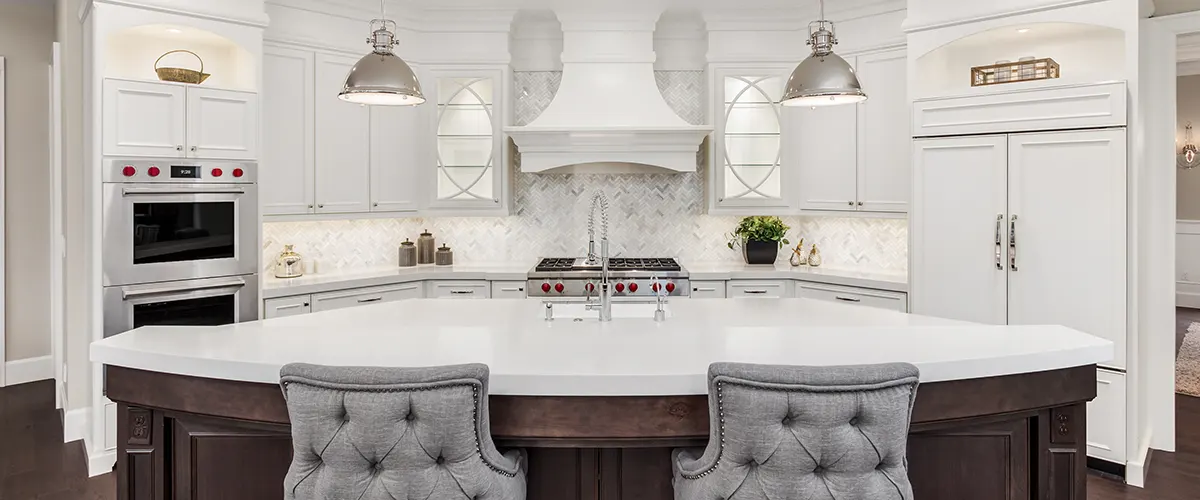 Tip #2: Add some color with blue and green
Another popular kitchen colors combination is light blue and green or gray-green and blue-gray. Color schemes like this always look fresh and modern so you can't go wrong if trying to add a more contemporary style to your kitchen cabinetry.
For a cooking space with pale blue cabinets, consider using green walls and a light countertop. Alternatively, you can go for a sky blue accent piece, white walls, and a dark blue backsplash. Either way, you can have a blue kitchen room or a soft green dining space with lots of natural light that will make the most inviting place in your home.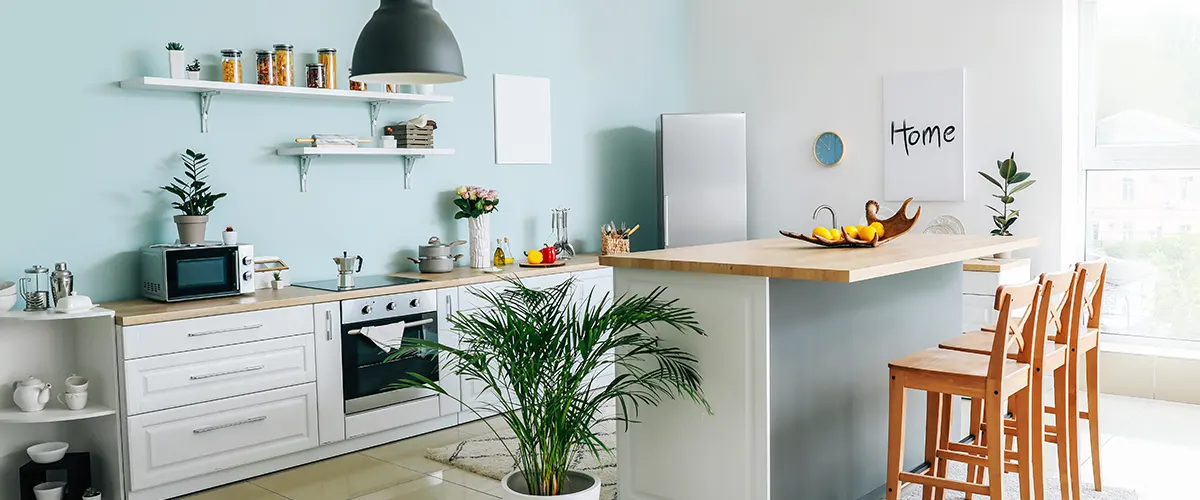 Tip #3: white and black: Classic Kitchen Colors For a Classic Look
While this combination may seem more formal at first, the white and black kitchen can look very classy with the right accessories.
If you have white cabinets, consider using a black countertop and flooring. 
Alternatively, if you have black cabinets, consider using white walls and appliances. This combination can also be used with stainless steel appliances for a more modern and neutral space look.
Tip #4: Add some warmth with natural wood and brown
A lot of people look to add a more natural, earthy look to their rustic kitchen. If you want to add some warmth to your kitchen, consider using natural wood cabinets and a backsplash in brown hues. This combination is perfect for kitchens that don't have a lot of natural light.
To make the best use of it, you can use a light brown cabinet with a dark wood floor and countertop. These kitchen colors will give your space a cozy feeling – perfect for the winter months.
Tip #5: bright Kitchen colors to add personality to your kitchen cabinets
If you want to add some personality to your traditional kitchen, consider using bright colors for your lower cabinets and kitchen island. This will make your kitchen room feel more fun and inviting.
If you have light-colored cabinets, consider using dark colors for your countertop and flooring. This will create a beautiful contrast and make your dining area stand out to your guests every time.
Tip #6: Use a neutral paint color to be able to change your kitchen's look often
If you think your cabinetry paint color is not exactly what you want, or you want to be able to change those colors often, using a neutral paint color might be the best choice. This will give you the flexibility to change your kitchen's look with just a touch of a coat of paint.
That's especially useful if you're not a big fan of any bold color, even if it's just an accent color that's not widely used all over the room.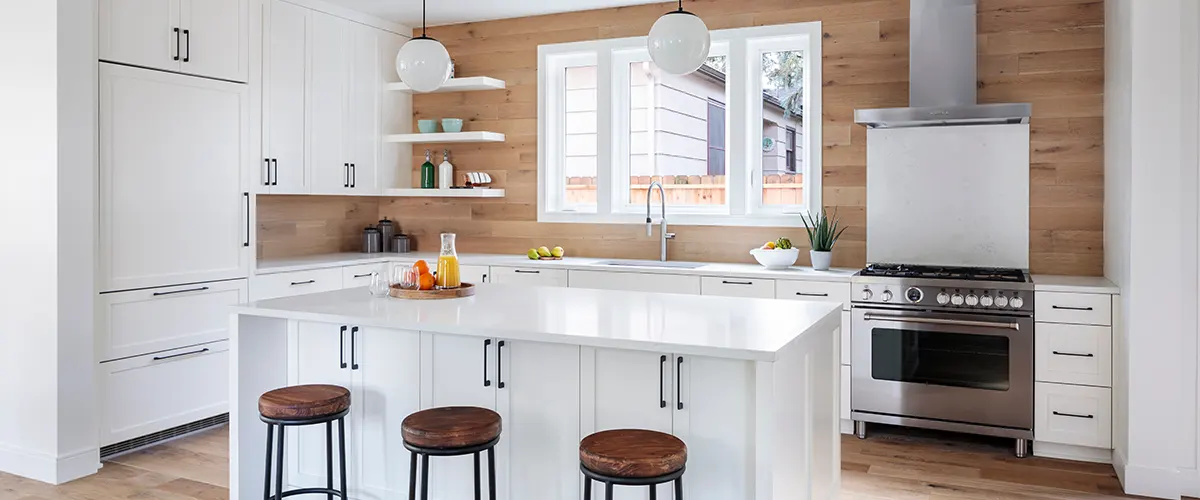 Tip #7: Use dark Kitchen colors to make your space feel cozier
If you want to make your kitchen feel smaller and more elegant, consider using a dark color for your cabinets and walls. This will create a more intimate feeling in the kitchen and make it feel more private.
Dark kitchen paint colors are perfect for making the kitchen feel like it's a separate space from the rest of the house. Go bold with cobalt blue or rich chocolate brown backsplash to get the most out of this kitchen color idea. You can add some red accents to create more visual interest as well.
These kitchen colors are less common, which will make your space more unique and different from most kitchens in remodeling magazines.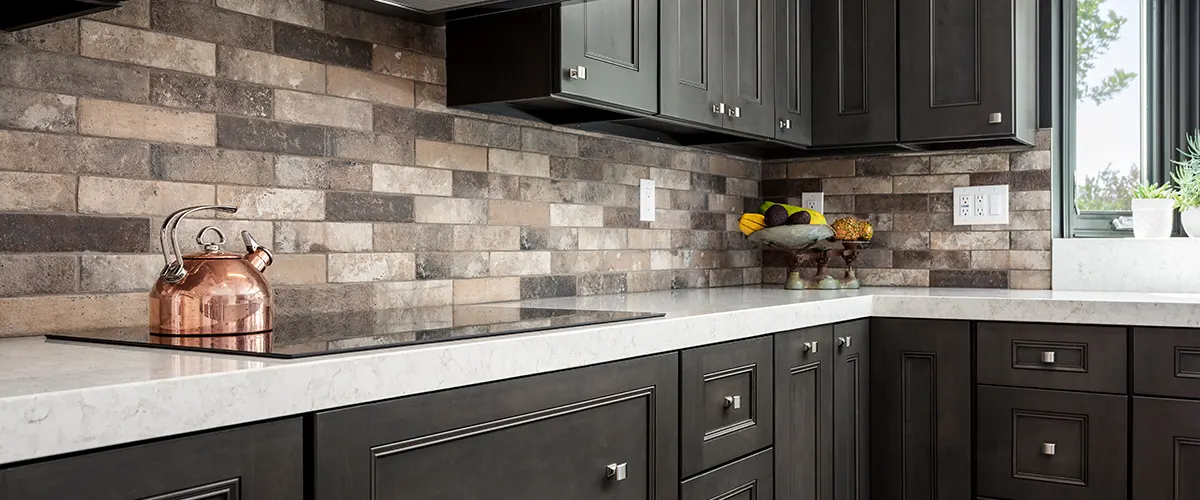 Tip #8: Get creative with the kitchen ceiling
The kitchen ceiling can be a great place to add some color and personality to your kitchen. Consider using a bold color like yellow, green, or even red to make your kitchen feel more fun and inviting.
Another idea is to use a different paint color for the kitchen ceiling than you do for the walls. This will create a more interesting look.
Frequently Asked Questions
Choosing the right kitchen colors can be a daunting task, especially if you're not sure where to start. But by following these simple tips, you can create a kitchen that's both beautiful, vibrant, and functional.
Check out this article from NKBA about the colors trends in 2021. You can expect things to change now in 2022, but nothing too dramatic.
If you feel like you need help defining the right color palette for your kitchen, contact us and we'll be more than happy to help you plan your kitchen remodel.
Make this small and inexpensive upgrade to uplift your entire kitchen without the hassle of a remodel!