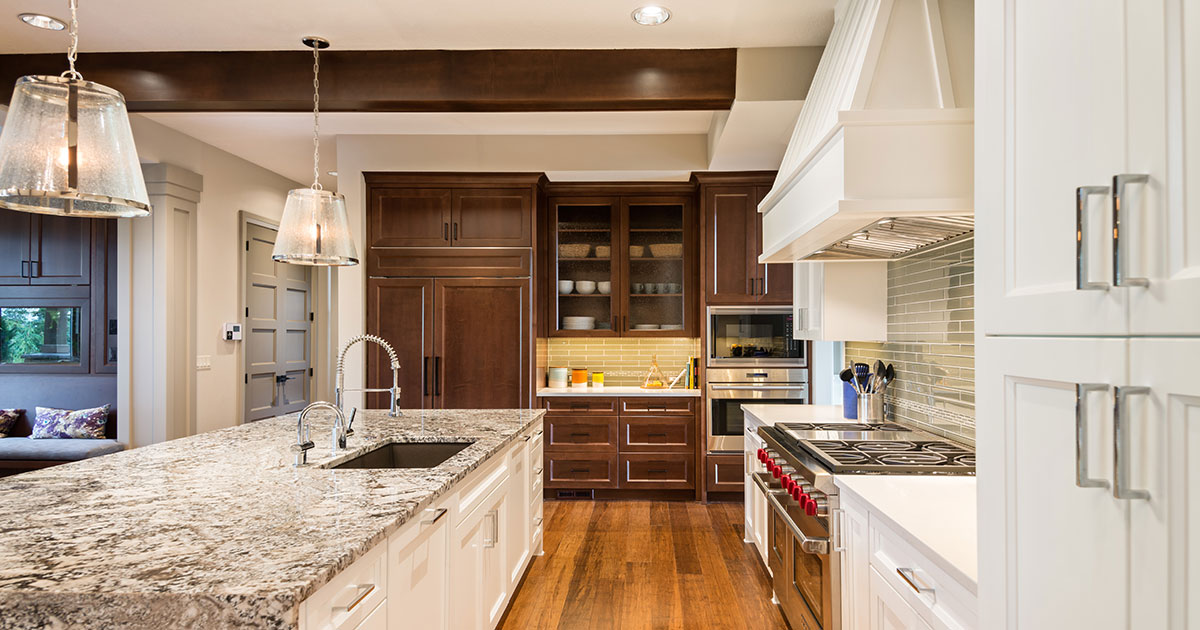 Kitchen cabinets are a major investment in your home. Not only do they provide storage and organization for your kitchen, but they also play a role in the overall aesthetic of the room.
So, how much should you spend on kitchen cabinets? Read on to find out!
What Drives The Kitchen Cabinets Price?
If you're looking into giving your kitchen a full transformation, kitchen cabinets will likely be one of your largest expenses.
The price of kitchen cabinets is driven by a number of factors, including style, wood, overlay, paint or stain type, number of drawers, height, and moldings. 
One of the most important things to consider when pricing kitchen cabinets is the quality of materials and construction. Higher-quality materials and better construction will result in a higher price tag.
Additionally, the style of your kitchen cabinets will also affect the price. More intricate or ornate designs will cost more than simpler styles.
Finally, how much work you want the kitchen cabinet installer to do will also play a role in the price. If you want them to install crown molding or do other more extensive work, that will add to the cost.
How Much Should You Spend On Kitchen Cabinets?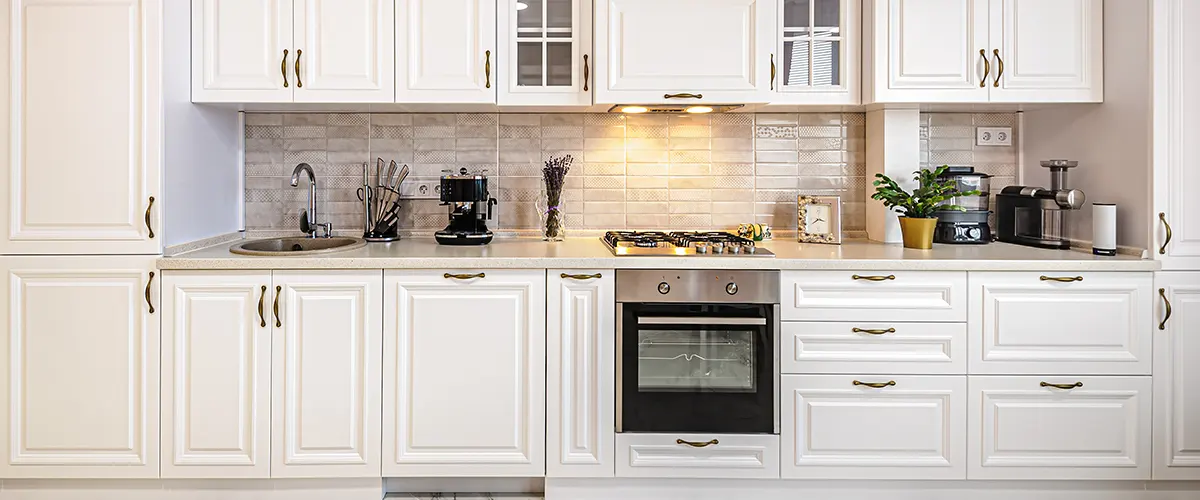 Kitchen cabinets are a big investment, but they can add value and beauty to your home for years to come. How much you should spend on kitchen cabinets depends on your budget and what you're looking for.
If you're looking for a more affordable option, stock kitchen cabinets will be cheaper than custom kitchen cabinets. However, if you want high-quality materials and construction, you can expect to pay more.
You can expect to pay anywhere from $2500 for stock kitchen cabinets all the way up to $25,000 for custom kitchen cabinets.
How To Decide On Your Kitchen Cabinets Type
Take into account what's important to you and your kitchen when making your decision. Do you need a lot of storage? What type of extra functionality do you want to add? Perhaps a pot filler, under-cabinet lighting, pull-out shelves and spice racks are a must to you. 
The answer to these questions may determine whether you're going for stock, semi-custom, or custom cabinets.
Let's look into each cabinet type and goes into the pricing of each: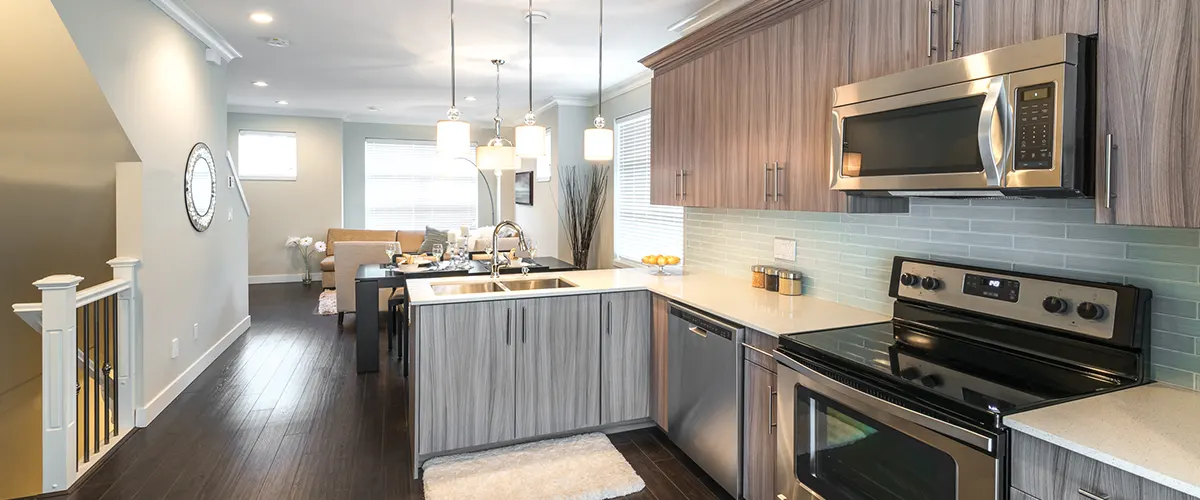 Stock kitchen cabinets are the most affordable option, and they come in a wide range of styles to suit any kitchen. They're pre-made and ready to install, so you won't have to wait long for your new cabinets.
Stock cabinets are also the lowest quality option. They're made from lower-quality materials and may not last as long as more expensive options.
If you're on a tight budget, stock kitchen cabinets are a good option, but if you have a little more money to spend, you may want to consider semi-custom or custom kitchen cabinets.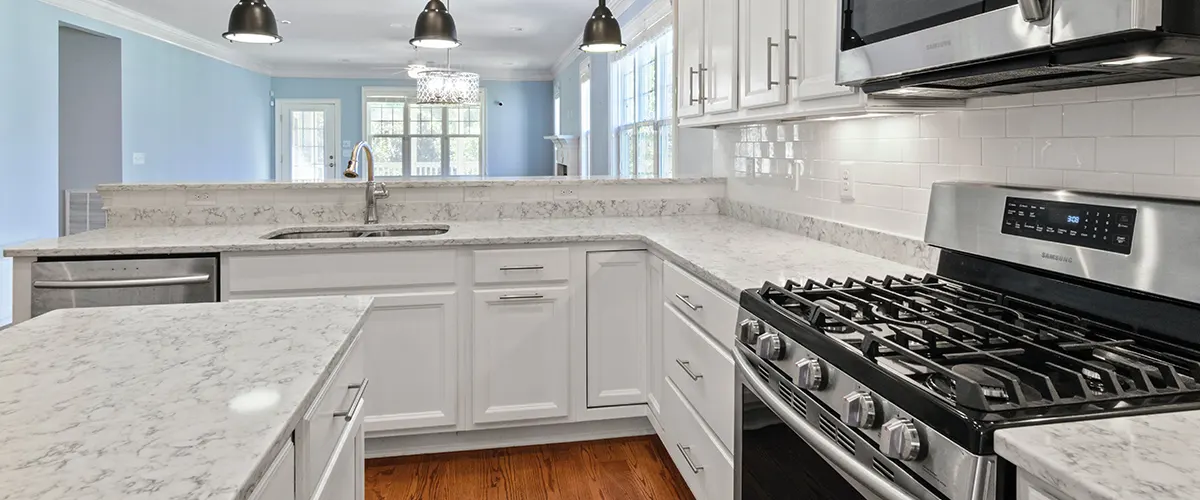 Semi-custom kitchen cabinets are a good middle ground between stock and custom cabinets. They're made from higher-quality materials than stock cabinets, but they're not as expensive as custom kitchen cabinets because they don't come with many added functionality.
Additionally, semi-custom kitchen cabinets come in a wider range of styles and sizes than stock kitchen cabinets, so you can find the perfect fit for your kitchen.
If you're looking for a good value and want to avoid the hassle of custom cabinets, semi-custom kitchen cabinets are a great choice.
Custom kitchen cabinets are the most expensive and highest quality option.
They're made from the best materials and are constructed with care and precision.
Additionally, custom kitchen cabinets can be made in any size and style, so you can get exactly what you want, from custom inserts to drawer outlets and pull-out spice racks, to name a few.
If you're looking for the best possible kitchen cabinets, custom kitchen cabinets are the way to go.
The Kitchen Cabinet Style Dilemma
The style of your cabinets must reflect your own personal taste and perfectly blend with the existing layout.
There are numerous choices accessible to those who are renovating their kitchen and there is a style for each person. 
Contemporary Kitchen cabinets style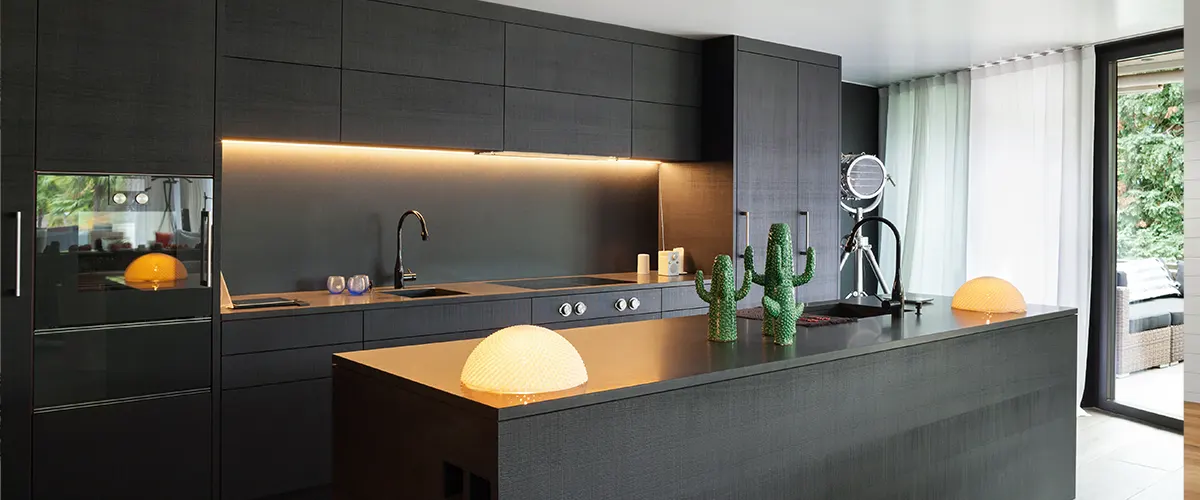 The contemporary kitchen cabinet style is the perfect blend of function and fashion.
They're sleek and stylish, with clean lines and minimal ornamentation. If you want a modern kitchen that's still timeless, choose contemporary kitchen cabinets.
As for the cost, contemporary kitchen cabinets are the most expensive option, but they're worth the investment. Their cost is driven by the high-quality materials and precision construction they feature.
Traditional Kitchen cabinets style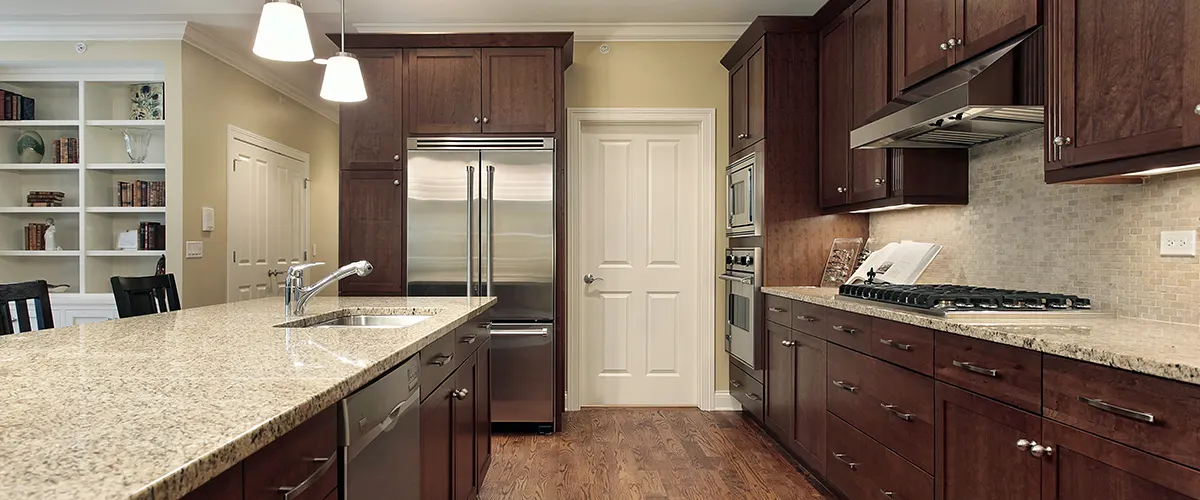 The traditional kitchen cabinet style is the perfect choice for those who want a classic, timeless look in their kitchen. They're made from high-quality materials and feature intricate details like carvings and moldings. While we're seeing a white trend increasing, hard wood cabinets in darker colors are also very popular for kitchen renovations in Ontario.
Traditional kitchen cabinets are the most expensive option, but they're worth the investment if you want a kitchen that will stand the test of time.
Transitional Kitchen cabinet style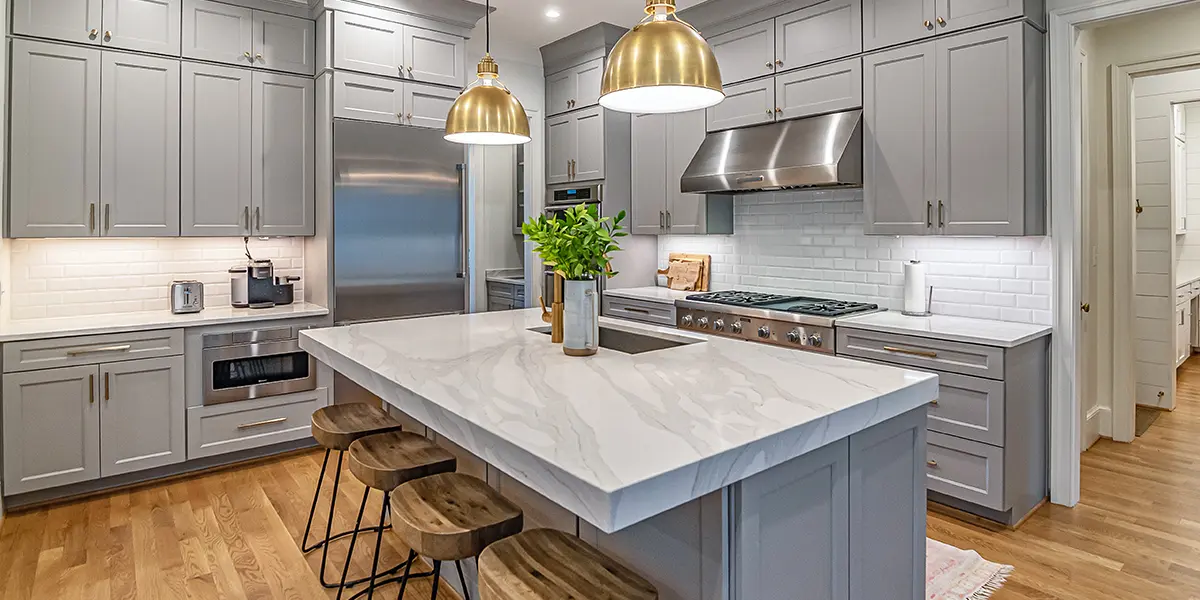 The transitional kitchen cabinet style is the perfect middle ground for those who want a modern kitchen, but don't want to go too far from traditional design.
They have clean lines like contemporary kitchen cabinets but also feature ornamental details that give them a more classic look.
Transitional kitchen cabinets are a good option if you want the best of both worlds and they come at a mid range price.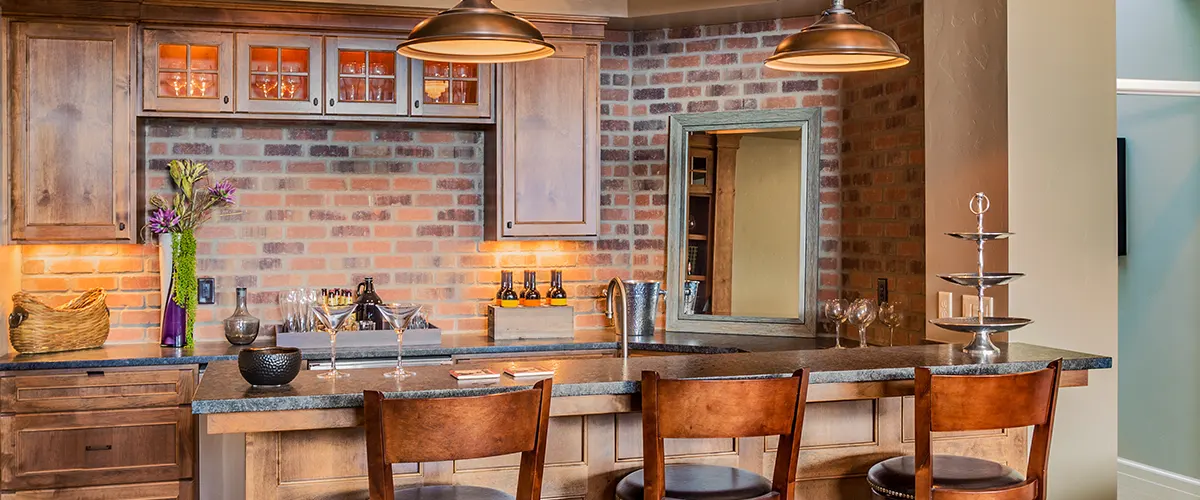 The rustic kitchen cabinet style is perfect for those who want a warm and cozy kitchen. They feature rough wood textures and natural finishes, giving your kitchen a homey feel.
If you're looking for a country-inspired kitchen, go with rustic kitchen cabinets.
Their price is driven by the use of high-quality materials and the time-consuming construction process.
What does the cabinet installation entail
The cost of kitchen cabinet installation varies depending on the contractor, the size of your kitchen, and the complexity of the job.
So if you're thinking about getting new cabinets installed, be sure to factor in the cost of installation.
When reaching out to a professional kitchen remodeler for a quote, make sure to ask about the following:
Frequently Asked Kitchen Cabinet Questions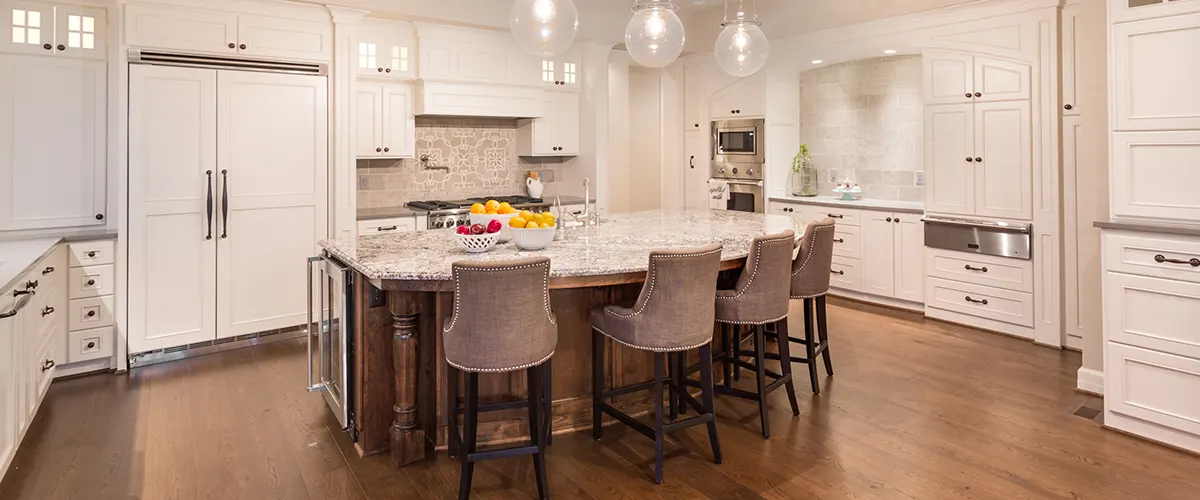 In conclusion, kitchen cabinet prices vary widely. It's important to consider what's a must to you and what are the functionalities that you really can't live without.
Whichever route you choose, be sure to research your options and get multiple quotes to find the best price. At Ace Bath, we've renovated dozens of kitchens in Mississauga, Vaughan, Milton, Oakville, Halton Hills And Surrounding GTA.
If you're ready to finally have your dream kitchen, get in touch with us and we promise to give you a kitchen that will leave your whole neighborhood in awe.