Your kitchen is the heart of your home. It's where you cook meals, entertain guests, and spend time with your family. So, it's important to design your kitchen in a way that meets your needs and fits your lifestyle.
In this blog post, we'll give you tips on how to design a kitchen that's perfect for you. Keep reading to learn more!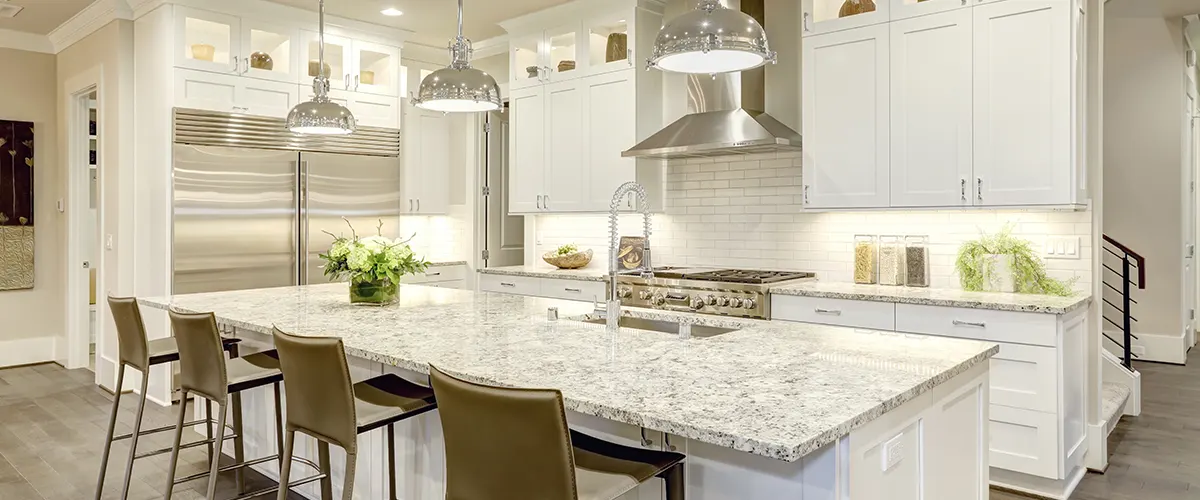 1. Start by measuring the space
When designing your kitchen, it's important to measure the space so you can create a layout that fits. Measure the length and width of the space, and then add an extra 5-10 inches to each dimension to allow for traffic and movement.
What do you want your kitchen to be used for? If you cook a lot, you'll need a space for a stove and oven. If you like to entertain, you'll need room for a dining table.
Also, if you have a big family, a one-wall kitchen may not work well for you. You need to have enough space for meal preparation and be able to have your loved ones around.
Do you want a traditional or modern kitchen? When choosing the style, make sure it fits the design of the other rooms in your home. This way, your kitchen will not only enhance the feel of your living space but will also add more elegance to your home.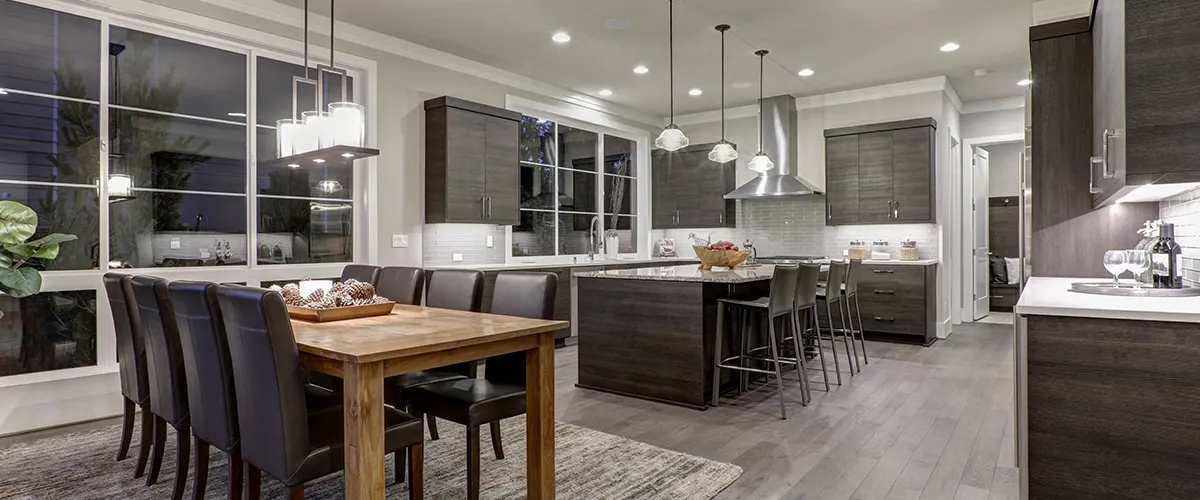 2. Plan your kitchen layout
Once you know what you need, it's time to start planning your layout. Decide where the appliances and cabinets will go, and sketch out a rough idea of the space.
You can use online kitchen planners or software to help you visualize the design. There are several different types of kitchen layouts to choose from:
Galley kitchens: This layout features two parallel walls of cabinets and appliances, with a walkway in between. It's perfect for small spaces, and it allows you to use every inch of the room efficiently.
L-shaped kitchen: This layout is similar to the galley layout, but it features a corner that can be used for a dining table or island.
U-shaped kitchen: This layout is ideal for large kitchens, and it features three walls of cabinets and appliances. It provides plenty of storage and counter space.
Island kitchen: An island is a great option if you want a lot of counter space in your kitchen. It can be used as a workspace, dining area, or storage space.
3. Choose appliances and cabinet
When choosing cabinets, be sure to consider your storage space needs. Think about how much space you need for food, dishes, pots and pans, and other kitchen items.
Choose cabinets with adjustable shelves so you can customize the space to fit your needs. And be sure to choose a cabinet size that's appropriate for your kitchen. Too small, and you'll be cramped; too large, and you'll waste space.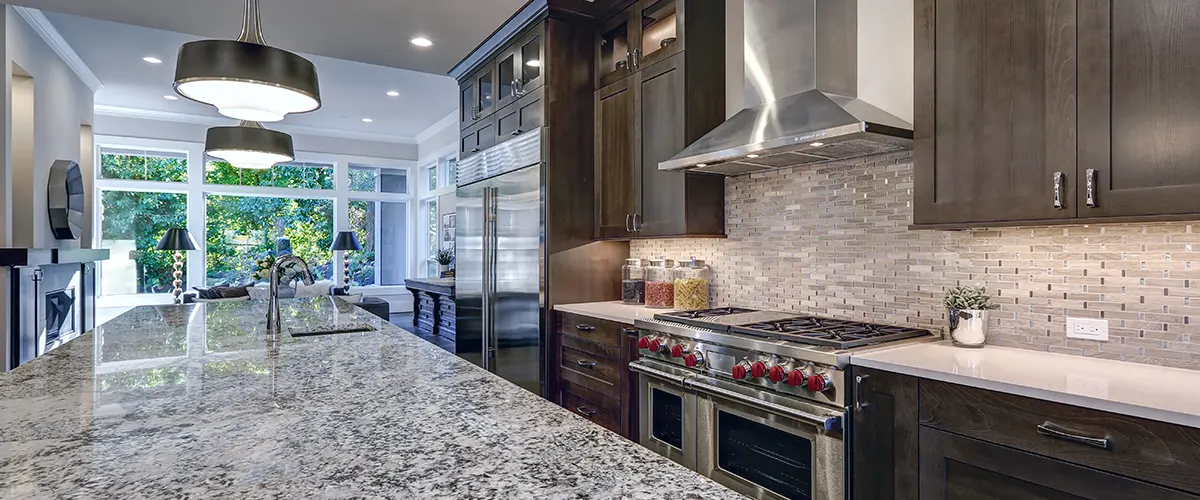 There are many different types of kitchen cabinets to choose from, including:
Traditional cabinets: These cabinets are made from wood and have a classic style. They're often painted or stained and come in a variety of colors and styles.
Modern cabinets: These cabinets are made from materials like plastic, metal, or glass and have a modern style. They often have a minimalist design and are available in a variety of colors and styles.
Custom cabinets: If you can't find the right cabinets for your kitchen, you can always have them custom-made. This is a more expensive option, but you can choose the style, color, and materials to match your kitchen.
4. Choose countertops and flooring
When deciding on countertops and flooring, it's important to choose materials that are both durable and stylish. Some popular choices include:
Countertops: Granite, marble, quartz, and laminate are all popular choices. Laminate is the most affordable option, while granite and marble are the most expensive.
Countertop space is one of the most important considerations when designing a kitchen.
If you have an island, consider how much counter space it will take up and if there will be enough room for all your needs. If you don't have an island, make sure to measure out your counters so that they're large enough for what you need them.
Flooring: Wood, tile, and vinyl are all popular choices. Vinyl is the most affordable option, while wood is the most stylish.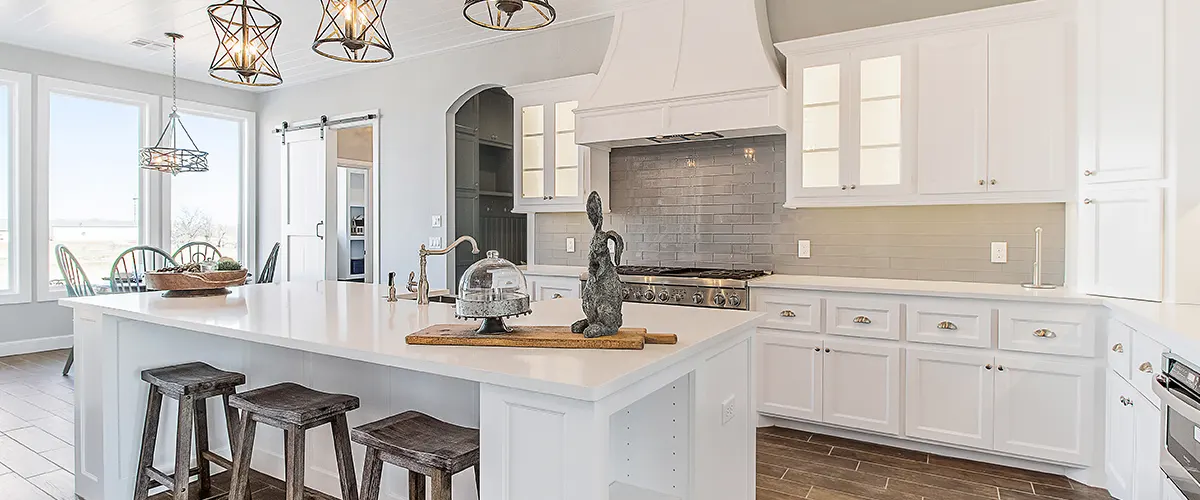 If you have a large kitchen, consider adding a kitchen island. This is a great way to add extra storage and more countertop space to your kitchen. You can choose from a variety of shapes and sizes, and there are even islands that come with built-in appliances.
Once you've finished designing your kitchen, it's time to add accessories to make it feel like home. Add a dishwasher rack, utensil holder, or oven mitts to help you stay organized.
You can also add a kitchen rug, curtains, and artwork to personalize the space.
7. Make sure everything is functional and easy to use
When designing your kitchen, it's important to make sure everything is functional and easy to use. This means choosing appliances and cabinets that are both practical and stylish.
It's also important to choose materials that are durable and easy to clean.
8. Don't forget about the details - like lighting and ventilation
When designing your kitchen, it's important to consider all of the details, including lighting and ventilation. Poor lighting can make it difficult to see, while poor ventilation can make the kitchen feel hot and stuffy.
Consider adding features like ceiling lights, task lights, and under-cabinet lights to brighten up the space. And, if you have a lot of cooking, consider adding a ventilation hood to the kitchen.
Frequently Asked Questions
A well-designed kitchen can be a great source of comfort and joy for homeowners. If you're in the market for a new kitchen or are considering renovating your current one, be sure to keep the following tips in mind. For more design ideas, be sure to check out NKBA's website or if you need the help of a professional, we're here for you!
The team at Ace Bath is here to help with all your kitchen needs, so don't hesitate to get in touch if you need experts to help you with renovation or design decisions. We look forward to hearing from you!