Installing floating floors under cabinets is a great way to improve the look and feel of your kitchen. It can also be tricky, so we've put together this guide to help you through the process.
This article will walk you through the steps necessary to install a floating floor under your kitchen cabinets. We'll also provide some tips on making the process easier for you.
So whether you're remodeling your kitchen or want to update your existing cabinets, follow these steps, and you'll be good to go!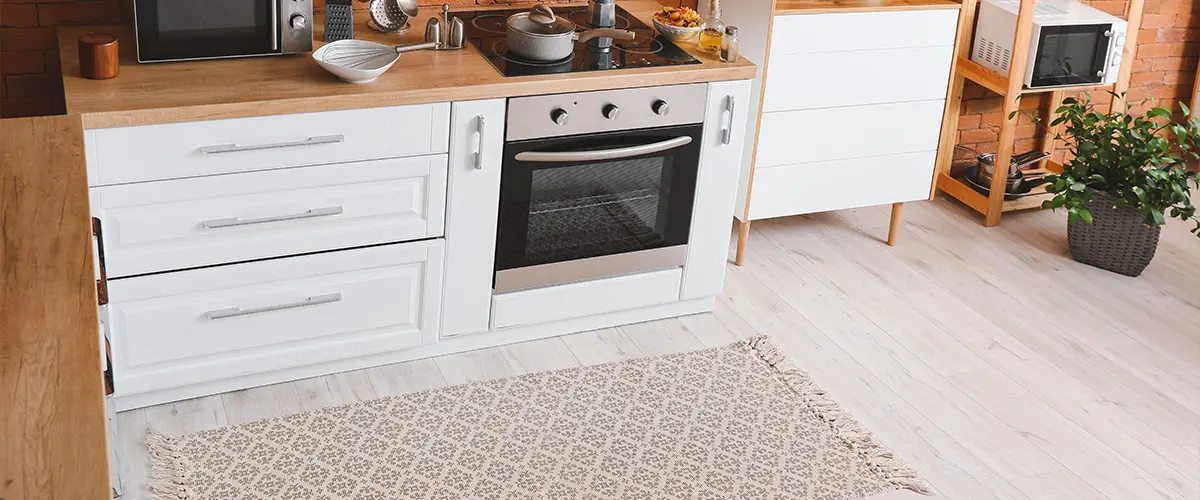 1. What is the floating floor?
The floating floor, also known as a floating laminate floor, is not nailed or glued to the subfloor. Instead, it sits on top of the subfloor and is held in place by friction. 
This makes it an excellent choice for kitchens, as it can easily be installed over uneven surfaces and is less likely to buckle or warp over time.
There are various floating floor options on the market, including laminate, vinyl, engineered wood, or tile floor. Before the cabinet installation process happens, make sure you choose the right style for your home.
If you're interested in installing a floating floor under your kitchen base cabinets, choose a material that matches your furniture and appliances. For example, if you have wood cupboards, you'll want to choose a floating floor made from wood or another hard surface material.
Floating floor vs. hardwood floor
There are several key differences between these two types of flooring. As we know by now, the first one is not secured to the subfloor, while hardwood floors are attached to the subfloor with nails or glue. 
The floating floor is also more forgiving than solid hardwood flooring. If it's ever necessary to remove or replace a floating floor plank, it's a much easier process than removing solid hardwood flooring planks.
One of the biggest advantages of a floating floor is that it can be installed over almost any kitchen floor, including concrete and vinyl. Hardwood installation can only happen on a wooden subfloor. If you're remodeling a kitchen with existing vinyl or concrete flooring, a floating floor is the best option.
If you're unsure, which type of new flooring is right for your kitchen, consult with professional installers or a home improvement store. They will be able to answer your questions and help you choose the new floor. In most cases, they can also guide you through the installation process.
Now that we've covered what a floating floor is, let's look at some of the benefits of installing it in your kitchen.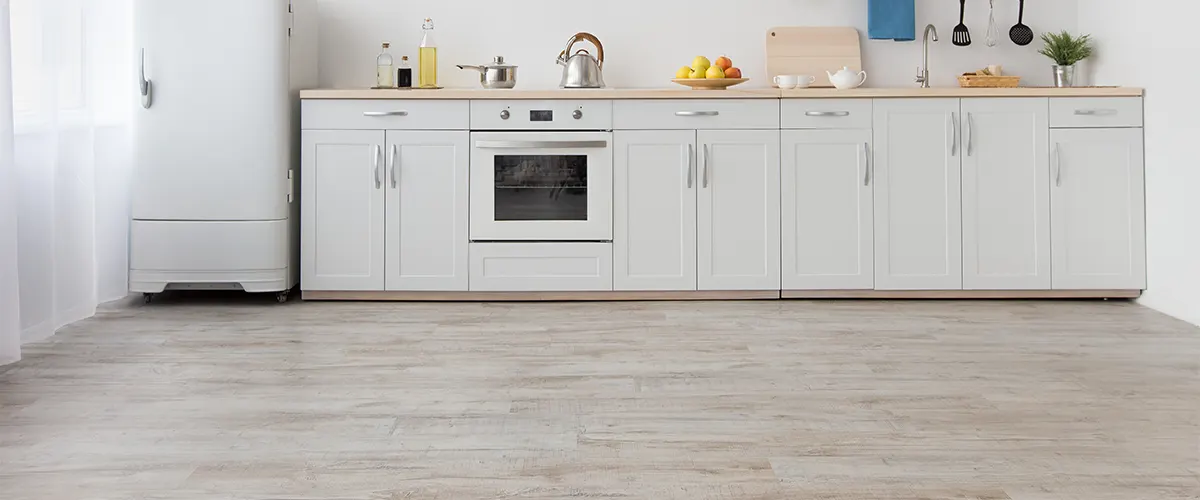 2. Benefits of Installing Floating Floor Under Kitchen Cabinets
Installing flooring under base cabinets is a great way to add extra insulation and protection to your kitchen.
By installing the floating floor first, you can ensure that your cabinets are properly supported and that your floor is protected from any water or dirt that may come through them. Here is a list of other benefits that come with the installation:
Now that you know the basics of floating floor installation let's take a look at the steps necessary to install it under your kitchen cabinets.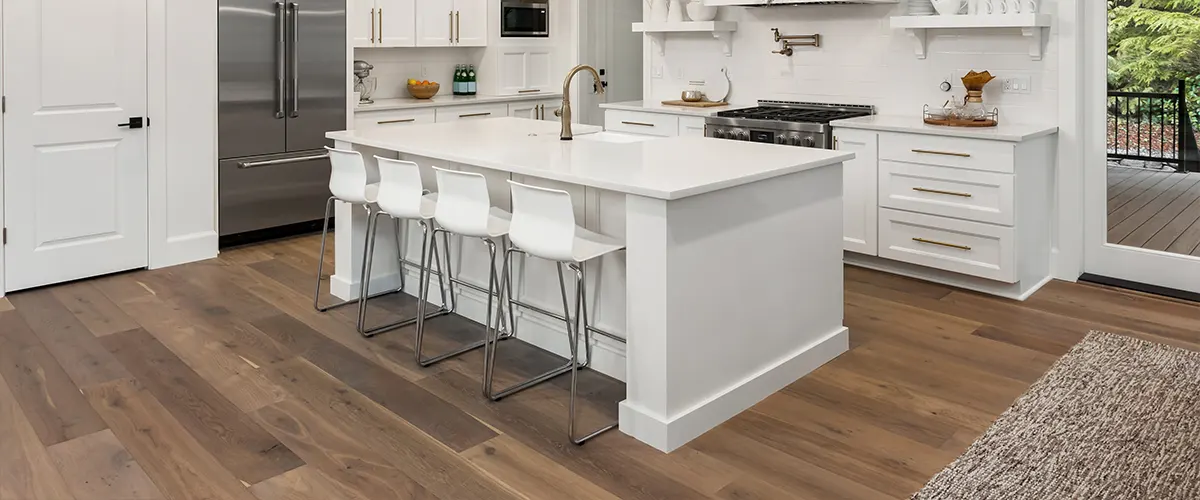 3. How do you choose the right one for your home?
Choosing the right floating floor style for your kitchen can be a bit challenging, but with a little bit of research and some help from a professional installer, you can find the perfect one for your home. When choosing a floating floor, there are a few things you'll want to keep in mind:
Once you have an idea of what you're looking for, it's time to start shopping around. Home improvement stores and flooring retailers offer a variety of flooring styles, so take your time and browse through the options until you find one that's perfect for your home.
If you're having trouble deciding on a style, consult with a professional installer. A contractor will be able to help you choose the right flooring and guide you through the installation process.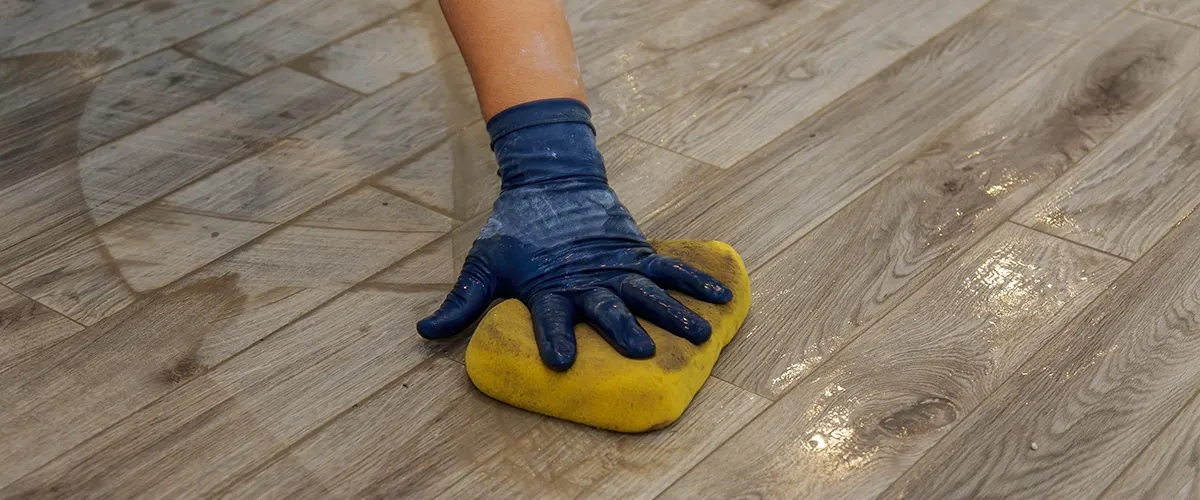 4. How to install floating floor under cabinets
If you're looking to install a floating floor under cabinets, you'll need to hire a professional. This is because it's a difficult task that takes experience and skill to do correctly. 
Here are the steps a professional will take to install your floating floor:
This includes the length and width of the room and the height of the cabinets.
This step is essential to purchasing the correct amount of floating flooring material. If you're installing floating floors under cabinets, it's essential to make sure that you buy enough material. You will need to cover both the floor and the cabinets.
To measure the space, you'll need to know the area's length, width, and height. You'll also need to know the size of your cabinets.
Purchase floating flooring that will fit
Once you have these measurements, you can purchase floating flooring that will be a perfect fit. This will ensure minimal cutting and trimming are required, which can save you time and money.
When purchasing floating flooring, make sure to buy enough to cover the length and width of the space, as well as the height of your cabinets.
Install the floating flooring material in the kitchen
The professional will use a saw to cut the floating flooring to size. Then they will install it in space. This involves using adhesive and a floating floor installation tool. If you're doing this project yourself, make sure that you read the instructions carefully and follow them step-by-step.
It's essential to install the floating flooring correctly, or you could end up with many problems down the road. If you're not confident in your ability to do it yourself, hiring a professional is best.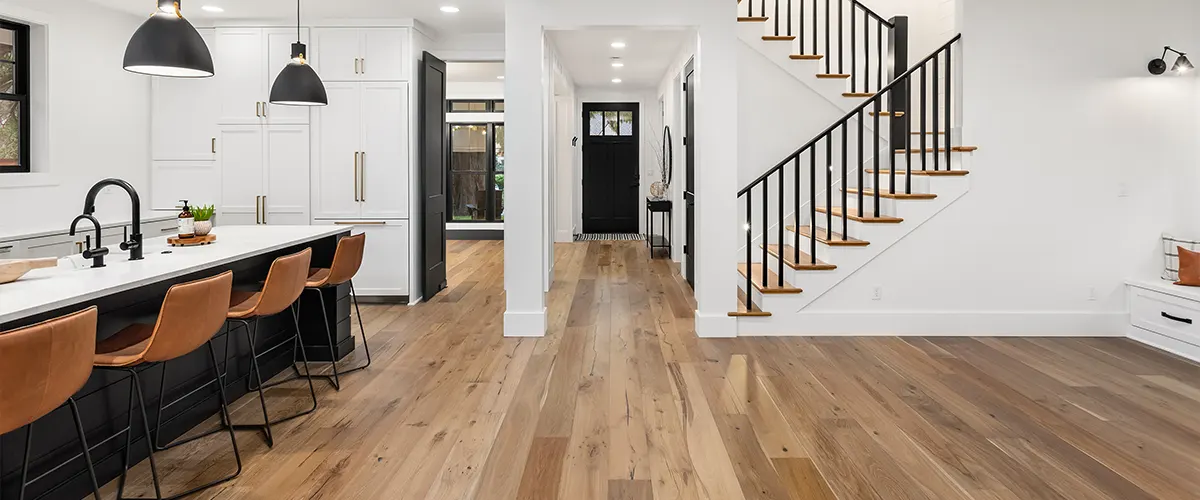 5. Floating floor installation tips from the pros
Frequently asked questions
We've outlined the process for installing floating floors under cabinets and provided some professional tips to help you get the job done right. If you have the experience, time, and are willing to make mistakes, you can try tackling this project on your own.
If you'd rather have professionals take care of your upcoming kitchen floor renovation, it's safe to say this is a better choice.
At Ace Bath, we offer professional kitchen and bathroom renovations for homeowners in Mississauga, Brampton, and surrounding areas. We make your needs and preferences a priority, and we aim to offer you a simple and straightforward renovation.