Are you considering renovating your bathroom? If so, why not add a farmhouse touch? A farmhouse bathroom can be both decorative and functional, and it can help create a relaxing and inviting space.
In this blog post, we will discuss some of the critical features of a farmhouse bathroom, as well as some tips for creating one in your own home. So if you're ready to add a little bit of country charm to your bathroom, read on!
What are farmhouse bathrooms?
Firstly, we should probably explain what a farmhouse bathroom is. A farmhouse bathroom is a beautifully accentuated space with weathered and worn finishes. It also includes strong materials like steel and wood, which usually dominate the overall look.
Farmhouse-style bathrooms are usually clean and simple, but they also have lots of character. In terms of design, they often feature exposed beams and shiplap walls. 
And in terms of color schemes, farmhouse-style bathrooms tend to be dominated by whites, creams, and soft pastel colors such as pale blue or sage green.
Overall, farmhouse-style bathrooms are all about creating a warm and inviting space. The purpose of the design is to make you feel like you're at home, even when you're in the bathroom.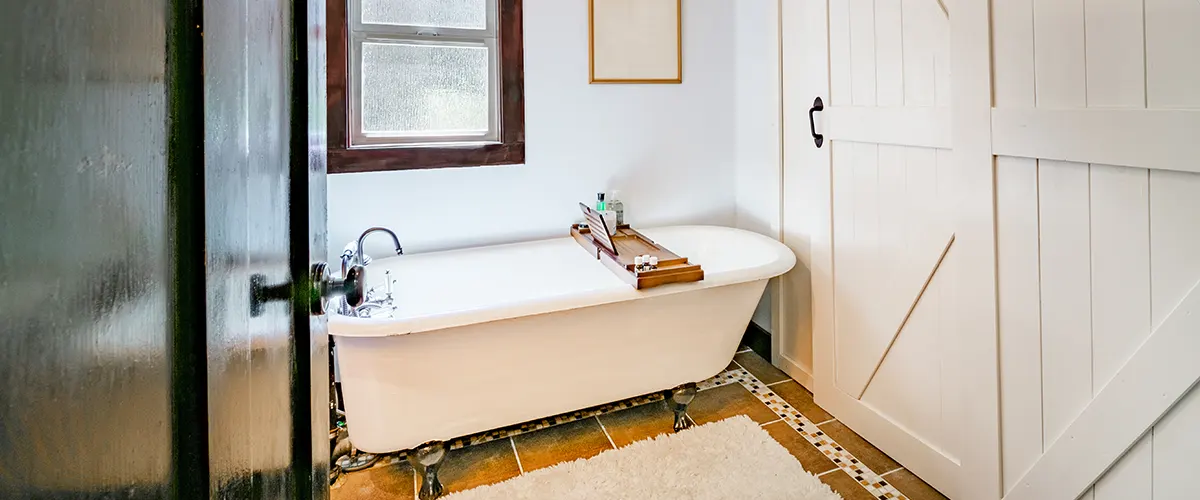 The key features of a modern farmhouse style
There are a few key features that make the modern farmhouse bathroom unique. Firstly, they often have a rustic, shabby chic, and laid-back feel, with many natural materials and textures in the décor.
Secondly, these bathrooms often have an effortless, minimalist design, emphasizing functionality over luxury. Exposed fittings and furniture are also a common feature for a farmhouse master bathroom, often incorporating bulky, thick-cut techniques to create a real sense of authentic character.
For example, you might have a farmhouse bathroom with an exposed brick wall or an exposed wooden ceiling beam. This will help create a cozy and homely atmosphere in the room.
Finally, the farmhouse bathroom is a space waiting to be creatively transformed with all your favorite tat. You can find any design or style you want, from vintage pieces of furniture and decor that are sure not only add character but make for great memories too.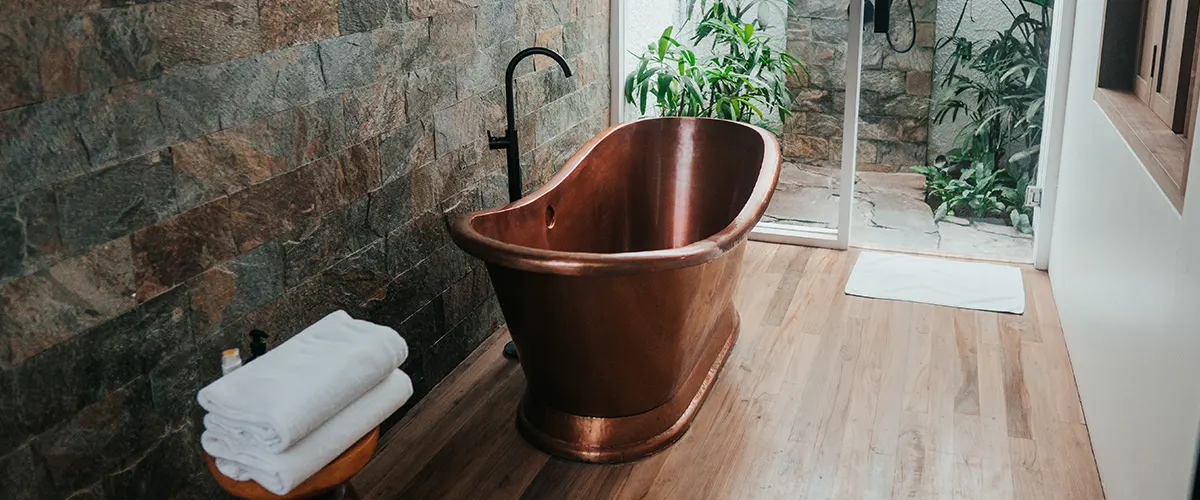 How to create a stylish farmhouse bathroom in your home?
The farmhouse bathroom is one of the most popular styles in today's homes. With its rustic charm and farm-fresh design, this room will bring a touch of country living to your home. The farmhouse bathroom is perfect for both modern and traditional homes alike.
Farmhouse trends have become increasingly popular because they offer a unique alternative to the traditional bathroom.
If you're looking to create such a bathroom in your home, there are a few key things you need to take into account.
The first thing to consider is the style of your farmhouse bathroom. Rustic and country farmhouse themes are incredibly popular at the moment, so this is a great place to start. Think of using natural materials like stone, warm wood tones, and metal to create a friendly atmosphere for your bathroom decor. This can include wood vanity, wooden floors and walls, exposed brickwork, open shelving, or tiled surfaces with a rustic finish.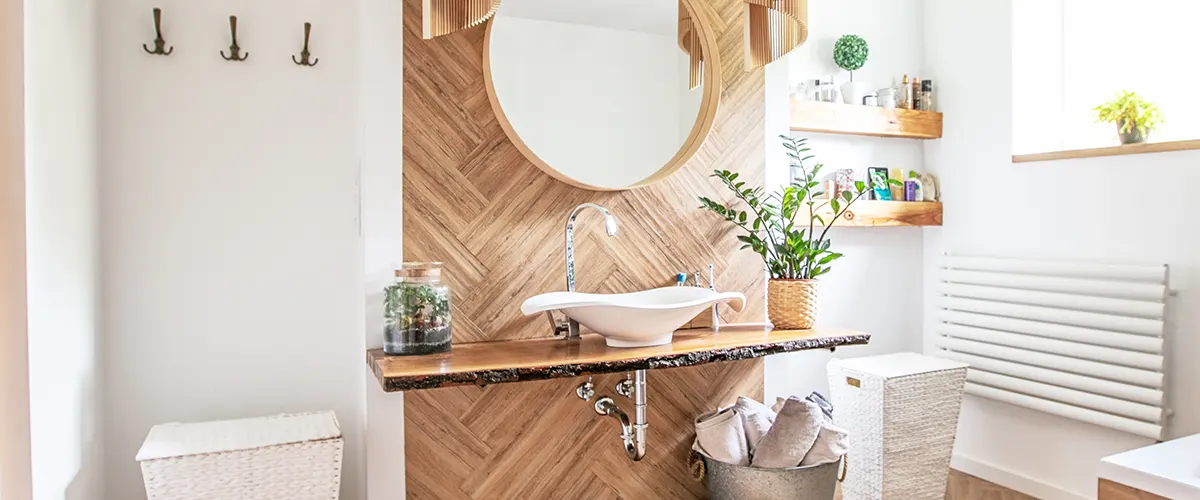 Once you've decided on a style, you need to think about the overall look and feel you want to achieve. This includes deciding on the correct farmhouse elements like colors, materials, and accessories. It's time to begin sourcing some decor ideas, such as antique or vintage pieces that can help set the tone and give the room some character.
Farmhouse bathrooms are all about creating a warm and inviting small space. If you want to achieve this, it's essential to use a neutral color palette with vintage accents. This will help develop a sense of calm and relaxation in the simple bathroom. Neutral colors are also perfect for showcasing a rustic vibe and a more farmhouse look, highlighting even the powder room.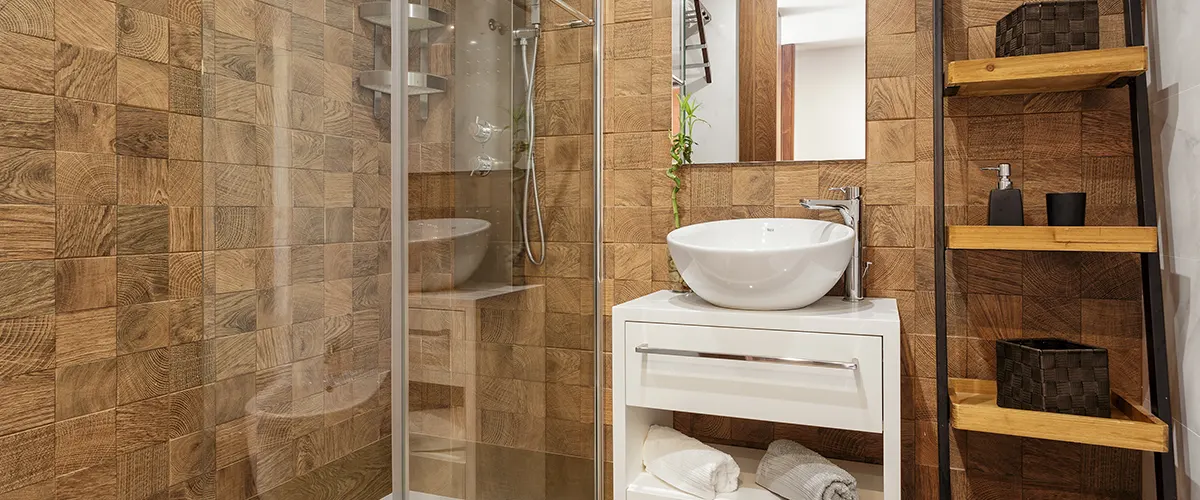 3. Get beauty and functionality
When getting your farmhouse bathroom, don't forget about the practicalities – make sure your new space is comfortable and functional as well as beautiful.
Any design ideas are welcome, so add some furniture, and don't forget about accessories. Add rustic touches like wooden shelves and baskets to provide extra storage.
Hang a decorative piece like a vintage sign or mirrors to add character to the home decor. And the little details like rugs, towels, candles, plants, and other decorative items can all help bring the farmhouse feel to life.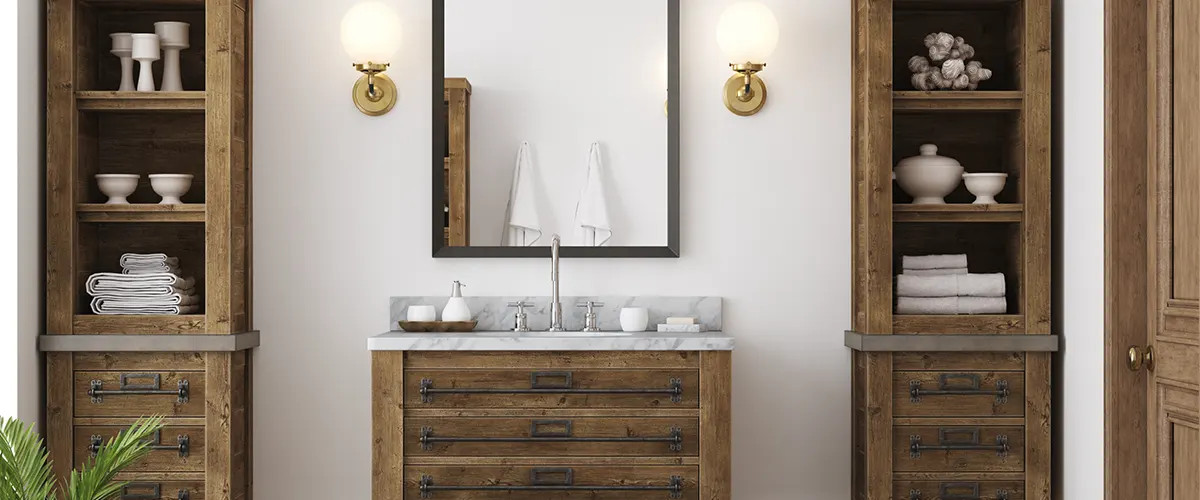 Make Your Own Farmhouse Bathroom
By now, you know what makes a farmhouse bathroom unique by giving it more subtle elements, so you can take a look at some main features you may want to include. One of the primary keys to achieving these aesthetics is your budget.
So keep in mind to select your favorite statement features, create the perfect bathroom for you and stick to your planned budget. With a few strategic design choices, you can quickly achieve that farmhouse feels in your bathroom and have everyone fooled.
One of the main features of a farmhouse bathroom is its rustic charm, and few items can add to this quite like an oak door. An oak door will give your farmhouse bathroom a real sense of authenticity while also providing functionality and durability.
You could consider a metal or glass door if you want something a bit more unique. But, if you're going to keep the farmhouse style and want a more modern look, you could go for a frosted glass door with a sliding barn door. Whatever style you choose, make sure the door is made from high-quality materials that withstand everyday use.
The bathroom's centerpiece
One of the essential features of any farmhouse bathroom is a clawfoot tub or freestanding bathtub. These tubs add a real sense of character and style to the room while providing a relaxing and luxurious bathing experience.
Plus, they're perfect for soaking away the stresses of the day, which is why they make such great centerpieces in farmhouse bathrooms. So if you're looking to create a truly relaxing oasis in your home, be sure to include one of these iconic tubs to your farmhouse charm.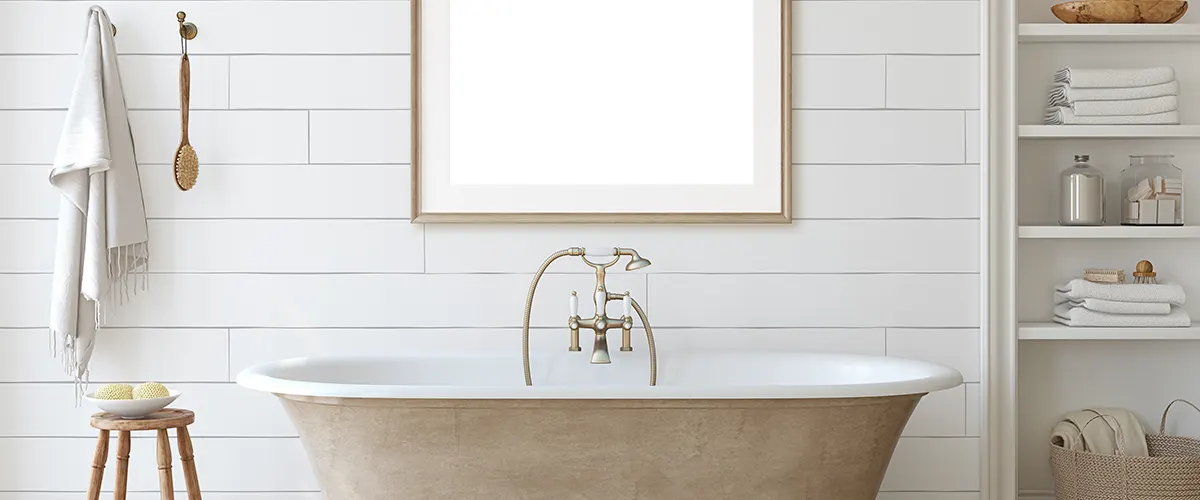 The sinks make the difference
Farmhouse sinks are a vital part of any farmhouse-style bathroom. Not only do they add a touch of rustic style, but they also provide a lot of functionality and practicality.
There are all sorts of different vanity and sinks to choose from, so you can find the perfect one for your bathroom's farm look.
One of the most popular options is a traditional farmhouse sink. This type of sink is typically made from porcelain or ceramic and has a deep basin that makes it perfect for everyday routine focusing on the visual interest as well.
You could go for a stainless steel farmhouse sink if you want something more modern. These vessel sinks are incredibly durable and can easily withstand daily use. Plus, they have a sleek and elegant look that can add some style to your bathroom's design.
Finally, if you're looking for a genuinely unique farmhouse sink, you should consider a farmhouse pedestal sink. These sinks are typically cast iron and feature beautiful detailing like animal feet or clawed toes. They're perfect for adding a touch of rustic charm to your farmhouse bathroom.
One of the best things about having a farmhouse bathroom is that you get to enjoy the incredible views from your window.
So be sure to take advantage of this and choose a window design that will let you make the most of the farmhouse feel.You could go for a traditional farmhouse window that features a wooden frame and glass panes.
If you want something more contemporary, you could opt for an acrylic farmhouse window with clear frames and frosted panes. 
Either way, this simple farmhouse bathroom feature is sure to add some authentic style and character to your farmhouse bathroom design.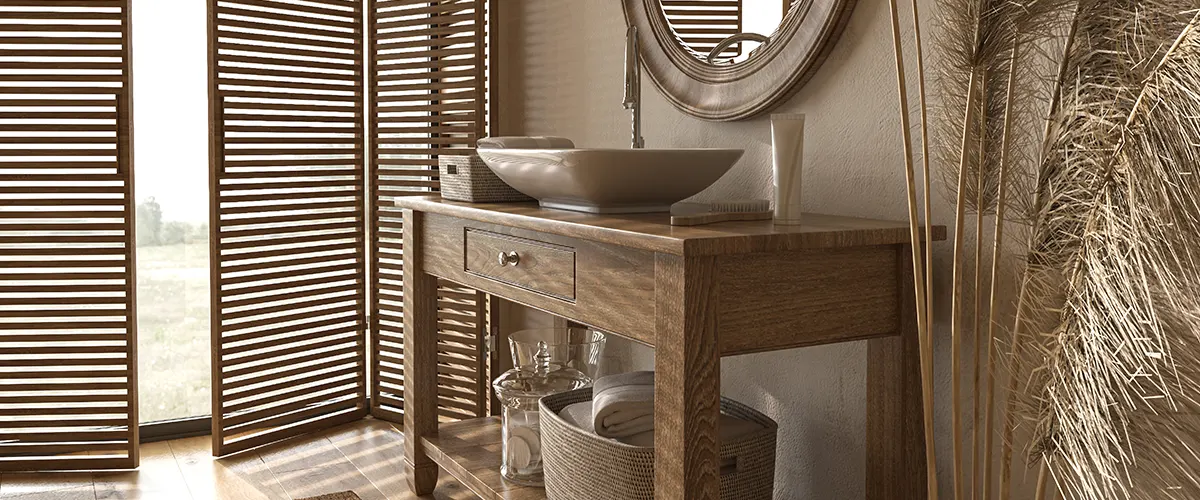 When it comes to farmhouse bathroom lighting, you want to go for something simple and understated. This will help create a sophisticated and relaxing atmosphere in the room.
Some of the best farmhouse bathroom lighting options include lanterns and oil lamps. These lights add a natural touch of rustic charm to the room while also providing functionality and practicality.
Plus, they're perfect for setting the mood in the farmhouse bathroom. So if you're looking for a way to enhance the farmhouse feel in your bathroom, be sure to include some of these beautiful lighting options in your design.
Tips for decorating and furnishing your farmhouse bathroom
There are a few things to keep in mind when it comes to decorating your farmhouse-style bathroom.
A farmhouse bathroom is a popular style that's been trending for years. The key features of this design include lots of natural light, exposed beams and unfinished brick, rustic furnishings and décor, and simple-yet-elegant decorating.
If you want to create your farmhouse bath in your home but don't know where to start, or you need help with the details like wall placement or how much space should be allocated for the shower area versus the rest of the room, we're here to help.
Ace Batrh provides professional assistance from start to finish on all aspects of planning and constructing a farmhouse bathroom project. Get in touch if you need experts to help you with your farmhouse bathroom.