When it comes to kitchen counters, there are a lot of choices out there. You can go with traditional materials like granite or marble, or you could choose something more modern like concrete or stainless steel. Whatever your style, we've got the perfect countertop material for you. In this blog post, we'll take a look at the 5 most popular materials for kitchen counters and see what each one has to offer. So read on and find the perfect material for your home!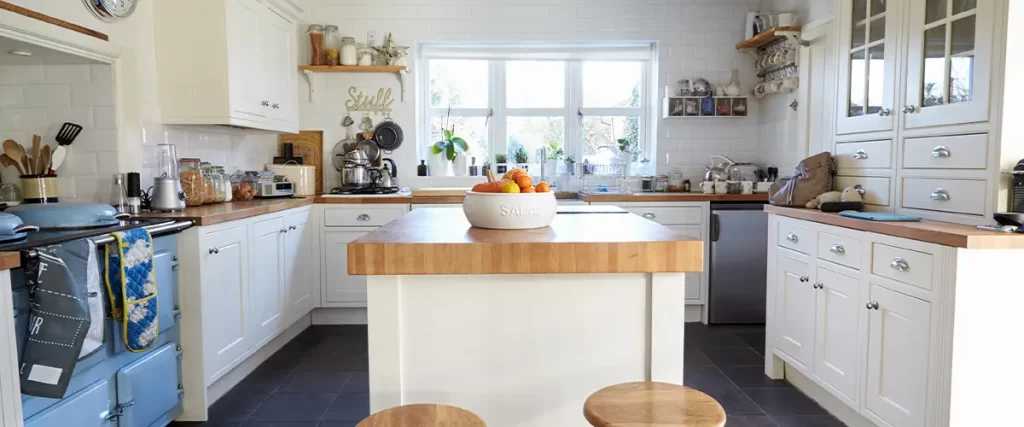 The Benefits of Custom Kitchen Countertops
When it comes to kitchen counters, quality is key. A well-made countertop will be durable and easy to clean, and it will also add value to your home. Here are just a feww of the benefits of quality kitchen counters:
1. Durability: Quality kitchen counters are built to last. They're made from tough materials like granite or concrete that can stand up to everyday use.
2. Easy to Clean: Quality counters are easy to clean and maintain. They won't show fingerprints or spills, and they won't need to be sealed or polished regularly.
3. Added Value: A quality kitchen countertop is an investment that will add value to your home. If you ever decide to sell, it will be one of the first things potential buyers notice and appreciate.
The Best Type Of Countertops
Quartz has many advantages as a countertop material. It is very hard and resists scratching, chipping, and staining better than most other materials. Quartz counters are non-porous, so they do not need to be sealed like other stone surfaces. Quartz is also available in a wide range of colors and patterns, including some that mimic the look of marble or granite.
Additionally, quartz counters are easier to care for than other types of countertops; they can simply be wiped down with soap and water. However, quartz countertops are not indestructible; they can still be damaged by excessive heat or direct contact with harsh chemicals. Overall, quartz is an excellent choice for a countertop material that is both beautiful and durable.
Concrete countertops are an unusual but increasingly popular choice for homeowners who want a unique and stylish look for their kitchen or bathroom. Concrete is a versatile material that can be colored, textured, and polished to create a wide range of looks.
While concrete countertops are not as common as granite or marble, they are slowly gaining popularity due to their durability, distinctiveness, and easy maintenance. Concrete countertops are usually fabricated and poured on-site by a specialist crew, which ensures a perfect fit for your space. If you're looking for a change from the traditional countertop choices, concrete might be the perfect material for you.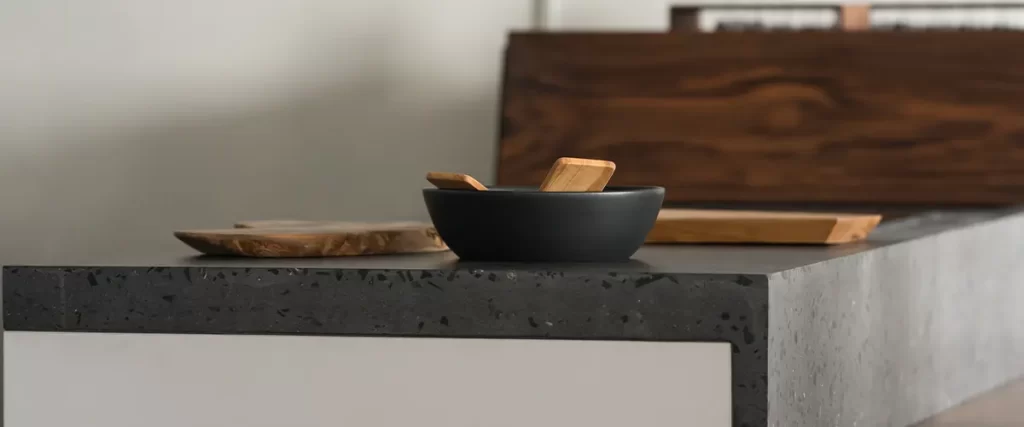 If you're hoping to install granite countertops in your kitchen but are concerned about the cost, you may want to consider modular granite. Modular granite occupies a niche between solid slabs and granite tiles, offering a more budget-friendly option for homeowners. Although still quite hefty, modular pieces are lighter than slabs, making them a good choice for those who want to tackle the installation themselves.
Plus, because they come in smaller pieces, modular granite is easier to transport and maneuver around your kitchen during the installation process. Whether you're looking to save money or simply want the satisfaction of a DIY project, modular granite may be the right option for you.
Laminate countertops are a popular choice for many homeowners due to their wide range of colors and styles. Laminate countertopps are formed from a thin layer of plastic laminate material bonded to a core of particleboard or MDF (medium-density fiberboard). One benefit of laminate countertops is that they are less expensive than other materials such as granite or marble.
Laminate countertops are also available in a wide variety of colors and patterns, which allows homeowners to find a style that fits their taste. Another benefit of laminate countertops is that they are easy to care for and maintain. However, one downside of laminate countertops is that they can be damaged by heat or sharp objects. Overall, laminate countertops are a good choice for many homeowners due to their wide range of colors and styles and their easy maintenance.
Ceramic tile is a popular choice for kitchen countertops, thanks to its durability and aesthetic appeal. However, traditional ceramic tile counters come with a few drawbacks. First, the grout seams between each tile can be difficult to keep clean, as they are prone to trapping food and dirt. Second, the small size of most tiles results in a large number of seams, which can make the countertop look busy and cluttered.
Fortunately, newer ceramic and porcelain tiles are available in larger sizes that can help reduce the number of seams and make upkeep easier. When choosing ceramic tile for your kitchen countertop, be sure to consider both the style and functionality of the tiles to ensure that they will meet your needs.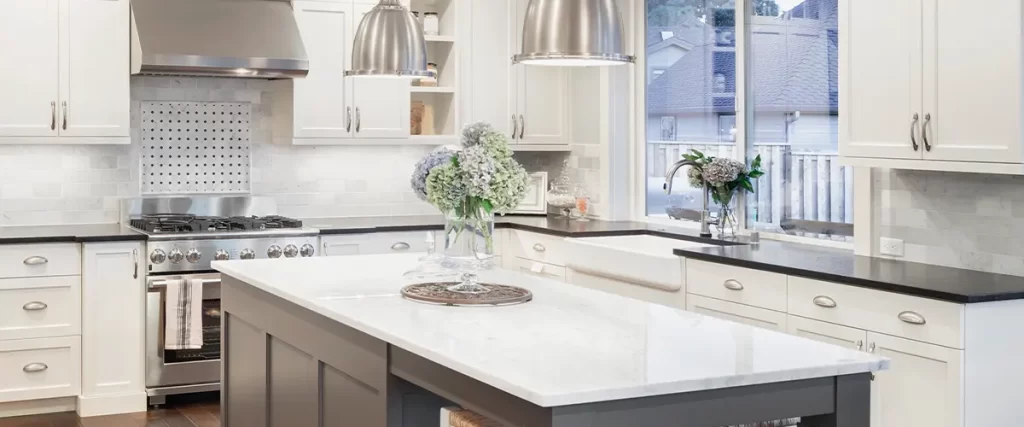 Stainless Steel Countertops
Stainless steel has long been a popular choice for restaurant kitchens because of its durability and easy maintenance. However, stainless steel countertops are not just for restaurants anymore and have entered the home. They are normally custom-fabricated to precise specifications and installed by custom craftsmen.
Stainless steel is a great choice for the kitchen because it is non-porous, meaning it won't absorb stains or odors. It is also heat resistant, making it ideal for cooking areas. In addition, stainless steel is very easy to clean and usually only requires a quick wipe-down with a damp cloth. For these reasons, stainless steel countertops are an increasingly popular choice for both commercial and residential kitchens.
When it comes to green remodeling and countertop materials, installing a reclaimed wood counter is a great way to take things a step further. Barns, flooring, siding, and old wood counters can all be repurposed and made into new wood counters for an antique and truly unique look.
And where can you find these raw materials? Architectural salvage yards are a great place to start looking. Not only will you be doing your part to help the environment, but you'll also end up with a one-of-a-kind counter that will add character and charm to your home. So next time you're thinking about remodeling, consider going green and installing a reclaimed wood counter!
Marble is a natural stone that has been used for centuries in some of the most beautiful architecture and sculptures in the world. Its uniquee appearance and veined patterns make it one of the most attractive of all natural stones, and it is no wonder that marble is now being used more and more for kitchen countertops.
However, marble is a relatively soft and porous stone that MUST be carefully and repeatedly sealed if used for kitchen countertops. Because of its softness, marble can easily be scratched or chipped, so it is not the best choice for a high-traffic kitchen. In addition, marble is quite porous, meaning that it can absorb spills and stains if not properly sealed. For these reasons, it is important to do your research before deciding whether marble is the right choice among all the solid surface countertops options.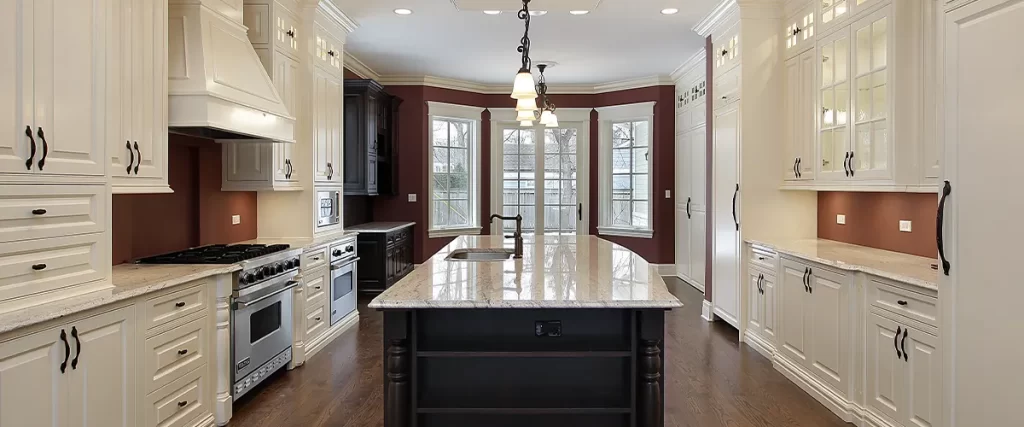 So, which countertop is right for you? If you're still unsure after reading this post, you can check out NKBA's website for more design inspiration. Or if you have any questions about the different materials we've discussed, please don't hesitate to contact us. We would be happy to help you choose the perfect countertop for your kitchen and walk you through the installation process step by step.