Are you in the market for a contractor to remodel your bathroom? Or maybe you're planning for a full home renovation, and your bathroom is getting a total transformation in the process. If so, you're in luck! This blog post will provide tips and tricks to help you find the best contractor for the job.
Bathroom remodeling can be a considerable undertaking, but it's also a great way to add value to your home. Read on for helpful tips and tricks on how to find the perfect contractor for bathroom remodels!
Define your project scope
Knowing what you want is critical in finding the right contractor for the job. So, before you start looking for contractors, it's essential to take some time to define what you need.
What specific tasks do you want the contractor to perform? Are you looking for a complete bathroom remodel or just a few updates?
By defining the project scope, you can target your search for bathroom contractors and avoid wasting time on those who don't fit your needs.
One of the best ways to find a good contractor is by getting recommendations from friends and family.
Chances are, someone you know has had a bathroom remodel done in the past, so they can recommend a contractor they worked with. Ask around and see if anyone has any contacts they can share with you.
Also, if they live nearby, pay them a visit and look at their new bathroom. This will help you properly define your own vision and plan for your new bathroom.
When you've narrowed down your list of potential contractors, it's time to ask for their quotes to compare the prices before deciding.
This will give you an idea of what different contractors charge for their services. Also, be sure to ask for a breakdown of the quote so you can see what each item includes.
Reach out to top candidates
As soon as you get your list of a few final candidates, it's time to interview them. Use this chance to ask questions and see if they're trustworthy as contractors.
This way, you can make an informed decision about who to hire for your bathroom renovation project.
Some things to consider include:
What kind of a contractor they are
Your bathroom renovation project is a substantial investment that will change the way you use your home for years to come.
It makes sense to determine if the professionals you want to hire are general contractors, tile contractors, or complete bathroom remodeling contractors. This way you'll know if they have the experience to handle your specific bathroom project.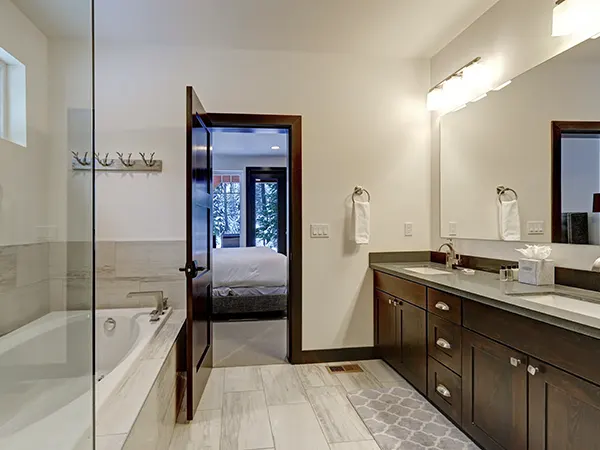 If you're looking to renovate your entire house, a general contractor might be a better fit. However, let's say you're looking for someone to tile your bathroom or do a complete bathroom renovation. In that case, it's best to look for a contractor that specializes in those services.
How long they've been in business
A contractor with years of experience is a good bet, as they've likely seen and dealt with just about every bathroom remodeling situation.
They will foresee potential problems and address them before they become an issue. Water damage or electrical work issues can sometimes occur during a bathroom remodel. That's why it's essential to know that your contractor is experienced enough to handle these situations.
Be sure to ask if the contractor is licensed and insured. This will protect you in case something goes wrong during the renovation project.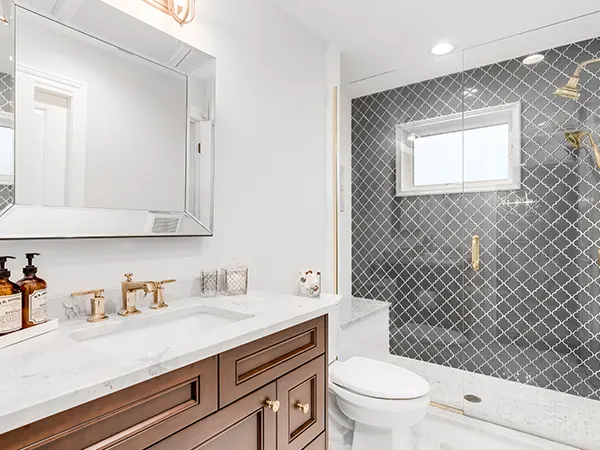 Also, ask about any warranties they offer on their services. A contractor who provides a warranty on their work is someone you can trust. 
This means that if something goes wrong after the project is completed, they will be responsible for fixing it at no additional cost.
Experience with bathroom remodels
It's essential to ask the contractor about their experience with bathroom remodels. This will give you an idea of their level of expertise and how familiar they are with the process.
If they don't have much experience, it may be a good idea to hire someone who does so that you can be sure the job is done correctly.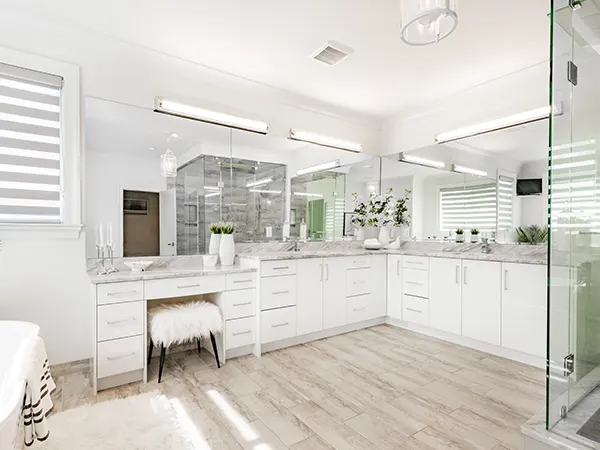 Let's say you're comfortable with taking on someone new in the industry but passionate about the work they do and making their customers happy. 
In that case, this may not be as big of a concern.
One of the most important things to consider when hiring a contractor is their availability. Will they be available during the entire project? Or, do they have other projects that they might prioritize? You don't want your contractor disappearing in the middle of your project.
At the same time, you also don't want someone who is overbooked and will be too busy to take on your project or properly complete your bathroom remodel.
The right bathroom contractor cares about your happiness and will ensure the job is done right, from start to finish. They will also be available to answer any questions or concerns you have along the way.
Existing references from past clients
Once you've compiled a list of potential contractors, the next step is to check their references. This is essential in ensuring that you're hiring a qualified contractor.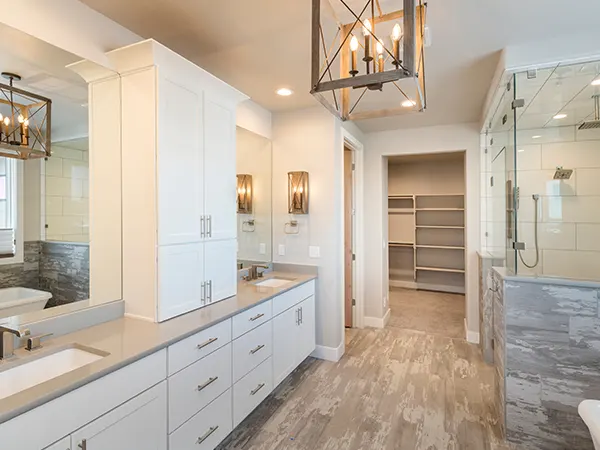 Ask the contractor for a list of happy customers and contact them to get feedback on their work. Be sure to ask about their professionalism, communication process, and quality of work.
This will give you an idea of what kind of work they do and if they meet the quality standards you're looking for.
Commitment to the project
When interviewing qualified contractors, be sure to get a sense of their commitment to the project.
Ask if they're willing to put in the extra hours needed to finish the job on time. Or, find out if they have other projects that may become a priority at times, causing your bathroom remodel project to be delayed.
Excellent project management is key to a successful bathroom remodel, so you'll want to make sure your contractor can handle the project from start to finish.
An experienced contractor should provide you with a detailed project timeline, including start and end dates. It's how you'll know what to expect and when.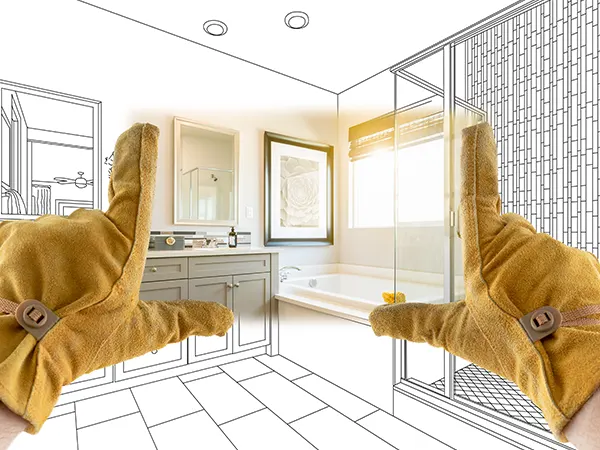 In addition, make sure to ask for a schedule of payments. You don't want to be hit with a hefty bill at the end of the project.
When hiring professionals, it's crucial to know what kind of bathroom remodeling you need and how much it costs. In this situation, the best thing we recommend would be providing contractors with finished floor plans for your design.
Just make sure they know if any room layout, fixtures, or materials need changing before starting work (like plumbing or tearing down walls).
This helps them provide accurate estimates and gives you enough information to compare multiple bids before making the final choice.
Hire the right contractor For Bathroom Remodels
Once you've selected a contractor, it's time to hire them and get started on your bathroom remodel.
Make sure to have a clear contract outlining the specific tasks that the contractor will be performing.
Also, make sure to include the cost estimates and payment plan. This is an essential step in ensuring that your project goes smoothly.
Frequently Asked Questions
Finding the right contractor is essential when you decide to remodel your bathroom. By following these tips, you'll be able to find the best remodeler for your bathroom renovation and ensure that the job is done right, on time, and within your budget.
Here, at Ace Bath, we offer a wide range of services for bathroom remodels. Our experienced team will help guide you through the entire process and ensure your renovation goes as smoothly as possible.
Get in touch with us today to get started! We'll be happy to answer any questions you may have and help you create the bathroom of your dreams!