If you're in the market for a bathroom renovation in Kleinburg, you've just found the best contractor to work with to see your vision through.
We are your local bathroom remodelers, expert in providing you with a renovation that meets the highest standards of the industry in Ontario.
Kleinburg is one of our favorite cities to work in. We love the vibe of the city here, and it seems like homeowners love getting their new baths with us. For more than five years, hundreds of homeowners like you have been getting their top-notch renovations with us.
It's your time now!
Enjoy A Bath Renovation That Brings More To The Table
We're changing the remodeling industry in the Greater Toronto Area, and we're starting from your town! With Ace Bath, you're getting more than what you're promised, along with a service that puts any other contractor to shame.
Get ready to enjoy!
Your Premium Bathroom Renovation In Kleinburg Awaits You
We have only the best intentions for your home, just as you do. After serving over a hundred families and being in business for five years, we discovered the perfect process that guarantees a smooth renovation from start to finish.
We've fully optimized it to make your journey with us a memorable experience, one that puts no pressure on you and that minimizes all remodeling anxieties.
Our experienced professionals are always available to give you the best advice and solutions for your particular situation. We're focusing on your well-being and convenience at all times during your bathroom renovation, so you'll be kept in the loop and in full control of your project, no matter what.
Check out our bathroom renovation offer! Get your bath renovation in Kleinburg started with the best remodelers in town!
Our Customers Love Their Kleinburg Renovations
Kleinburg is in dire need of a good remodeler that puts the homeowner first. This is what we're trying to do here at Ace Bath, and our customers are the ones that take full advantage of it!
Did a great job remodeling our kitchen.
They dealt with issues promptly and have a good customer service.
Highly recommended!
Very satisfied with their work. 
They were quick and excellent communication throughout the project, and the work they did is beautiful. 
I would recommend them to everyone 10/10.
This Is What Your Bathroom Renovation Can Get You!
We're fans of building timeless bathrooms that'll remain trendy and good looking even after decades! Check out some of our projects and see for yourself what a premium service looks like!
Type Of Upgrades And Materials
There's a seemingly unending number of materials and modifications available to you, each of which improves your bathroom in distinctive ways. At your in-house consultation, you'll receive a thorough explanation of each available option and alternative for your home.
Below, you'll find some of the most popular upgrades homeowners in Kleinburg love getting.
Depending on your needs, either a bathtub or shower (or both!) have advantages that can improve your bathroom. Perhaps you require the improved accessibility that a shower offers for older homeowners, while some people might feel that a luxurious tub makes their space seem more upscale.
Porcelain enameled steel is an outstanding choice for bathtubs since it is both inexpensive and durable. Acrylic, fiberglass, enameled cast iron, and cast polymers (cultured marble, granite, or onyx) are other available choices, but more expensive.
When it comes to showers, we recommend a glass walk-in shower with a porcelain tile surround. These simply look great and you can create an intricate design that'll leave everyone speechless.
Other options for your shower walls include porcelain, ceramic, fiberglass, natural stone, or acrylic.
Most of the time, when homeowners replace their vanity, they also upgrade their countertops. It's unlikely that the old counter will match the new vanity, both in dimensions and style, so replacing it will be your only option.
We love quartz countertops and natural stone counters because they're both beautiful and have different benefits. However, you will need to take care when making your selection so that you can get the most out of your new countertop.
Some other, less popular countertop options include ceramic or porcelain tile, solid surface material, concrete, or stainless steel.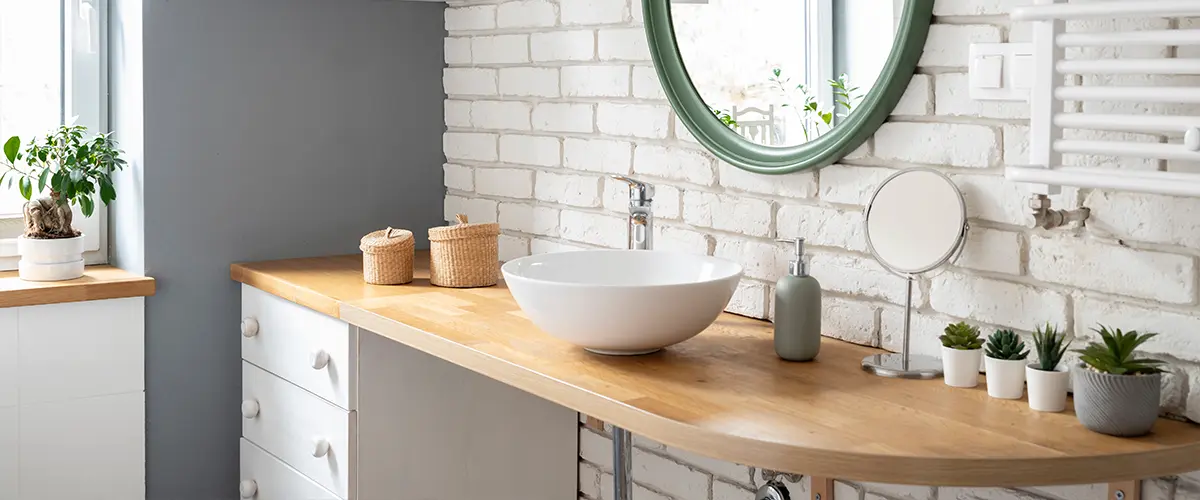 In most bathroom remodels, the flooring covers up several water-related problems. As a result, most bathroom makeovers include a floor replacement phase.
Among all the flooring options available in the market, tile is known to be one of the best. If you're looking for an affordable yet exquisite option, then we recommend going for porcelain tiles. Some other common choices include ceramic, granite, marble and limestone.
Luxury vinyl flooring (LVT) is another popular choice. LVT looks and feels like natural tiles, but it's also more affordable and low-maintenance. Luxury vinyl planks is another great option that's gaining popularity, as it can mimic the look of wood without all its downsides.
Vanities and cabinets have been, and still are, a popular bath upgrade for many people. The main reason being that they can quickly become a focal point in your bathroom while also increasing its functionality.
If you're looking for an affordable, sturdy material that's easy to work with, look no further than plywood cabinet boxes and MDF faces. Every experienced carpenter uses them for all types of cabinetry projects, from vanities to storage units.
If you're looking to get custom cabinets, expect to pay a little more, but to receive a superior cabinet that'll perfectly match your lifestyle and changing needs. Most custom cabinets are made of hardwood, so your new bath will look cozy and natural.
According to KCMA, the best ROI comes from semi-custom cabinets.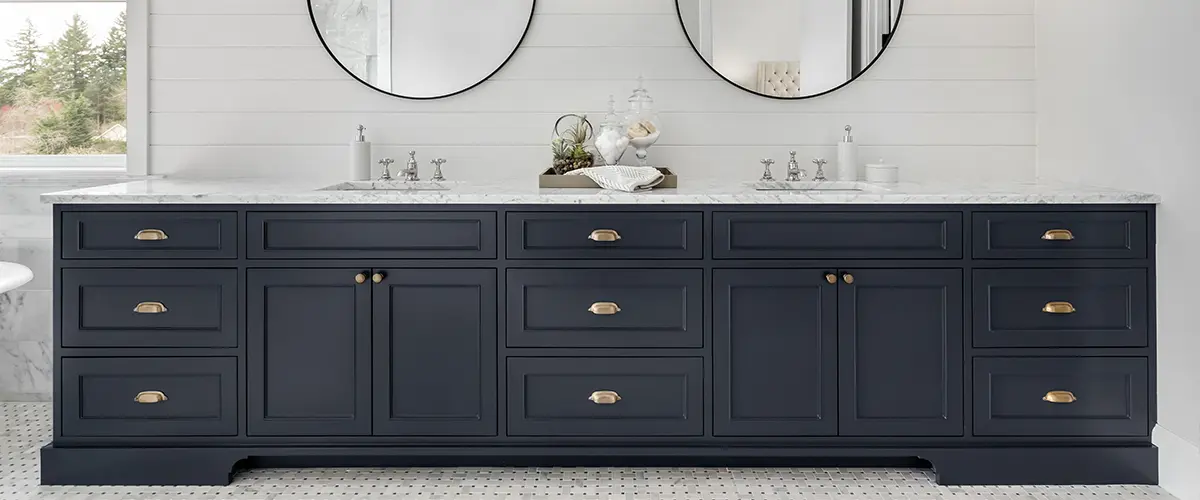 In your bathroom, the sink and toilet are critical components. These two features are likely to raise not only your bathroom's appeal, but also its functionality – and without breaking the bank.
Besides material, sinks also come in various types.
Among homeowners, drop-in and undermount sinks are the most commonly seen. Less popular sink types that still have an effect on your space include vessel sinks, wall-mounted sinks, and pedestal sinks.
A Process That Puts You In The Driver's Seat!
Go through a project that's fully optimized for your convenience! You'll be in the driver's seat of your project at all times, so you'll know everything about what's happening, without being stressed or pressured into anything.
Get in touch with us, and let's discuss your project!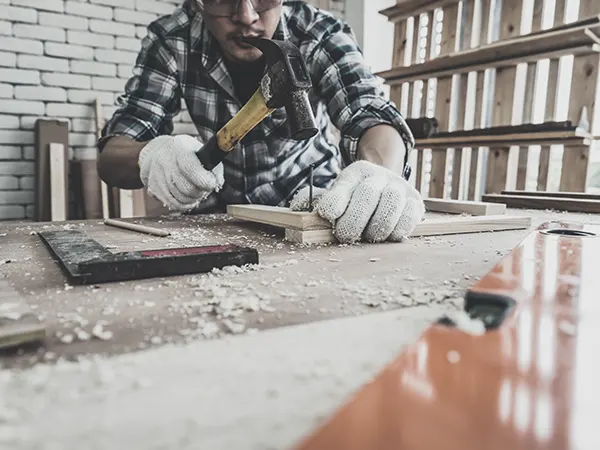 Watch us transform your home and be in full control of everything!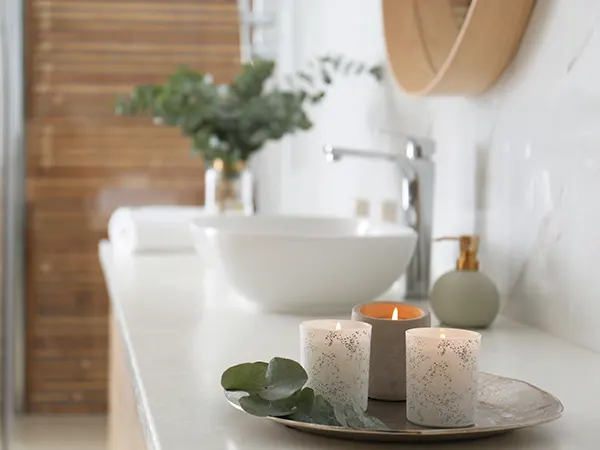 Plan your next family gathering. Your bathroom is ready!
Frequently Asked Questions
Renovations in smaller bathrooms cost between $10,000 and $20,000, whereas mid-range remodels cost around $20,000. Renovations for high-end bathrooms, such as the one you've seen above, can cost upwards of $40k.
After our in-depth consultation, we'll be able to provide you with an exact estimate for the most cost-effective solutions for your house, regardless of your budget.
Our simple bathroom renovations usually take one to two weeks, but more complex jobs can last up to three.
After we meet and discuss your project, you'll receive a precise timeline of how everything will play out.
Hi, I'm Nam, the owner of Ace Bath. I have a degree in renovation and lead a professional team of builders who know all there is to know about bathrooms. We're licensed and insured so that you can rest assured knowing your project is in good hands. When you work with us, you'll get the finest craftsmanship available Kleinburg, Ontario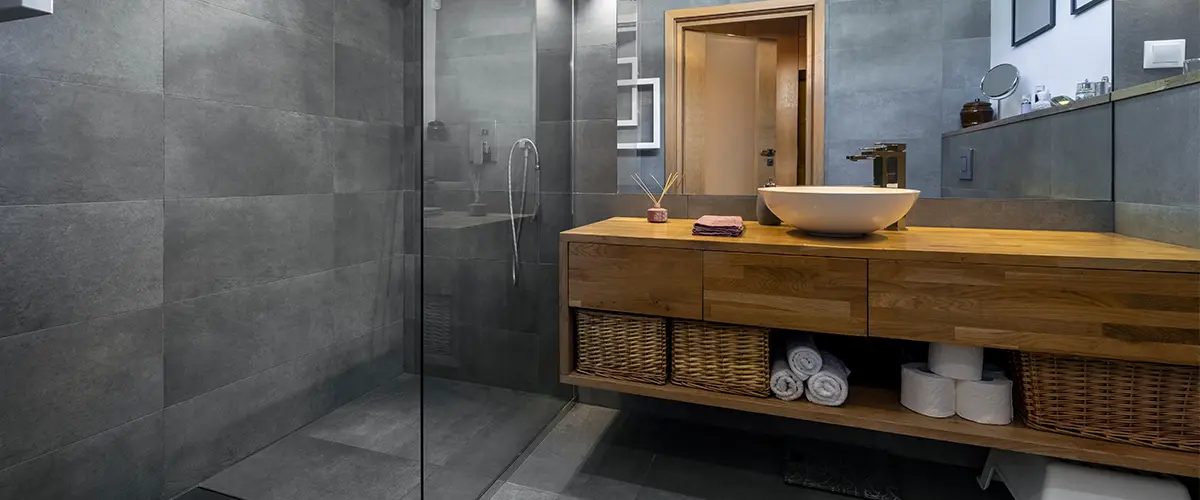 Get A Bathroom That'll Leave Everyone Speechless
At Ace Bath, we want to make your bathroom renovation process in Kleinburg as smooth and enjoyable as possible. With us, you can fully enjoy the excitement of getting your bathroom remodeled, without the stress and anxieties that these projects can bring.
Our ultimate goal is for you to receive a bathroom that you can be proud of. A bathroom that you'll show to your guests and watch the amazement on their face.
With Ace Bath, you'll receive:
Your New Bathroom Is Closer Than Ever!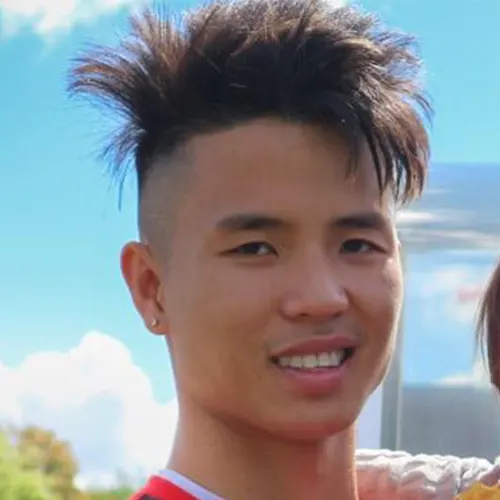 Request a free quote by clicking the button below. Or talk directly to Nam, the owner of Ace Bath, at (647) 459-7374 to kick-start your bathroom renovation in Kleinburg.