Renovating your bathroom is a big deal, especially when it comes to bathroom renovation cost in Caledon. 
Not only will it have a huge impact on your home and how you live, but it can also make your life easier and increase the value of your property.
At Ace Bath, we want you to be proud and happy with your bathroom again. We'll create a space that meets all of your changing needs and preferences, but also one that will impress all of your guests.
With us, you can get the whole nine yards at a reasonable price, along with a smooth bathroom renovation process that makes your project a complete success!
The Typical Bath Renovation Cost In Caledon
The cost of a bath renovation in Caledon will depend on the size of your space, your choice of materials, and any extra features you want in your new bathroom.
Depending on the size of your bathroom, here is an estimate for a bath renovation in Caledon.
| Size | Size In Square Feet | Average Cost |
| --- | --- | --- |
| Small Bathroom | less than 70 sq ft | $6,500 - $26,000 |
| Medium Bathroom | between 100-150 sq ft | $19,500 - $52,000 |
| Large Bathroom | over 200 sq ft | $40,000 - $78,000+ |
At Ace Bath, we pride ourselves on providing affordable solutions that don't sacrifice quality. We know that every penny counts when you're remodeling your bathroom, which is why our free pricing quote can help you establish a budget that meets your needs and expectations.
Bath Renovation Cost In Caledon By Labor
Extensive projects like baths and kitchens not only require plumbers, but also designers, electricians, builders, and carpenters–each with their own individual charges.
If you're making structural changes, like adding a new wall, you'll need architects. They're the experts that make sure your new space is structurally safe.
Architects usually charge between $65 to $250 per hour or between 10% to 20% of your total project cost as a one-time fee.
A designer will make your bathroom flow seamlessly and will make it match the rest of your home.
Designers charge around 10% to 20% of the total bathroom remodel cost. For a one-time consultation, expect to pay from $300 to $1.5k.
Baths have a ton of water issues, so the best way to move forward is to make sure you're not building anything new onto something that's broken.
Plumbers charge between $70 and $150 per hour. Besides their labor, they also charge for materials.
Safety is paramount with any electrical work—especially in houses made mostly of wood and drywall.
A professional electrician will charge between $80 and $150 per hour, plus materials. You can't have anyone meddling with the safety of your home, so hiring a pro is the best way to go.
The Bathroom Contractor That Has It All
Instead of having to look for multiple tradesmen, there's a simpler solution that will save you time and money.
If you're planning a bath renovation in Caledon, our team of electricians, plumbers, carpenters, and designers will be with you from the very beginning. They'll consult with you throughout the process to ensure everything runs smoothly and on schedule.
Bath Renovation Cost In Caledon By Upgrades
Not only does labor play a role in your bath renovation cost in Caledon, but the materials and upgrades you choose will also impact the final price.
Let's look at the upgrades and materials that go into a bath and their associated costs.
Most bathroom renovations involve replacing the vanity. This can completely change the atmosphere of your space, matching your style perfectly or it can be disruptive and make it difficult to find items that match.
If you have a need for extra storage in your master bathroom, go with double vanity. However, if you want something more decorative and simple, opt for a single vanity with ornaments instead. This would work well in small bathrooms such as powder rooms or guest bathrooms.
If you're looking to make a fast return on your investment, semi-custom vanities are the way to go. If you want something higher quality that will be made just for you, though, opt for a custom vanity instead.
Your countertops will be the showpiece of your new space, so you want them to be beautiful. But they also need to work well for you and be easy to keep clean or they'll end up being more trouble than they're worth.
The installation of these materials also comes with different price points.
| Material | Typical Cost (per square foot installed) |
| --- | --- |
| Laminate | $30 - $72 |
| Quartz | $72 - $240 |
| Hardwood | $54 - $300 |
| Marble | $102 - $360 |
| Granite | $72 - $300 |
| Stainless Steel | $108 - $215 |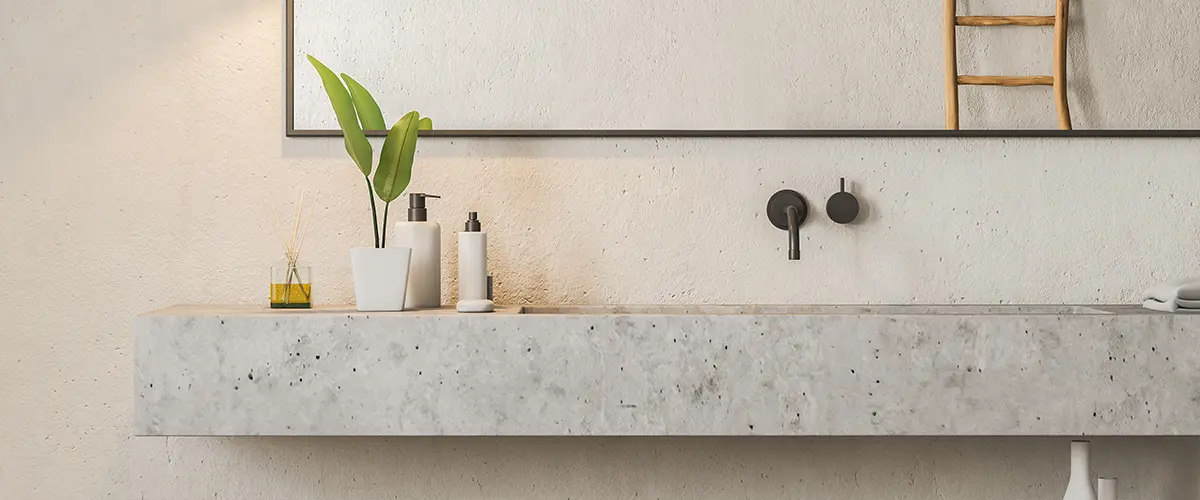 There are many options for bathroom flooring, and each of them brings different benefits to your bathroom. Besides the material price, consider the cost of ripping out the existing flooring.
Here are some of the most common flooring materials in a bathroom:
The average cost of ceramic tiles, with materials and installation included, ranges between $4.50 to $7.50 per square foot.
Depending on its style, the average cost for luxury vinyl tile flooring, with materials and installation included, ranges from $2 to $7 per square foot.
The average cost of marble flooring, including materials and installation, ranges from $10 to $20 per square foot.
The average cost of porcelain flooring, including materials and installation, ranges from $12 to $19 per square foot.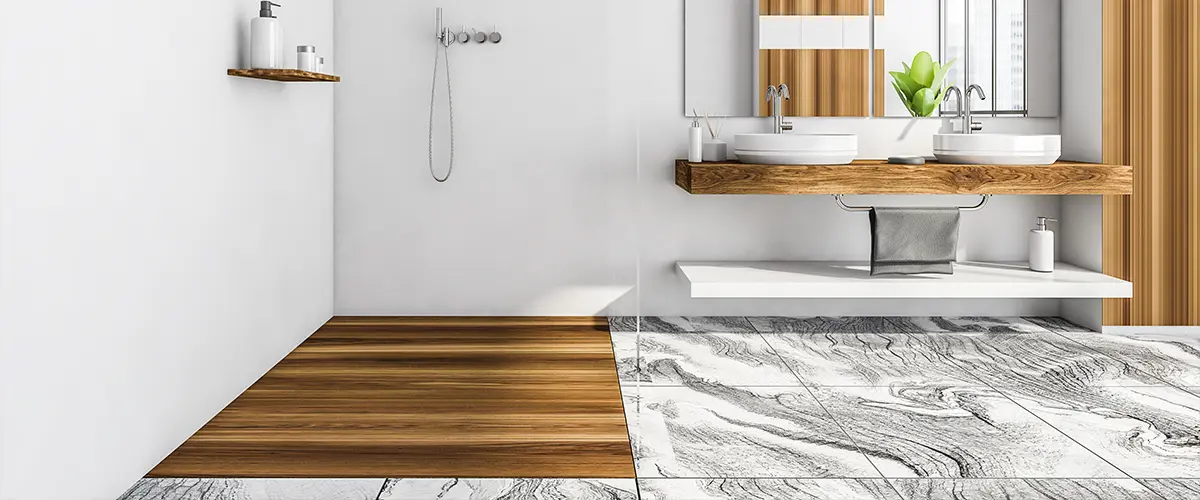 One of the best home improvements you can make is to switch out an old tub for a walk-in shower. But, if you really want to indulge, add a free-standing tub in addition to the walk-in shower.
Although adding this will raise the overall cost of your bath renovation in Caledon, the appeal and usefulness of your bathroom will increase immensely.
The cost of a glass walk-in shower usually falls between $1,000 and $5,000, based on the size as well as the materials and finishes used. A shower pan is less costly than tiles for the floor and surrounding walls, for instance, but they look cheap, and you don't want that in your new bath.
As far as tubs go, porcelain is still the best option in terms of material quality. These types of tubs start at around $2,000 but can reach up to $7,000 USD at the high end.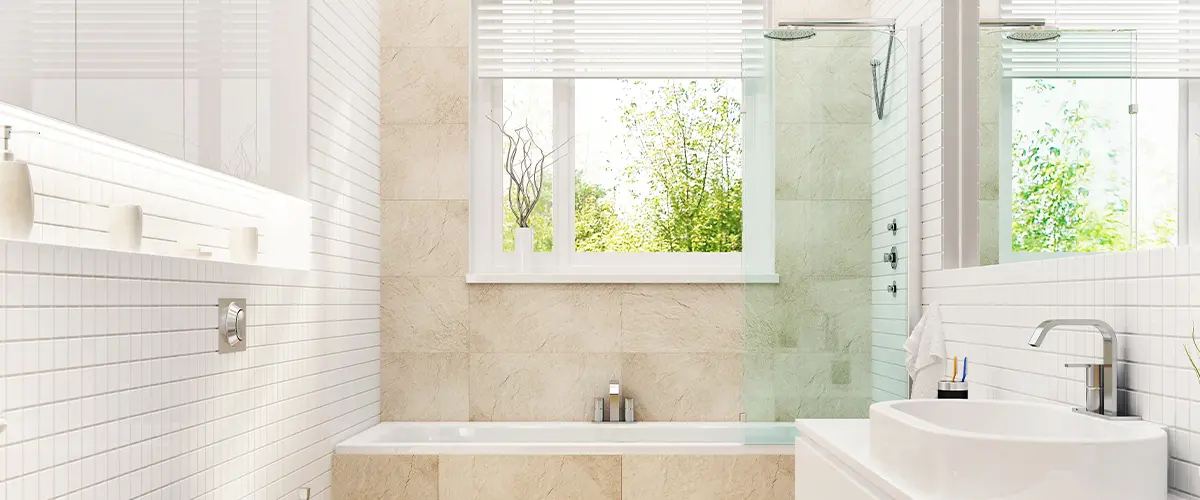 Other Features And Upgrades
Besides what we mentioned, the bathroom essentials will also add to the final quote.
Budgeting For Your Bath Renovation Cost In Caledon
TV shows like HGTV tend to show unreasonably luxurious renovations for small sums of money. A 20×20 bath with quartz flooring, a glass walk-in shower, tub, double vanity, and bright light fixtures would never only cost $15k.
Because of this, many homeowners set unrealistic standards for their home renovations, leading to strained relationships with their contractors.
Here are three main things to keep in mind.
No need to spend extra money on features you have no intention of using. If taking a hot bath in a tub is not your thing, why get an expensive free-standing tub? Get a comfortable walk-in shower that will serve all your needs instead. Check out the NKBA website to understand exactly what are the trends in bathrooms and what you should be looking into.
To avoid any unforeseen costs, budget an additional 20% on top of your total estimated project cost. While this may seem like a lot, the extra money will stay in your pocket if everything goes as planned. The 20% rule is just a precautionary measure to ensure you're prepared for anything that might go wrong.
Because each bathroom is unique, the cost of a renovation will vary from individual to individual. Some features that could affect the price include size, budget, and style preferences.
The key to a great renovation is understanding the cost upfront. Always ask your bathroom contractor what you'll be getting for the price you'll pay.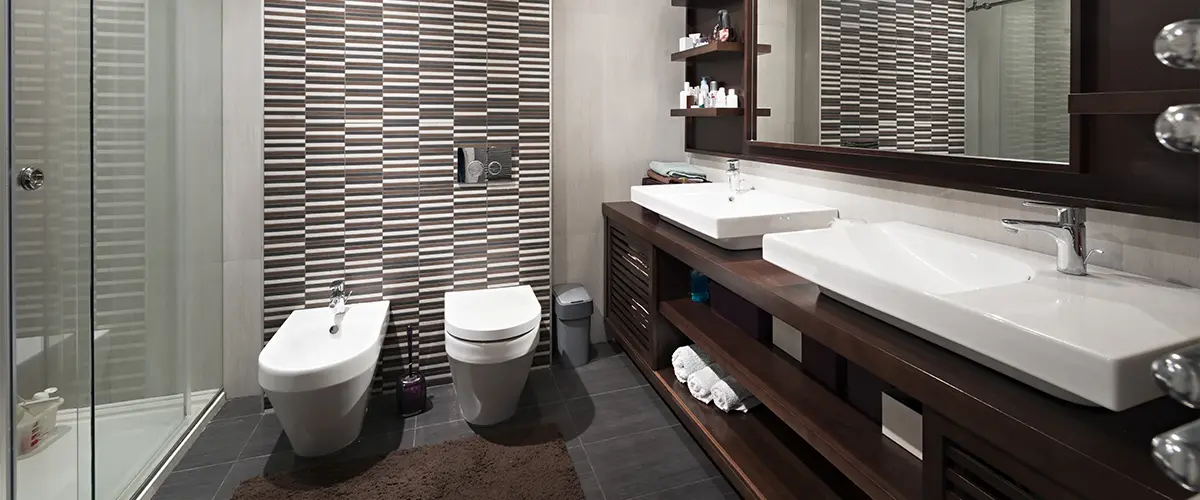 Get Full Pricing Transparency For Your Bath Renovation Cost In Caledon!
Depending on your choices, the typical bath renovation cost in Caledon could be around $30k. However, we will always try to find a way to work with whatever budget you have set in mind so that you can get the bathroom of your dreams.
We're dedicated to making your dream bath come true and offering you the best end product in Caledon.
We tend to over-deliver, so expect:
Your New Bathroom Renovation Is Within Reach!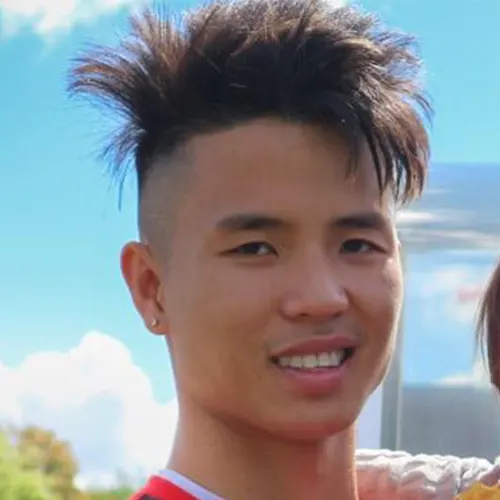 Click the button below and let's discuss your bathroom renovation cost in Caledon. Or talk directly to Nam, the owner of Ace Bath, at (647) 459-7374 to kick-start your project.
We'll make sure your bathroom renovation in Caledon turns out exactly how you dreamed of!