Renovating your bathroom is a big decision that can come with a hefty price tag if you're not careful.
To keep your bathroom renovation cost in Brampton within your budget, it's of utmost importance to work with a contractor able to help you navigate through all your material upgrades.
This is where Ace Bath comes in. We're a professional bathroom remodeling company helping homeowners in Brampton get their most desired bathroom, at the best price possible.
The Typical Bathroom Renovation Cost In Brampton
The cost of a bathroom remodel varies depending on the room size, the type of fixtures, and the room's function.
Naturally, a master bathroom that you'll want to feel upscale will cost you more than a powder room.
If you're not sure where to start, here are some estimates for different sizes and budgets:
| Size | Size In Square Feet | Average Cost |
| --- | --- | --- |
| Small Bathroom | less than 70 sq ft | $6,500 - $26,000 |
| Medium | between 100-150 sq ft | $19,500 - $52,000 |
| Large | over 200 sq ft | $40,000 - $78,000+ |
According to Cost vs Value Report, a bathroom renovation boosts your home value and gives you an ROI between 75% and 100% of what you spent.
The Upgrades And Features In A Bathroom Renovation
There's a lot of things that go into a bathroom renovation. Different materials will make your space feel more cozy, increase its functionality, or raise the total cost of your renovation.
Our designers from Ace Bath can help you choose the most cost-effective solutions for your upcoming project, so you'll keep your remodel within your budget, without sacrificing any of its quality.
Consider the accessibility and comfort they offer, but also their price.
A bathtub in households with young children has greater value than a shower, but a walk-in shower offers a great deal of accessibility for older homeowners. You can have both installed, but it would mean less space to move around.
A bathtub costs between $969 to $1834 to be installed professionally. The average cost of a shower installation is between $1572 to $2621. A shower head can cost as little as $19, while a high-end one with all the bells and whistles costs as much as $786.
Your vanity is another element that ties your room together and creates a beautiful and cozy design. It improves the overall look of your bathroom, but it also increases its functionality.
Vanities and extra cabinets offer storage space that's crucial when you want everything organized in its own place. A vanity with two sinks is perfect for homeowners with a large family that need more space for daily care routines.
A bathroom vanity costs anywhere between $300 to $4,000. The installation runs from $200 to $1,000, depending on how complex your new vanity is. The total cost usually includes installing the plumbing system and the fixtures too.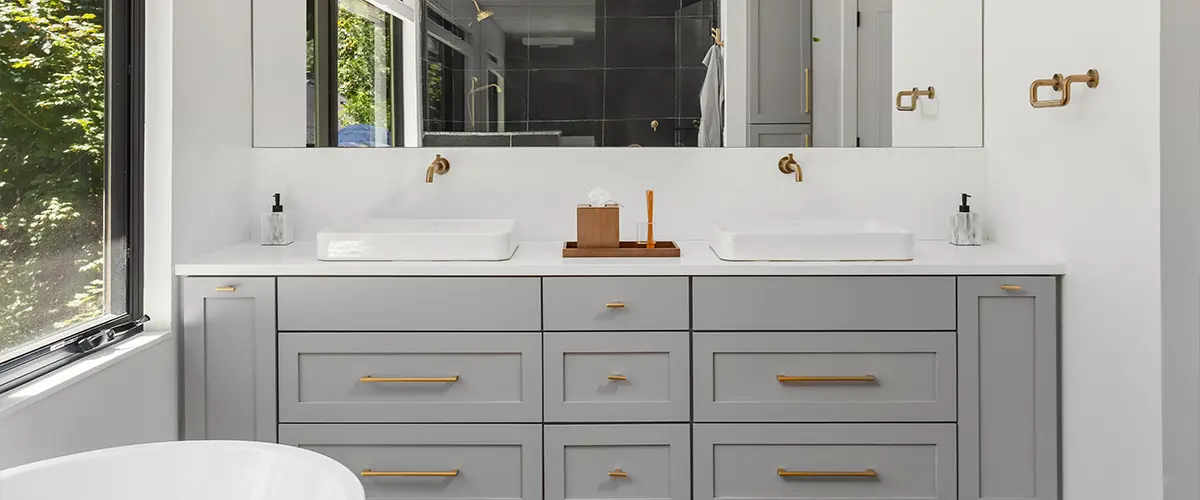 | Material | Typical Cost (per square foot installed) |
| --- | --- |
| Laminate | $30 - $72 |
| Quartz | $72 - $240 |
| Hardwood | $54 - $300 |
| Marble | $102 - $360 |
| Granite | $72 - $300 |
| Stainless Steel | $108 - $215 |
If you're renovating your bathroom, you'll most likely want to change your toilet and sink. If you're upgrading the tiles and flooring, you'll need new fixtures that match or complement the design.
When choosing a new sink and toilet, you'll want to consider your needs first. New toilets are equipped with gadgets and are becoming more and more comfortable. Sinks are a focal point in your bathroom, so they'll need to match the rest of the room.
Our experts will give you valuable insights on what works best for your space, so its transformation will be nothing short of impressive.
Toilets cost between $130 to $260. If you want a professional installation for it, add between $260 and $524 more. Installing a bathroom sink also costs around $393 to $655.
There are many options for bathroom flooring, and each of them brings different benefits to your bathroom. Besides the material price, consider the cost of ripping out the existing flooring.
Here are some of the most common flooring materials in a bathroom:
The average cost of ceramic tiles, with materials and installation included, ranges between $4.50 to $7.50 per square foot.
Depending on its style, the average cost for luxury vinyl tile flooring, with materials and installation included, ranges from $2 to $7 per square foot.
The average cost of marble flooring, including materials and installation, ranges from $10 to $20 per square foot.
The average cost of porcelain flooring, including materials and installation, ranges from $12 to $19 per square foot.
Bathroom Renovation Cost In Brampton By Function
When renovating your bathroom, think about its primary purpose in your home.
A powder room is a main floor half bathroom for guests' use only. It has a sink and toilet but no bathtub or shower. These are smaller baths of about 15-25 sq. ft. The average cost of renovating it is around $7,000.
A guest bathroom is a private three quarter or full room used by overnight guests. These rooms are usually mid-range renovations that cost approximately $196 per sq. ft.
Remodeling the main bathroom is most likely the most expensive remodeling project. It is the focal point of buyers, and a high-traffic room that you use every day, so it's only natural you want it to look great and feel comfortable.
When renovating any area of your home, it's crucial to budget something extra for unforeseen issues that might come up. Extra-budgeting is especially true when renovating your bathroom, where many factors can drive up the total cost.
Here are some of the external factors that can impact the price of your renovation:
If you're doing a full renovation of your bathroom, you'll need a building permit, and you'll have to budget for it in your bathroom renovation cost in Brampton. Depending on your area and the city regulations, building permits costs will vary.
For example, in Toronto, a building permit costs $4.93/m2 for interior renovations or $17.16/m2 for new additions.
It's important to remember that these prices are just for the permits. You'll also need to pay for the inspector appointments, demolition, and, if need be, other applicable fees.
We at Ace Bath take care of your building permits and the inspector appointments for you. You can have a stress-free renovation and get your dream bath the easy way. We'll ensure your bathroom renovation is up to the highest standards and safe to use for you and your loved ones.
Naturally, the first step when renovating your bathroom is to get rid of everything there was before.
You'll have to prepare the walls and flooring for new installation and remove everything you want to replace. This step requires well-equipped professionals who can tear apart walls and floors without damaging the structural integrity of your property.
The demolition of an existing bathroom takes a couple of days, is exhausting, and results in a lot of garbage. It's safe to say that undertaking this task is not the best idea.
Let professionals do it for you while you're in control of everything. The cost of demolition in bathroom renovation ranges from $1000 to $1500.
You'll need to position wires and outlets according to design, and they have to be accessible.
You'll be able to select your lightning configuration with one of our expert designers here at Ace Bath.
Each pot light installed in the bathroom costs around $60 – $70 for labor and material. Bathrooms with adequate wiring may cost $500 for this step in the renovation, but larger spaces will require more lights and more plumbing.
We have licensed experts that will spare you the hassle of looking for electricians or plumbers. Besides, a licensed electrician and plumber can add another $2000 to your final project.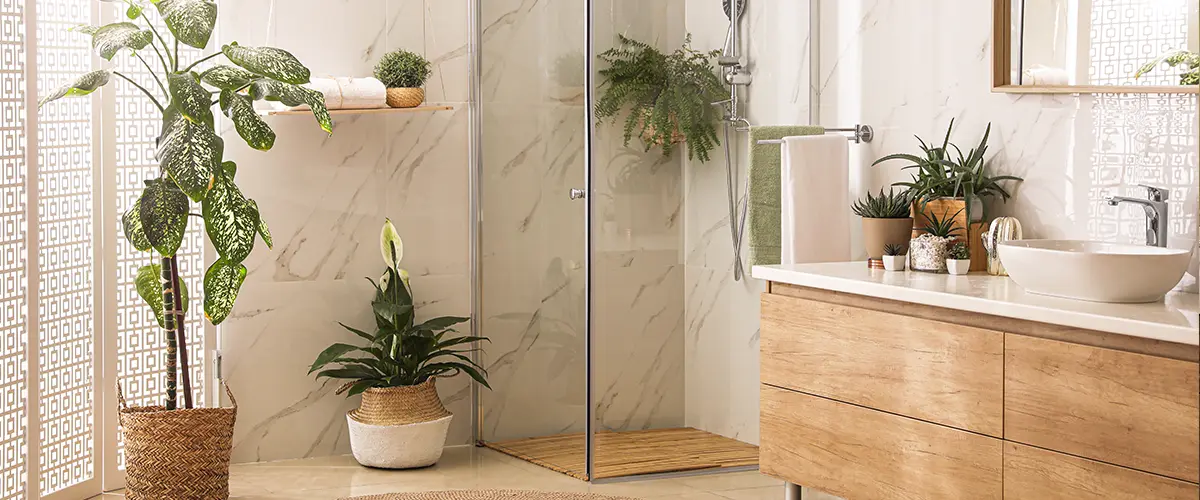 Ace Your New Bath With Your Local Pros
A bathroom renovation can be a great way to increase the value of your home.
On average, the bathroom renovation cost in Brampton is around $25k. However, for a more accurate price, your contractor will need to have an on-site consultation and assess the situation.
Here at Ace Bath, we offer accurate estimates after your on-site consultation, and free online estimates on our website. Either way, you'll get valuable insights from our experts, and you'll be the owner of a brand new bath that makes you proud of your home again!
With us, you're also getting:
Time To Get Your Well-Deserved Bathroom Renovation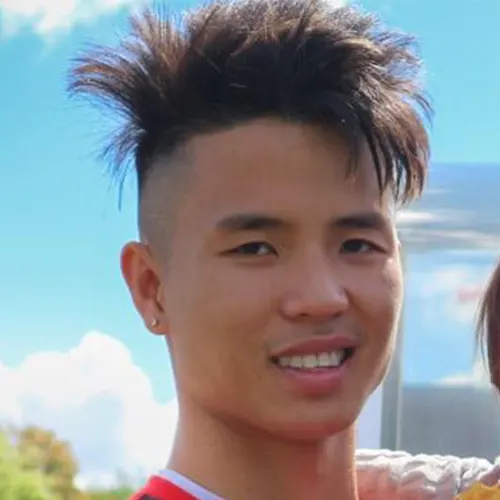 Click the button below and let's discuss your bathroom renovation cost in Brampton. Or talk directly to Nam, the owner of Ace Bath, at (647) 459-7374 to kick-start your project.
We'll make sure your bathroom renovation in Brampton turns exactly how you dreamed of!