Your bathroom is the only place where you spend some peaceful moments throughout the day. As such, it should be well-designed to make your life easier. When it comes to flooring, there are many different options available, and each has its own advantages and disadvantages.
In this blog post, we'll discuss 11 popular bathroom flooring options you can choose from. You'll also get some tips on how to choose the right material for your needs.
Read on for inspiration!
1. Porcelain And Ceramic Tile
Tile flooring comes in various materials and styles, so you should have no problem finding a flooring option that fits your needs. Tile works well in damp spaces like shower stalls and also in humid climates, where wooden or cork floors can be damaged by excess moisture.
However, it's not recommended to use tile flooring in very cold areas, though, because it can crack when the temperature falls too low. If you're looking for a stylish bathroom flooring option that will work well in your climate, consider porcelain tile.
Porcelain and ceramic tiles are very similar, but there are a few key differences. Porcelain tile is made from finer-grained clay than ceramic tile, and it's fired at a higher temperature. This makes porcelain more durable than ceramic.
If you need a floor that's durable and water-resistant, go with porcelain tile. If you're looking for a more affordable option, ceramic tiles are a good choice.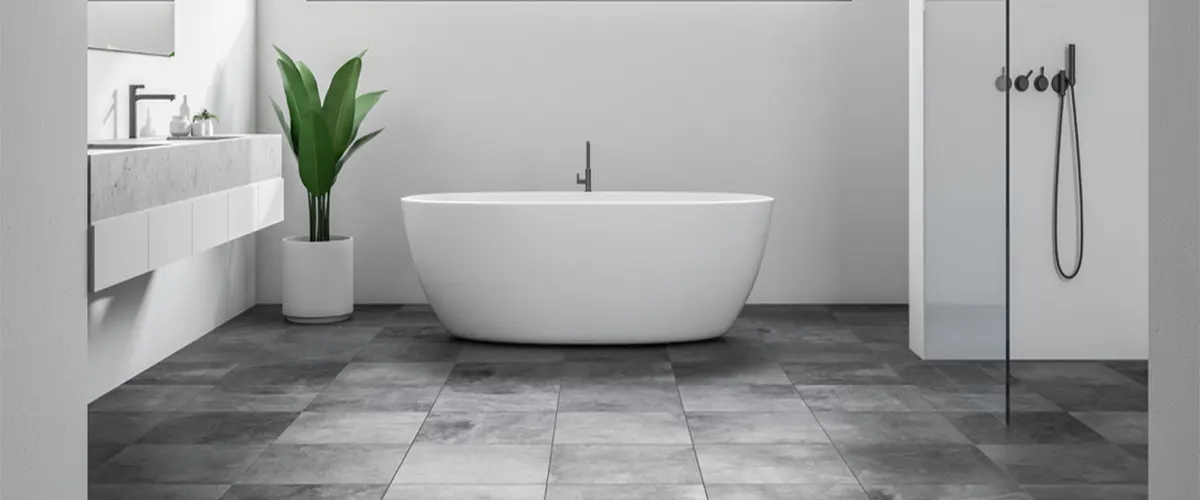 The durability of vinyl makes it an excellent choice for bathroom flooring purposes. Not only is the material water-resistant, but you can also choose from various colors that suit your style.
One advantage of vinyl plank flooring is that it's relatively affordable compared to other types of flooring. It's also easy to install, so it's a good option if you're on a tight budget.
However, vinyl plank flooring can be difficult to repair if it becomes damaged. You'll have to replace the entire plank, rather than just a small section.
Many people don't consider carpet flooring for their bathroom because it can become soiled so easily. However, if you choose the right type of carpet for your space, it does have some advantages.
One benefit of carpet is that it's soft on your feet. If you usually spend much time standing in your bathroom, carpet flooring can make it more comfortable.
If you live in a humid climate, carpet is also a good option because it can help insulate against the cold and wetness.
4. Luxury Vinyl Tile Flooring (LVT)
If you're looking for a stylish flooring option that resembles tile or stone, but with less weight and easier installation, then consider luxury vinyl tile (LVT). Luxury vinyl tiles are composed of 50 percent wood fibers, which adds to their durability.
If you choose luxury vinyl tiles, keep in mind that they can be more slippery than some other types of flooring.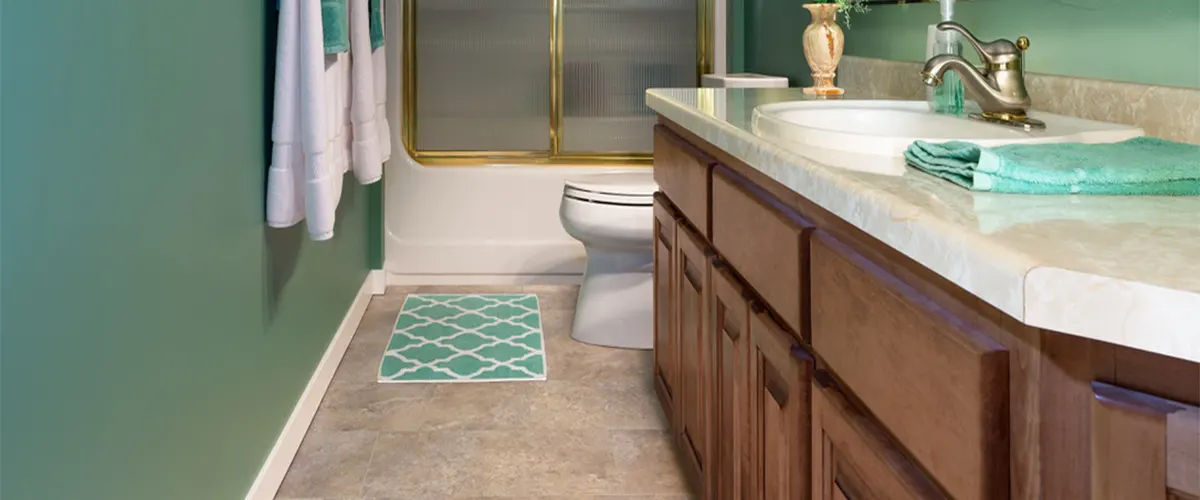 5. Organic Mat Bathroom Flooring
Organic mat flooring is a relatively new type of bathroom flooring option on the market, and it's gaining in popularity as people become more aware of their environmental impact.
Organic mat flooring is made from natural and organic materials that are biodegradable, non-toxic, and renewable. It's an affordable and easy-to-maintain option for your bathroom flooring needs.
One drawback of organic mat flooring is that it can be difficult to keep clean. It doesn't have the protection of other types of flooring, so it can be stained or scratched easily.
Cork mat flooring is a type of organic mat flooring designed specifically for bathrooms. It's made from cork and recycled rubber, which makes it an eco-friendly choice for your home. One benefit of cork is that it's waterproof so spills and accidents won't damage the floor.
A downside of cork mat flooring is that it can be difficult to clean, especially in high-traffic areas.
If you're looking for a durable and versatile option for your bathroom, consider linoleum flooring. It's water-resistant and comes in a variety of styles that can complement any decorating scheme.
Linoleum is low-maintenance and long-lasting, so it will give you years of use. It's also one of the most affordable flooring types on the market today.​​
One drawback of linoleum tiles is that they can be slippery when wet.
If you want to invest in a stunning, durable, and eco-friendly option for your bathroom, consider bamboo flooring. It comes in several styles including traditional planks and engineered options that resemble parquet designs.
Bamboo is naturally resistant to mold, fungus, and insects, so you won't have to worry about replacing it anytime soon. It's available in a variety of wood finishes that can match any decor scheme.
One drawback of bamboo flooring is that it's more expensive than some other options for your bathroom.
Laminate flooring is a synthetic flooring option that's designed to look like hardwood or other natural materials. It's made of several layers of paper or fiberboard that are fused together with a resin-based adhesive.
Laminate bathroom flooring is scratch-resistant and can be installed in areas that are prone to moisture, such as bathrooms and kitchens.
One drawback of laminate flooring is that it can't be refinished if damaged.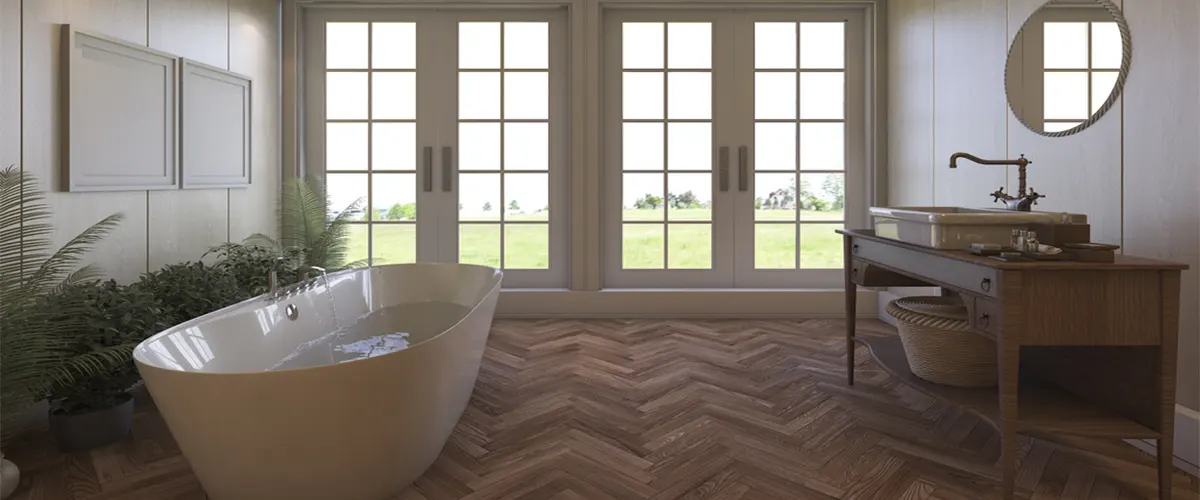 10. Natural Stone Flooring
Stone flooring is another great choice when it comes to bathroom flooring options. It's durable and will last for years without needing much maintenance. However, it can be expensive and requires professional installation.
Natural stone flooring is also difficult to clean, meaning you can expect to spend some extra time keeping your bathroom floor pristine.
Hardwood flooring is a classic look that will never go out of style. It is durable and can last for years with proper care. Compared to engineered wood flooring, hardwood floors have a significantly longer lifespan and can last between 30 and 100 years.
Furthermore, by choosing this type of flooring, you'll give your bathroom a luxurious look and feel. It adds extra style to your home and can increase its resale value in case you're considering selling it in the future.
Picking the right material for your bathroom flooring depends on your specific needs and preferences. But now you know what options are the most popular among homeowners and what are the pros and cons of each.
No matter what flooring you choose, always make sure to get professional installation. This will ensure that your floors are installed properly and last for many years. If you need help deciding on a flooring type or would like us to install it for you, please don't hesitate to get in touch with us. We would be happy to assist you!