If you're looking for the bathroom renovation cost in Vaughan, you're in the right place. For more than five years, our professional bathroom remodelers from Ace Bath have been helping homeowners in Vaughan fall in love with their homes again.
Our method: deliver a great end-product and provide an effortless contracting experience.
We put together this bathroom renovation cost in Vaughan guide to let local homeowner know how to budget and what to expect.
Let's begin!
We'll Take Care Of Everything
And we're not stopping at just giving you a new bathroom.
Bathroom Renovations That Improve Your Life
Here at Ace Bath, we helped over a hundred families upgrade one of the most important rooms in their homes: their bathroom. They were homeowners in Vaughan looking to either update the aesthetic of their bath or remodel it altogether for a completely new vibe.
Their most common issues were clogs, slow or noisy drains, or bad odors. But besides these, they felt their countertops were dated, their sink and toilet needed a more aesthetic look, or they wanted a walk-in shower conversion.
If it seems like a bathroom renovation in Vaughan is like any other, know that it's not. Every home is different, and every homeowner is facing different challenges with their property.
Ace Bath's goal is to help you face these challenges and come out victorious.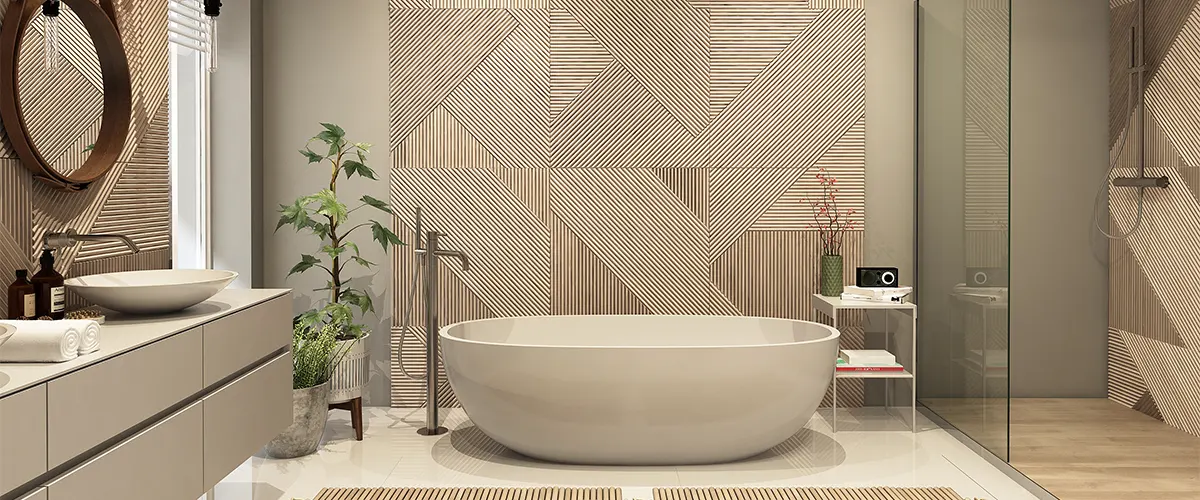 bathroom renovation cost In Vaughan
The main obstacle that homeowners will face in their endeavor is the cost of remodeling a bathroom. This might come as a surprise, but you don't have to break the bank to renovate your bathroom.
In fact, many homeowners in and around Vaughan chose to only upgrade a few aspects of their bath (like their flooring, their shower, or furniture). Many also choose to do it in stages, upgrading one thing at a time.
It's good to keep in mind that structural changes to your bath require a building permit. No need to worry though. At Ace Bath, we'll take care of permits and inspections, so you don't have to deal with any paper work.
On average, a mid-range bathroom renovation cost in Vaughan is about $15k CAD.

Let's look at what went into the cost of one our projects, a bathroom renovation in Vaughan.
Guidelines To A Bathroom Renovation Cost In Vaughan
Our customer in Vaughan wanted a bathtub to shower conversion to make better use of the space in his bath. We had to work with a 6 x 7 ft room (a 42 square foot bathroom), so space was limited.
It needed new plumbing fixtures, so we first took care of that. We installed 24×48 porcelain tiles as they require less maintenance and look airier. The new custom shower has custom cut glass and a complete waterproofing system.
Besides the main upgrade, we also installed a 48″ vanity with a quartz countertop and new vanity light fixtures and pot lights.
This bathroom renovation project was quoted at $17k, and the shower alone was $6k.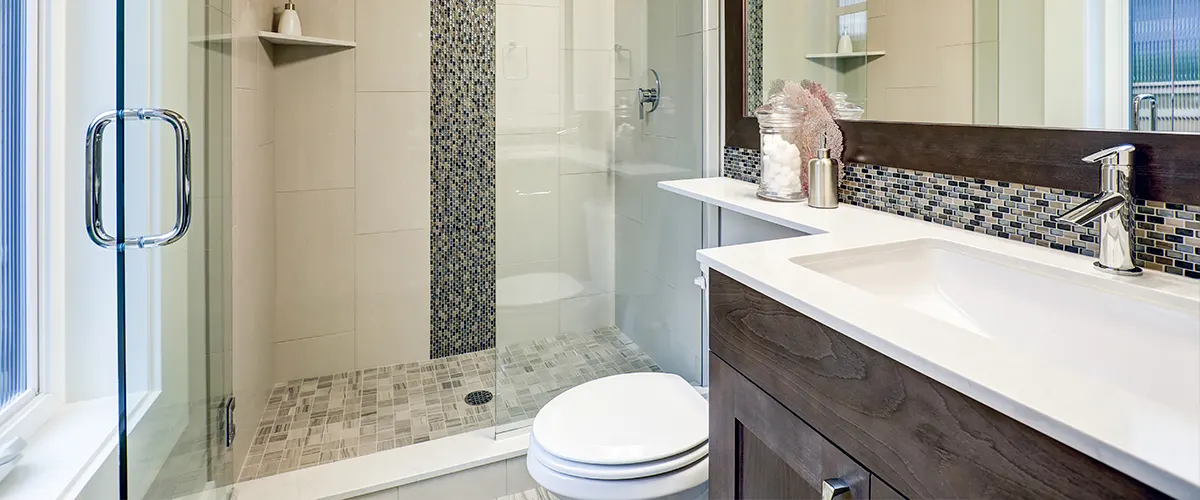 Materials And Finishes For Your Renovation
As professional bathroom remodelers, we want every homeowner to know all their options when it comes to materials.
But because choosing between so many options is overwhelming, you'll always get our insights into what works best for every particular situation.
Let's see some of the most common materials for your bathroom renovation in Vaughan.
Most of our bathroom renovations in Vaughan include the bathroom essentials, like sink and toiles. However, there's a lot more upgrades you can equip your bathroom with.
How Can Ace Bath Vaughan Help You
Whether you're looking to make some upgrades to your bathroom or to renovate it altogether, our experts at Ace Bath Vaughan are ready to take care of your project.
You'll receive an accurate quote for your bathroom renovation cost in Vaughan right after you press the button below. 
Our team of pros will get back to you within a day for an in-house consultation where we get to understand your project better.
It's your turn to get your premium remodel
We helped a lot of homeowners in Vaughan fall in love with their homes again.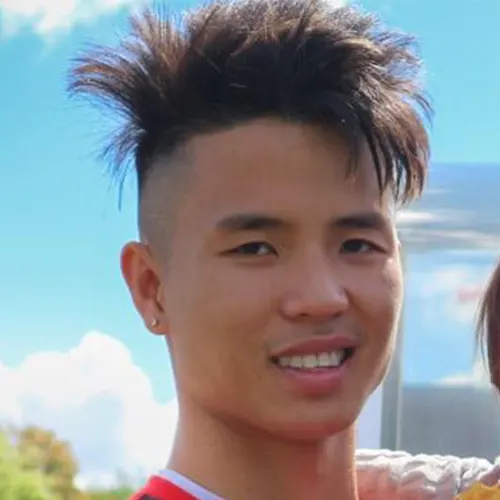 Talk with Nam, the owner of Ace Bath, today! It costs you nothing to request a quote or call us at (647) 459-7374 to discuss your project. We'll make sure you get a bath you can be proud of!