If you've been looking for a bath renovation in Brampton, your search is over!
We're your local bathroom remodelers specialized in giving you a renovation up to the highest standards of the remodeling industry in Ontario.
Brampton is one of Ace Bath's favorite cities when it comes to renovations. For over five years, homeowners like yourself have been getting their premium remodels with us.
It's your time now!
Enjoy A Bathroom With Extra Perks
We're not stopping at giving you a new bath only.
You'll also get:
Get Your Premium Bathroom Renovation In Brampton
It's only natural you want what's best for your home. And we want the same for you.
In over five years and over a hundred families served, we developed the ideal process that makes your renovating process a smooth sailing from start to finish.
Because renovations can get stressful, our goal is to minimize the pressure this journey puts on you and your family. Which is why you'll be getting constant guidance throughout your project.
Your local experts trained in all renovation aspects will provide valuable and reliable insights at all times.
In other words, you'll love your new bathroom, and you'll be coming back for more!
Discover our bathroom renovation offer and work together with your local remodelers in Brampton to get the best bath there is!
Our Customers love their Premium Remodels!
We hired Ace Bath for our small powder room renovation. We were blown away by the professionalism and service we received from the team. 
They were super nice and helped us throughout the process to find the best design for such a small space.
We are super happy with what the team has done and can't wait to get them back to renovate our master bathroom and kitchen.
I can't recommend Ace Bath more. 
Nam and his team did an amazing job to my optimal satisfaction. 
I did not know Nam at all nor he was recommended by any one, but he did prove to me that he can be trusted. 
If you are still looking to get your bathroom done, like I did for long time, this is the company you should go with full trust.
Get A Taste Of What Your Bath Can Look Like
Get some inspiration for your own project or see what our finished projects turn out like!
Type Of Upgrades And Materials
There's an endless list of materials and upgrades that you can get, and all improve your bath in different ways.
You'll get a detailed breakdown of each option at your in-house consultation.
Below, you'll find some of the most popular upgrades in Brampton.
Vanities and cabinets remained a popular bath upgrade throughout the years. And for good reason. These can quickly become a focal point in your bath, but also significantly improve its functionality.
Plywood boxes are the go-to of every expert carpenter for all types of cabinetry (including vanities). They're durable, affordable, and easy to work with.
For faces and cabinet doors, medium density fiberboard (MDF) remains the best material. It gives you the possibility of an easy refinish, at an inexpensive price.
Oftentimes, homeowners that replace their vanity end up upgrading their countertops as well.
Quartz countertops or natural stone counters are our favorites. They look good, but they all have different pros and cons, so you'll need to choose carefully.
Ceramic or porcelain tile counters, solid surface countertops, concrete countertops, or stainless steel counters are some other, less popular countertops options.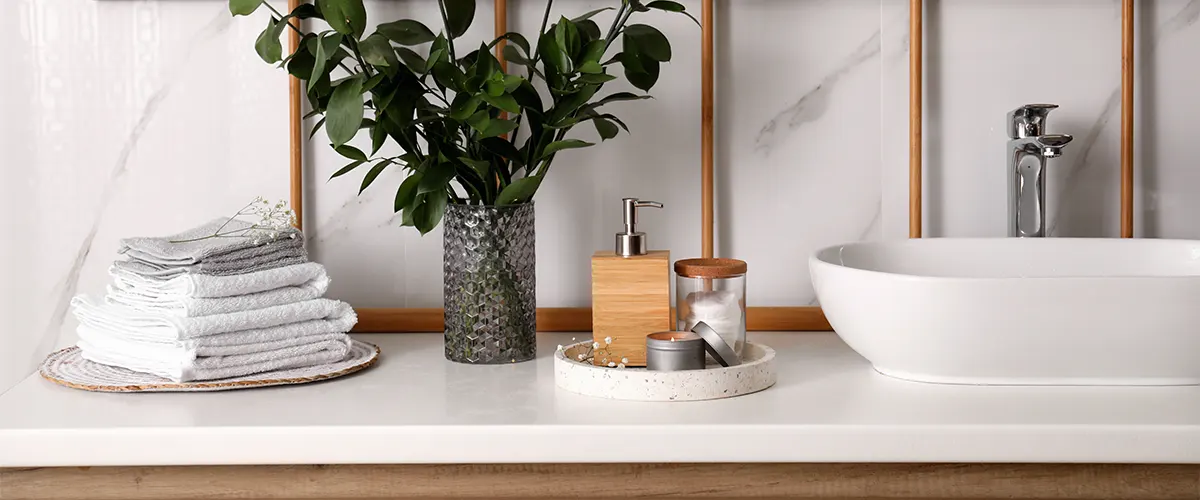 Bathtubs and showers bring different advantages to your bathroom. Showers improve the accessibility of older homeowners, while a nice bathtub makes your space feel more upscale.
For bathtubs, porcelain enameled steel is an especially great option, also inexpensive. Other options are acrylic, fiberglass, enameled cast iron, or cast polymer (cultured marble, granite, or onyx) bathtubs.
When it comes to showers, we recommend an acrylic shower surround due to its resistance to mold and moisture damage. This surround option is also durable, resistant to scratches, stains, and chips, and they require little maintenance.
Other options for your shower walls include porcelain, ceramic, fiberglass, or natural stone.
In most bathroom renovations, the flooring hides a lot of water-related issues. Which is why most bathroom renovations include a flooring replacement stage.
The highest standard in the industry is tile flooring. Porcelain, ceramic, granite, marble, limestone, are common options that homeowners go for. Porcelain is one of the best looking and inexpensive materials, which is why we recommend it the most often.
Another flooring option that grows in popularity is luxury vinyl tile (LVT). LVT mimics the look of real tiles, are more affordable, and they're also low-maintenance.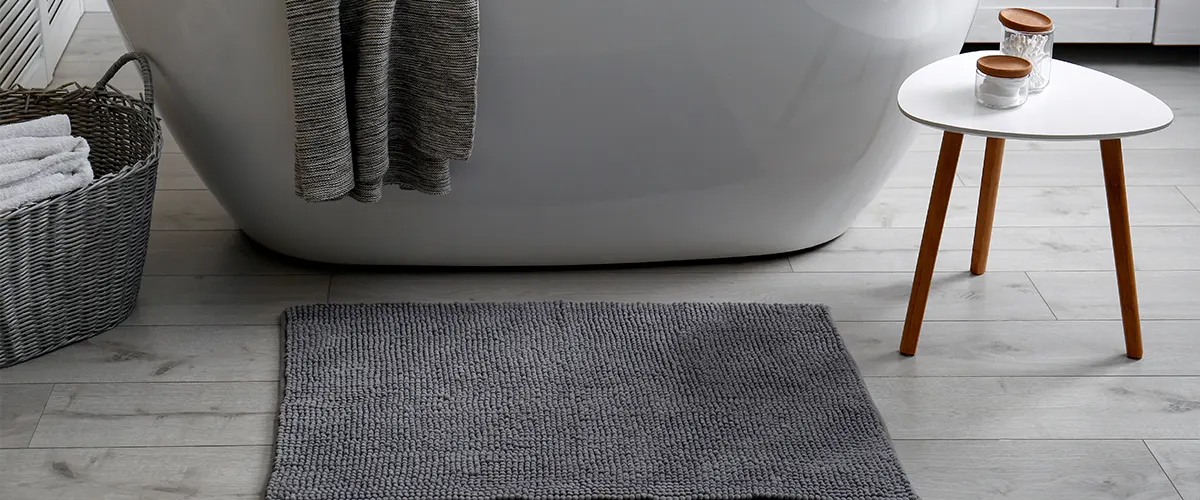 The sink and toilet are essentials in your bathroom. Upgrading these two elements are sure to uplift your bath without breaking the bank.
Porcelain remains the most popular option for toilets because it's tough, inexpensive, and easy to maintain.
Sinks, however, can quickly become the focal point in your bathroom. While porcelain remains a viable option, more upscale options are glass, copper, natural stone, or acrylic.
Besides material, sinks also come in various types.
Drop-in and undermount sinks are the most popular choice among homeowners. Vessel sinks, wall-mounted sinks, and pedestal sinks are less popular sink types that still impact the look of your space.
Get A New Bath The Easiest Way
This process gets you a fast and satisfying bathroom renovation!
We'll come up with the perfect plan to tackle your project.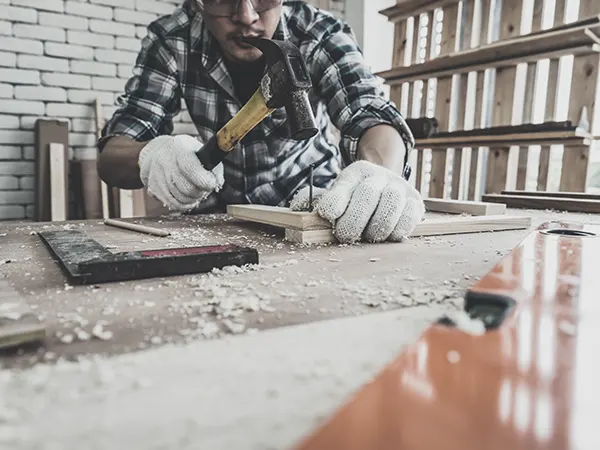 You'll witness the best transformation of your bathroom.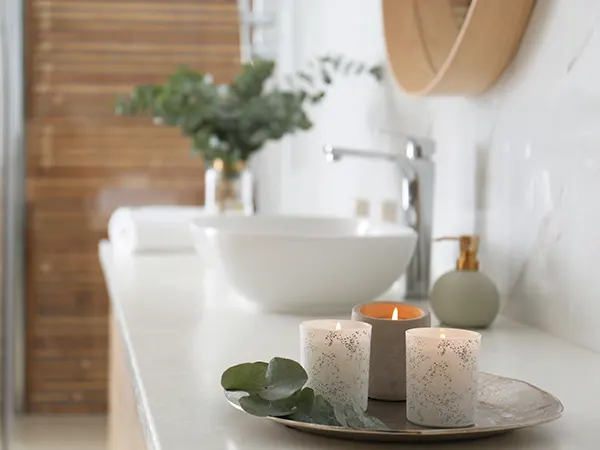 Time to enjoy your premium bathroom!
Bathroom Renovation In Brampton: A Case Study
Not long ago we did a bath renovation in Brampton. Our customer wanted to remodel his 10×10 ft (100 square foot) bathroom. It was a rather small bathroom, so we wanted to make it feel more spacious.
This bathroom renovation included:
We quoted this higher-end bath renovation in Brampton at $30k. The bathtub alone were priced at $5k.
If you're interested in finding more about the bathroom renovation cost in Brampton, check out our cost guide!
Frequently Asked Questions
Smaller bathroom renovations can come in as cheap as $10k, and mid-range renovations are about $20k. High-end bathroom renovations, like what we did in Brampton, can reach over $40k.
After our in-house consultation, we'll be able to get you an accurate quote with the most cost-effective solutions for your home, no matter your budget.
We finish most of our bath renovations in one to two weeks. However, higher-end bathroom remodels can take up to three weeks, depending on the complexity of the project.
You'll get a precise timeline of how your project will unfold after our initial consultation.
I'm Nam, the owner of Ace Bath, and I carry a degree in renovation. I supervise and lead a team of professional builders that know the ins and outs of a bathroom like the back of their hand.
We're all licensed (so you can leave building permits to us), insured, and ready to take on your project. 
Learn more about Ace Bath's mission here! Rest assured you'll get the finest craftsmanship in Brampton, Ontario.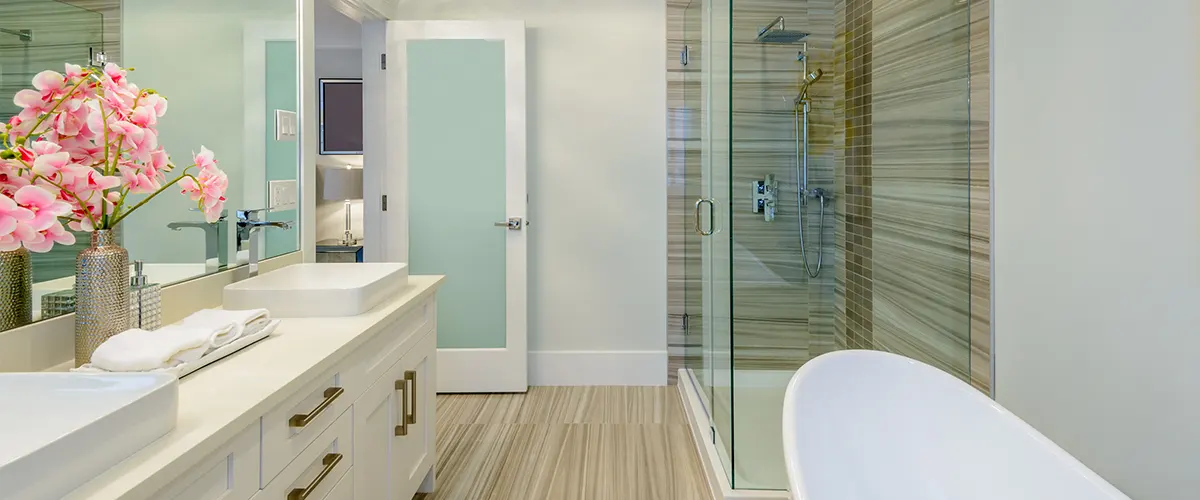 Get Your Ace Bath Premium Remodel Today!
At Ace Bath, we aim to make your bathroom renovation in Brampton a pleasure to go through.
You're at the front and center of what we do, which is why we keep overdelivering on our promises.
You'll receive:
Let's Get You A Bathroom You Can Be Proud Of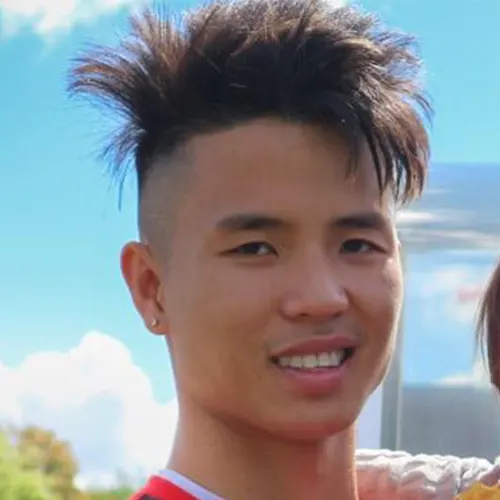 Talk with Nam, the owner of Ace Bath, today! Request a free quote or call us at (647) 459-7374 to discuss your project. We'll make sure you get a bath you can be proud of!